Lewis Hamilton focused on 'driving better than ever' to win his second world title
2008 title winner determined to mould W05 to his liking
By Pete Gill
Last Updated: 24/02/14 8:45am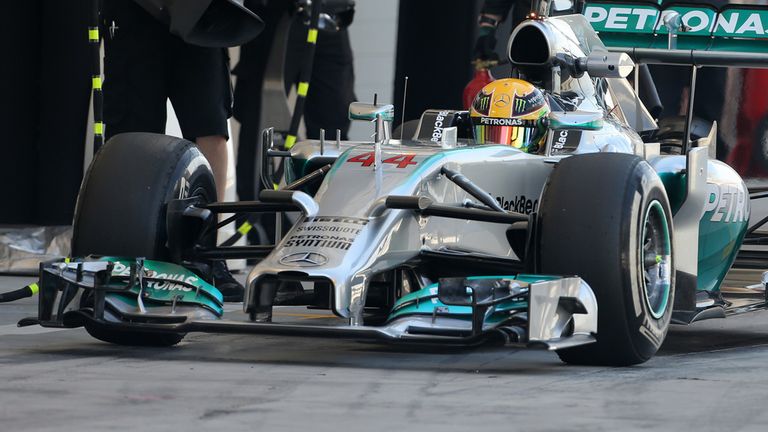 Despite being widely considered to be the fastest driver in the sport, Hamilton has just a solitary title, won in 2008, on his CV after seven seasons in F1 - a real achievement for most but a modest return for a driver of Hamilton's pace and pedigree.
2014 arguably represents Hamilton's best opportunity of adding a second World Championship to his CV, with his Mercedes team installed as the favourites to win the Constructors' Championship after consistently leading the field throughout winter testing.
Nevertheless, Hamilton is braced for what he believes will be his most difficult year yet in F1, with the complication of new energy recovery systems and V6 engines exacerbated by the cars running with less downforce and more torque. To triumph this year, a driver is likely to have to curb his natural instinct to charge flat-out - a particularly difficult mind-set to embrace for an out-and-out racer such as Hamilton.
"When I speak to the engineers it adds up to what's going to be the most challenging year in my career - it's probably the same for every driver - in terms of understanding the controls and the setup that you'll need. On the simulator, we're getting almost non-stop wheelspin- almost to fifth gear at times," Hamilton declared in an exclusive interview for the F1 Racing magazine season preview issue.
"All I'm thinking about right now is driving better than I've ever driven before."
But 'better' in 2014 may not be faster, with all the cars running with vastly reduced fuel loads and downsized power units. Nevertheless, the W05 has, at least in terms of reliability, appeared to be the first among equals throughout the winter and Hamilton is confident the car will suit his driving style more than its predecessor did.
"I didn't have confidence in the braking all last year," he told the magazine. "It was a great car but it didn't suit me one bit. So I've got to try to make this new car suit me more."
So far, so good, it seems, with Hamilton setting the fastest time of the Bahrain test within three hours of returning to driving duties on Thursday morning.
Not that the sport's new era is proving to be entirely enjoyable for the 28-year-old, however, with Hamilton revealing this week in an online Q&A that he has been dieting to fit into a W05 car that is believed to be one of the heaviest on the grid.
"I've had to lose a lot of weight so no Christmas pudding, sweets.. nothing but water and other boring stuff!" he tweeted. "I miss Aunt Jemima pancakes."
The Sky Sports F1 Online team will be providing live commentary of all three winter tests, with live updates from trackside also on Sky Sports News.