Lewis Hamilton admits 'I'm to blame' after disastrous decision to abort final lap
Home favourite to start just sixth after failing to complete final lap in qualy; Nico Rosberg takes advantage to start on pole;
By Pete Gill and James Galloway
Last Updated: 06/07/14 8:44am
Lewis Hamilton has blamed himself after a disastrous and baffling strategic error saw him plunge from provisional pole position to just sixth on the grid for the British GP and leave his World Championship hopes in serious jeopardy.
Unaware that the track had dried out in the final sector of the Silverstone circuit, and told by his Mercedes team to pit if he didn't believe he could improve on the lap he set at the start of Q3, Hamilton opted to abandon his final lap and return to the pits after locking up at Turn Four.
The decision backfired spectacularly in a frenetic conclusion that saw the provisional pecking order ripped up and Hamilton once again lose the initative to World Championship leader Nico Rosberg.
"It was my mistake," a dejected Hamilton admitted to Sky Sports F1. "Nothing the team said had any impact on my decision to pit. I've had great support here from the fans and I apologise to them."
Speaking to reporters in a late press session at Silverstone, Hamilton gave little away as to what triggered his decision to back out of the lap: "I just didn't feel good. No other reason for it."
With Hamilton trundling down the pitlane, the way was left clear for Rosberg, who had only just crossed the finishing line behind his team-mate before the chequered flag fell, to claim his fourth pole position of the season. Had Hamilton opted to complete his lap then Rosberg, running in the dirty air directly behind the sister W05, may have struggled to improve his earlier lap time and almost certainly wouldn't have been able to claim pole.
"My last flying lap was difficult because we were very tight for time and I was stuck right up behind Lewis. Luckily he didn't finish his lap but I remembered that we were losing three or four seconds in the last corners when it was very wet so there was an opportunity to make a real improvement and that I should keep going," added Rosberg to pointed effect in Mercedes' official press release.
The 2008 World Champion, however, denied he had shown a defeatist attitude in heading for the pitlane, arguing that he had no reason to believe that the final sector would dry up to the extent it did.
"I did go for it. I just lost a lot of time at the beginning of the lap and I was already one and a half seconds down," Hamilton explained.
"I've never in my life ever given up and today wasn't the case of giving up. I chose not to do the lap because it wasn't feeling right, it wasn't feeling like it was going to be quicker. I had no information from the team that the last sector was going to be four-and-a-half seconds or five seconds faster. From driving through it [on the outlap] I thought that it wasn't so I took that decision.
"It wasn't their [the team's] fault, I should have done the lap. I didn't. Move forward. Long race tomorrow so I'll try to salvage what I can."
Asked whether he had been surprised to see Rosberg and others find such big gains, Hamilton admitted: "Once I got to the corners, I'd already backed off, I saw they were completely bone dry. It was just completely different to the outlap, which was a huge surprise to me."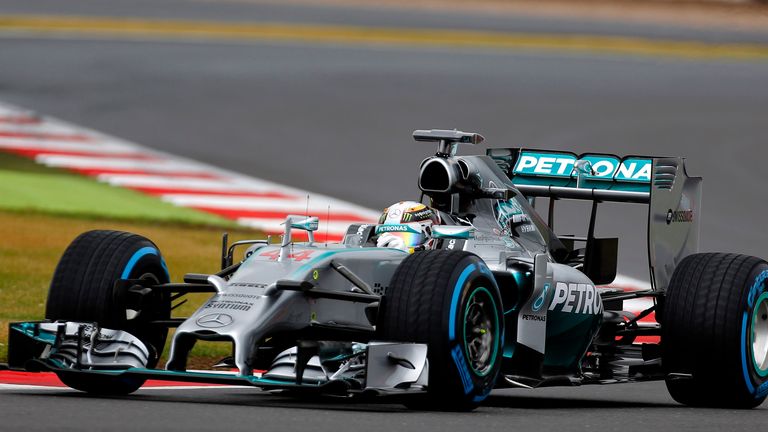 Not since the Spanish GP in May has Hamilton started a race on pole. Hamilton has appeared to be the fastest driver all weekend in front of his home crowd, generally boasting an advantage of two-tenths per lap over Rosberg, but Saturday's outcome was an all too familiar failure after the Englishman also failed to make his speed superiority count in Monaco, Canada and Austria. On the three subsequent race days, the nett result was a 32-points deficit to Rosberg.
"I'm pleased with how it has gone today and how it is going in generally," Rosberg told Sky Sports News. "The momentum is on my side and I need to make the most of this period."
Two weeks ago at the Red Bull Ring, Hamilton charged through to fourth at the end of the first lap after starting a distant ninth and Rosberg expects a similar scenario to quickly unfold at Silverstone.
"With regards to the championship, it's good for me that Lewis is down in sixth," said Rosberg. "It will take him some time, I think, to come through, but I do expect him to come through quite quickly and very likely we will be fighting again.
"I will try to make myself hard to catch but as always I expect it to be a battle between the two of us and it to be close."
But if battle is rejoined at the front between the two Mercedes drivers, it is Rosberg who will likely boast the critical advantage of track position - the salient ingreident which has more often than not separated the two Silver Arrows cars since the start of the season.
"Lewis has misread it and given the high ground to Rosberg," noted Sky F1 pundit Martin Brundle. "Yes, he can have a brilliant start like he did in Austria, and quite clearly he is in the fastest car on the race-track so all is not lost, but he's given himself an uphill task again. And then it's all about who gets the first call on the pit-stops during the race and Rosberg holds all those ace cards." 
Watch the 2014 British GP live on Sky Sports F1. Our extensive coverage of the Silverstone race weekend continues on race day from 11.30am on Sunday.