Lewis Hamilton could start German GP from pitlane as Mercedes opt for brake change
Safety cited for parc ferme breach as Hamilton focuses on latest "damage limitation" mission
By Mike Wise at Hockenheim
Last Updated: 20/07/14 10:25am
Lewis Hamilton could start the German GP from the pitlane as Mercedes want to switch the brake supplier on his car after Saturday's qualifying accident.
Hamilton crashed heavily during the opening session after his car suffered a right-front disc failure at Turn 13. The Briton suffered minor bruising to his legs as a result of the impact and - for now - lines up 15th on the grid for Sunday's race.
However, it's possible that Hamilton will be faced with an even steeper mountain to climb if Mercedes switch the brake material he uses.
Having started the weekend using brakes supplied by Carbon Industrie, Hamilton changed to another, Brembo, on Saturday morning which subsequently failed.
Mercedes want to switch him back to the former for the race but if they do so, a change beyond repairing accident damage could break parc ferme conditions, meaning that he'll have to start from the pitlane.
Team boss Toto Wolff is hoping the FIA will agree to the change for safety reasons; speaking on Saturday evening, however, Hamilton claimed: "I'm not really thinking about safety."
"Since the first crash I ever had in my life, when I was a kid, all I cared about was whether the car was going to be fine," he said.
"All I'm caring about now is whether the guys will put the car back together again tomorrow and I'll do what I do best – try and drive through the field.
"I'm not thinking about the brakes. I'll get out tomorrow and try and push just as hard as ever. On the brakes, the first time I touch them, you just get over it."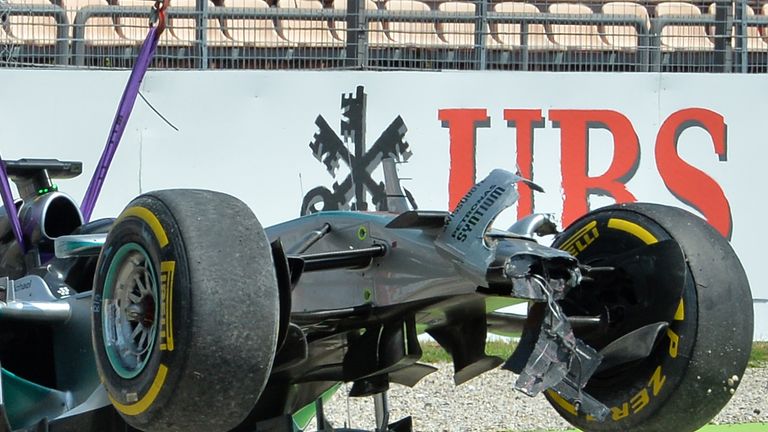 With team-mate and title rival Nico Rosberg starting his home race on pole position, Hamilton was blunt when assessing his race prospects.
"Whenever the lights go out, I'm always thinking of finishing the race first, that's always my target. But I'd have to be smoking something to think I could really get to Nico," he added.
"He's on pole position, he's got no-one in front of him, so by the third or fourth lap he'll be several seconds up the road and as I'm starting last, I could be a good 30 or 40 seconds behind.
"I've now got to do damage limitation again, which I seem to be doing quite often.
"I don't know where I'm starting – if I'm starting 16th or starting in the pitlane. We'll find out."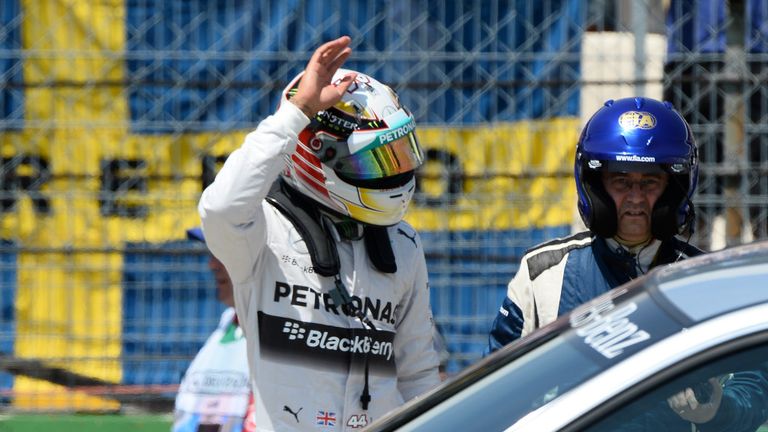 Wolff said a brake failure that Rosberg suffered using Brembo earlier this year was at the forefront of Mercedes' minds in switching Hamilton back to Carbon Industrie.
"I'm not sure this is totally clarified, because Nico had a brake failure - which means we are obliged to make sure that the car is running safe tomorrow," he said. "But that would mean switching the brake supplier.
"We're discussing that with the FIA and I would even go further: obviously many teams are running that brake material and so that safety discussion needs to be extended." 
No other team using Brembo brakes has reported problems in Germany, although a number besides Mercedes - including Ferrari and Red Bull - have experienced failures this year.
With Hamilton's starting position not known until Sunday, Wolff also said he was unsure whether the gearbox on his W05 would need replacing - which itself incurs a five-place penalty - after the high-speed impact.
Watch the 2014 German GP live only on Sky Sports F1. Race-day coverage from Hockenheim begins at 11.30am on Sunday