Lewis Hamilton bemoans brake problem after Nico Rosberg takes pole position
Briton struggled with lock-ups throughout qualifying in Austin
By Pete Gill
Last Updated: 03/11/14 6:15pm
Lewis Hamilton has bemoaned the brake problem which culminated in Mercedes team-mate Nico Rosberg cruising to pole position for the United States GP.
The World Championship leader, who had topped all three practice sessions prior to qualifying, was beaten by almost fourth-tenths as Rosberg romped to his ninth pole of the year. While Mercedes celebrated their tenth front-row lockout of the season, Hamilton was left to rue the spate of lock-ups which wrecked his session.
"Nico did a great job, I really struggled with my braking, the left-front brake was always cooler than the right-front brake and it kept catching. That's where I was losing time but even if that wasn't the case then Nico was perhaps too quick today," said Hamilton.
Speaking later to Sky F1, Hamilton added: "It wasn't the easiest of sessions. Once you lose your confidence on the brakes because you know it is going to lock then you are kind of stuffed.
"I tried to improve but ultimately I couldn't get close to Nico.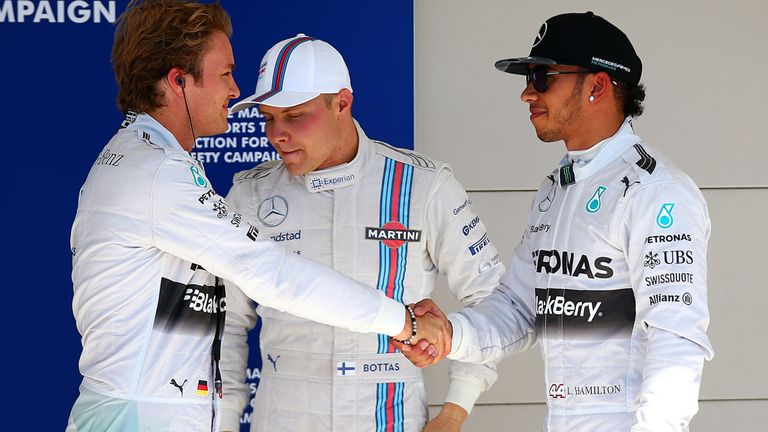 Asked if the problem could be fixed, the Mercedes driver replied: "They can sand down the disc a bit, and I'll my engineers to do that, so hopefully tomorrow can be better."
Hamilton's 2012 victory at the Circuit of the Americas occurred from second on the grid and the Englishman, who has won the last four events to open up a 17-point lead of the championship, has vowed to take the fight to Rosberg.
"This is a circuit you can fight in and battle and overtake so we'll see. Tomorrow is a fresh day, there's a lot to play for, but I'll be looking for all the opportunities for how I can get by."
Hamilton is widely considered to be the fastest driver in the sport but his qualifying defeat in Austin means that Rosberg – 10-7 up on his team-mate - is guaranteed to claim the Saturday intra-team bragging rights at Mercedes this term.
"I'm pleased about that of course," commented Rosberg. "I feel comfortable in the car and when I do I can get the lap out of it. Unfortunately I don't get any points for qualifying and it's the race which I have to nail for the next three."
Rosberg's recent record of converting pole into victory doesn't inspire confidence, however: he's managed that feat just once in the last six attempts.
"It's been a great day, I'm very happy. With my engineers, I arrived at a car which I was really happy with," said Rosberg. "The wind was changing so that made it very challenging, it wasn't easy to get everything right. But it's the race which counts and I need to fully focus on tomorrow."