Lewis Hamilton says his clash with Nico Rosberg at Spa created a feeling of war
2008 Champion reveals incident inspired him to up his performances
By William Esler
Last Updated: 25/11/14 5:56pm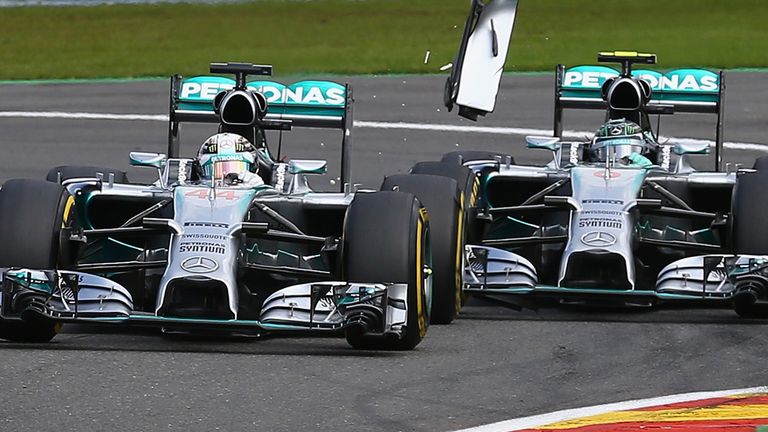 Lewis Hamilton says his clash with Nico Rosberg in Belgium created a "this is war" feeling which inspired him to compete at a higher level in the second half of the season.
The 2008 World Champion suffered a puncture on lap two of the race at Spa-Francorchamps after team-mate Rosberg tried to retake the lead at the Les Combes chicane. 
Hamilton would retire from the race whilst the German would go on to finish second and open up a 29 point gap at the top of the standings. 
Since then the Briton has taken victory in each of the five races which have followed to overturn the deficit and lead the Drivers' Championship by 24 points.
"You don't really look five or 10 races ahead. I've just always kept my head down, kept chipping away," said Hamilton.
"I had those four wins (early in the season), and then there was the bad patch from Monaco onwards.
"Then Spa was like 'I'm going to turn this up. I'm going to have to turn this up. This means war', that kind of feeling.
"In reflecting on it, I turned the energy from that negative bomb into a positive."
The win in Austin was Hamilton's tenth of the season, but despite Rosberg once again failing to convert pole position into victory he doesn't feel that he has a psychological advantage over his team-mate.
It would be easy to believe on the back of his 10th win of the year in the United States Hamilton now has a clear psychological edge over Rosberg.
"I'm not sure I do have an edge," said Hamilton.
"Every weekend Nico resets, he comes in and qualifies on pole. He's massively strong mentally. He's still there, still fighting."