Lewis Hamilton hails his second world title as 'the greatest day of my life'
Victory in Abu Dhabi gives Hamilton the World Championship; Gracious Rosberg admits Hamilton is a deserved champ
By Pete Gill and James Galloway
Last Updated: 24/11/14 9:58am
Lewis Hamilton has described his coronation as the 2014 World Champion as the "greatest day of my life" after wrapping up the title with victory in Abu Dhabi.
While Mercedes team-mate and title rival Nico Rosberg slipped out of the points after suffering an electronics failure on his Mercedes W05, Hamilton cruised to victory – and his second title – with a faultless performance after out-sprinting the German into the lead off the line.
"This is the greatest day of my life. 2008 was special but the feeling I have now is way past that. It's the greatest feeling I have ever had," said an emotional Hamilton on the podium.
"I can't explain how much this means, it means even more than the first one."
Although Hamilton has had to wait six years to add to his maiden drivers' title – the joint-longest wait between first and second championships in history - the 2014 success has been achieved in just his second season at Mercedes. The 29-year-old paid tribute to both the Brackley team and the "phenomenal" support he has received from his fans.
"This has been an incredible year. I just cannot believe how amazing this has all been," the new double World Champion continued.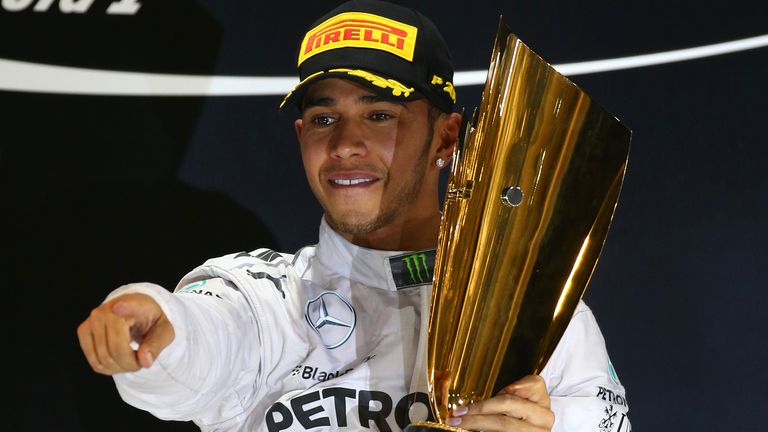 "Coming to this team last year, the decision to come here, when a lot of people said it was the wrong choice. The steps we took last year and then coming into this year, it was just unbelievable and then again, as I said, the fan support has been phenomenal.
"I never in a million years thought I'd have that kind of support, so as I said before, this is the greatest moment in my life. It's very hard to… it feels very surreal. It feels like an out-of-body experience. I feel like I'm back here watching this going on, it's not really happening. So I'm going to really make sure I gift my thanks and count my blessings."
In a classy gesture, Rosberg entered the podium meeting room after the race to embrace and congratulate Hamilton, something which impressed the Englishman. The title rivals have waged an intense battle for the crown all year with the tension of the fight having at times put a very public strain on their relationship, which stretches back to childhood.
"I remember, I think it was at Spa, Paddy [Lowe] said 'in one of these races there's a big chance something's going to happen to one of the cars', so naturally for all of us we were working so hard to make sure that was not the case," Hamilton told Sky Sports F1.
"Today we wanted that race, we had that race for a certain part of it, and I know how difficult it would have been for him driving round without that power. I've been there, I've had that experience, so I have all the sympathy for him absolutely.
"But he came to me afterwards and said 'congratulations', which is very, very professional. No one told him to do that – he did that off his own back. I'm impressed with that."
Hamilton had earlier said on the podium: "Nico put on an incredible fight all year. I'm very sad to know that the car wasn't quick enough so that he could fight but, still, he was a great sport and came up to see me. He said 'you drove really well' and the same for him, he drove very well all year, especially in qualifying."
The foundation for Hamilton's 11th win of the season - and his resultant championship win - was established at the start of the race when a sensational getaway from the grid saw him surge past polesitter Rosberg within seconds of the five lights going out.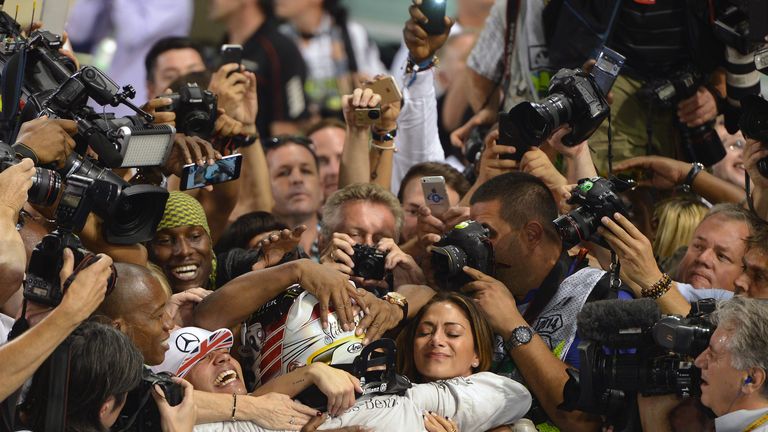 "It was the best start I can remember having. It felt incredible as I launched off and I don't know if that's because others had worse ones or what, but unreal the grip on the grid and we really maximised. It felt like I had a rocket behind me," Hamilton explained to Sky F1.
"Going into the race with all that pressure, I don't know if people realise, but it's so easy to jump the start, you know? Just trying to anticipate because you want to get ahead but make a mistake."
Hamilton admitted that while he struggled to sleep on Saturday night as all the potential race-day permutations went through his mind, his subsequent decision to go for an early-morning run alongside the Yas Marina waterfront and then have a massage left him feeling surprisingly calm and relaxed.
"Normally you go in butterflies in the stomach, a bit nervous, today I was going into the race thinking 'I feel extremely calm', which is really weird. Is that a good thing or a bad thing? Obviously it was a really good thing," Hamilton recounted.
"Last night sitting there thinking, Jeez, tomorrow is the day. We could go into the race, something could happen to the car and that would be the championship done. Naturally just thinking of all the negative things possible, y'know? And working really hard to bring the positives into it. I brought that today. I think really that knowledge and experience got me through the race today."
Untimely, and crucially, Hamilton was error-free during the course of the 55-lap race and Niki Lauda, Mercedes' non-executive chairman, believes the right man ended up as 2014 Champion.
"Yes [Hamilton deserved it]. He won 11 races, he was the stronger man the whole season we have to say. Lewis did an incredible job, especially today, and I can only lift my cap [to him]," Lauda told Sky F1.
In the final reckoning, with Rosberg lapped with just two laps to remaining after refusing to throw in the towel, Hamilton's margin of title victory stood at 67 points.