Lewis Hamilton ready to commit his future to Mercedes after claiming second title
Newly-crowned Hamilton describes contract talks as a 'formality'
By Sky Sports Online
Last Updated: 15/12/14 10:23am
Lewis Hamilton has told Sky Sports News HQ he expects to be at Mercedes for years to come following Sunday's title success.
Formula 1's newest double champion sat down with Craig Slater the morning after victory at the Abu Dhabi GP saw him beat team-mate Nico Rosberg to the 2014 Drivers' Championship.
And the Briton, who has one year to run on his curent deal, revealed talks over a new contract should take place in the coming weeks.
Asked whether he sees himself at Mercedes for the next two or three years Hamilton said: "Without a doubt, and I hope longer. I've been a part of Mercedes since I was 13, so it's a natural progression.
"During the season is not the time to really talk about things, and you start assessing and discussing the future generally in the last year of your contract.
"But we're happy with where we are and what we've achieved together. Toto (Wolff) was just saying in the coming weeks we'll sit down and hopefully it will be a simple process to go through - a formality."
Hamilton and Mercedes' management had agreed several months ago to put on hold contract negotiations until the championship was decided, although both sides had publicly made clear that they were keen to extend a relationship which began in 2013.
Speaking to reporters on Sunday night, Mercedes' Executive Director Wolff reiterated the outfit's desire to retain their new World Champion. However, he insisted that it made no sense to rush through a contract renewal.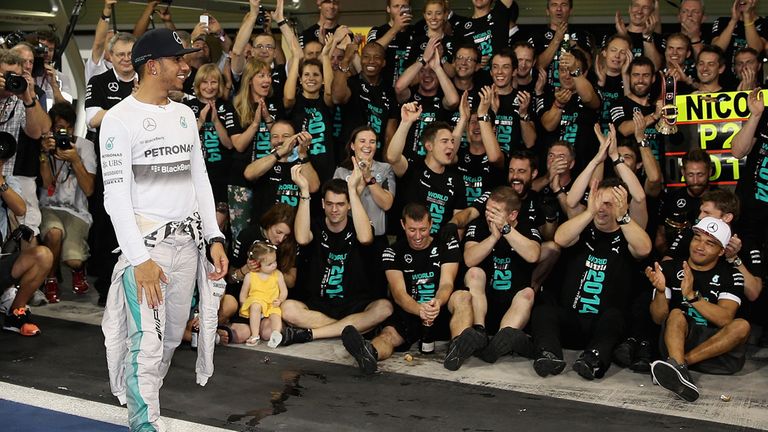 "We would love Lewis to stay in the team. He has been an incredible part in the development and rise of the team and we want to continue with both of them [Hamilton and Rosberg]," Wolff said.
"I think he wants that too but it is not a matter of a couple of hours of sitting down and just ticking the boxes. It needs proper reflection and discussion.
"That is never easy because it a decision with consequences, for the driver – for Lewis – and for us as a team. Stability is a very crucial ingredient for us as a team and sitting down and discussing the future. It is clear that for Lewis he feels at home in the team, that car is the most competitive car now and so we've ticked two boxes, but having said that it is never quick in finding all the terms and just making it happen."
Hamilton is already preparing himself for next year's renewed rivalry with Rosberg after a title battle between the former karting colleagues which threatened to turn nasty more than once.
"I think naturally he's going to be coming back strong next year," Hamilton told Sky Sports News HQ. "You're always going to have a battle - I've never wanted to have an easy race. Having that competition is what keeps me going, and he did an exceptional job."
The pair embraced ahead of the podium ceremony, with a sporting Rosberg hailing his team-mate as a "deserved" champion.
"I'm grateful for his efforts and, more so, for his maturity," responded Hamilton. "We had a tough year together, lots of ups and downs, but I think we are both stronger for it."
Victory in Abu Dhabi was Hamilton's 11th of the season and saw him crowned champion by a margin of 67 points over Rosberg. Starting alongside his title rival on the front-row of the grid, Hamilton seized the lead into the first corner and never looked back as he romped to a decisive win.
"I grabbed it with both hands because you never know when you might have a chance like this again," Hamilton reflected after becoming just the fourth Briton in F1 history to win multiple world titles.