Lewis Hamilton denies asking for number one status at Mercedes
Toto Wolff also denies world champion has sought superior billing
By Pete Gill and James Galloway
Last Updated: 21/04/15 12:00pm
Lewis Hamilton has denied asking for number-one status at Mercedes - a luxury which he believes both Fernando Alonso and Sebastian Vettel have written into their contracts.
Despite agreeing to the terms of a contract extension last month with Mercedes, Hamilton is still yet to put pen paper on a new deal with the Silver Arrows, prompting speculation that the two parties may have hit an impasse after the world champion demanded number one billing ahead of team-mate Nico Rosberg.
But Hamilton has emphatically denied making any such demand for preferential treatment – and for good measure thrown in with what will be interpreted as a dig at Ferrari's Vettel and McLaren driver Alonso, the Englishman's team-mate during a single turbulent season in 2007.
"I've never, ever, ever asked for a number one clause," Hamilton told Sky Sports News HQ. "Sebastian will have that. Fernando always asks for that. I have never, ever asked for that. 
"I want to beat the guy, at his best, next to me and then I'll know where I stand. It's never been a case of wanting to tie someone's hands behind their back and beat them and be happy with it. I know a lot of people here would be happy with that, but that's not me."
Team boss Toto Wolff had already moved to dismiss claims Hamilton had sought number one status, assuring Sky Sports News HQ ahead of this weeeknd's Bahrain GP: "That's not the case – and he wouldn't ask for that clause because that is not what we do and I think he appreciates how we manage the team and give both drivers equal status.
"It is down to the detail. We have discussed and negotiated for a long time. We have sorted out the main terms since a couple of months already and it's just a little bit of ping-pong between the lawyers. This is the normal process."
Having at one stage expressed hope that the deal could have been concluded even before the new season began, Wolff is now hoping they are soon ready to put the matter to bed.
He added: "I would really wish to sort it out in the next couple of days or weeks, without putting ourselves under pressure because this is a great relationship among us. We want to win races and just put the signed contract into the drawer."
Once Hamilton's new contract is finalised then the Briton will again be team-mate to Rosberg in 2016, the German having signed his own multi-year extension last season to remain at the Anglo-German team.
The pair, once childhood friends when karting team-mates, have endured a tempestuous relationship since being pitched together in an exclusive battle for the world championship last year with tensions flaring for the first time in 2015 last week in China.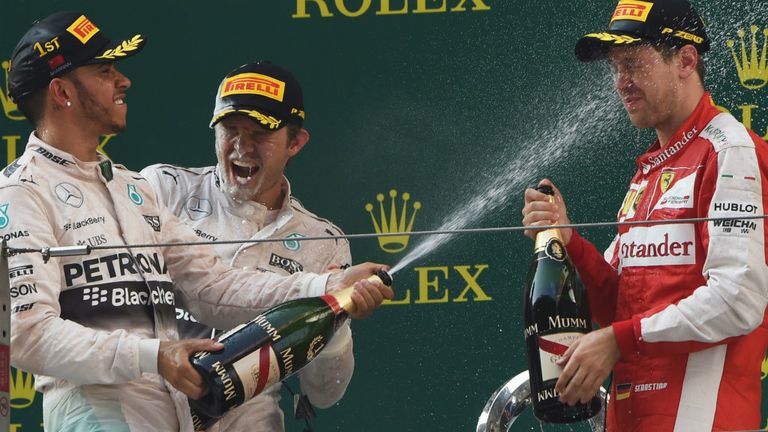 Rosberg accused race winner Hamilton of "compromising" his race by driving too slowly in the middle stint – a claim his team-mate has since dismissed – and has now only beaten the sister Mercedes once on a Sunday since last July. 
Wolff, however, has played down suggestions that Hamilton has now gained a clear psychological edge and has backed Rosberg to start delivering strong race-day performances again as well.
The Austrian said: "It's difficult to look into the brain. They are very competitive and we have seen much worse with drivers losing out on a particular day - we have seen much worse from Lewis and seen much worse from Sebastian [Vettel] - and to be honest we all have emotions and sometimes we have a better day and sometimes have a worse day.
"You are always being judged in our fast-moving environment by the last race. If he has a good race and beats Lewis on Sunday there is no discussion anymore about his pace. He had a couple of races which were not perfect, he didn't win, but he wouldn't be a Formula 1 race winner if he wouldn't have the strengths to fight back. I have no doubt we will see very good Sundays from Nico as well."