Lewis Hamilton declares 'it's on!' as Ferrari take fight to Mercedes
Hamilton enjoying challenge from revitalised Ferrari and says Mercedes will improve in response; Double world champion believes he's in the form of his F1 career following stellar start to 2015
By James Galloway
Last Updated: 21/04/15 3:05pm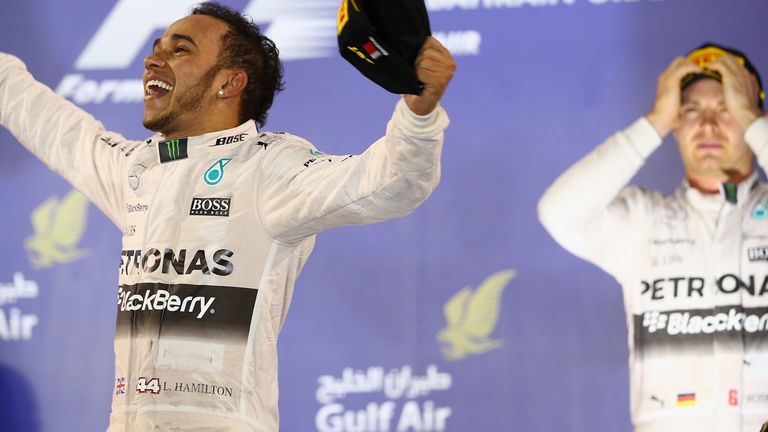 Lewis Hamilton is relishing the intensifying battle between Mercedes and Ferrari at the front of F1, with the world champion believing he is currently enjoying the form of his career.
Having won out in an exclusive duel with team-mate Nico Rosberg for the 2014 drivers' title, Hamilton also has Sebastian Vettel and Kimi Raikkonen to contend with this year following the leap forward by Ferrari.
With one win under their belt already, the famous Italian marque again chased down Mercedes in Bahrain last weekend with race-long leader Hamilton, troubled by brake problems on the final lap, eventually winning by only three seconds from a fast-closing Raikkonen.
But while Mercedes' supremacy is being challenged for the first time since F1's current range of turbo engines were introduced, Hamilton is enjoying the increased competition and says the Brackley team will use it as their motivation to keep improving.
"It's on!" the world champion declared to Sky Sports News HQ when asked about the duel with Ferrari.
"Hopefully it's good for the fans, it was great to be out there pushing. We're still ahead but in these hotter conditions they get seriously close.
"But I'm excited to get to some of the places where perhaps it isn't so hot – although, come to think about it, it's pretty hot at a lot of places we get to go to! But we'll make some improvements, don't worry."
At the eighth attempt, Hamilton finally achieved a pole position in Bahrain, meaning that Monaco, Austria and the returning Mexico, where he has yet to drive, are now the only races on the calendar where he has yet to top qualifying during his already glittering career.
And with two Sakhir wins in a row now on his CV, Hamilton admitted he was "really, really happy" with his performance over the weekend.
"I didn't get off to the best start – Turn One was okay but Turn Four not so good – but apart from that I didn't have any problems all weekend and I did the job I needed to do," he added.
"So it was great for once to conquer the circuit."
Indeed, since retiring from last August's Belgian GP with damage sustained from his contentious collision with Rosberg, Hamilton has 'conquered' all but two of the 11 circuits he has since raced on with second places in Brazil and Malaysia his only non-race victories in that time.
Speaking before delivering his third win so far this season on Sunday to increase his world championship lead to 27 points, Hamilton agreed with suggestions that his form in F1 has never been better.
"I'd like to think so," Hamilton told the British press. "I've almost surprised myself that it's been strong and building on what I did last year, and how I've been driving, how I've been adapting to things. I've been really happy with it, really proud generally."
Of the nine drivers who have won three or more world championships only an illustrious trio, Juan-Manuel Fangio, Sebastian Vettel and Ayrton Senna, Hamilton's childhood hero, have claimed their second and third titles in consecutive years.
Hamilton, who had to wait six years for another title after claiming his first with McLaren in just his second season of F1, admits he is taking more satisfaction from being world champion second time around.
"The feeling is hard to describe. It was amazing," he said. "You get a kind of extra hop in your walk. When I was world champion before I didn't have that feeling. It was different this time, this time I'm aware of it.
"It's exciting. In the past I didn't enjoy it, and not that I live with regret, but that's something I would change."
Catch the F1 Midweek Report on Wednesday at 8:30pm on Sky Sports F1. Marc Priestley and Mark Gillan join Natalie Pinkham to analyse the Bahrain Grand Prix.