Bernie Ecclestone would like Lewis Hamilton to join Ferrari
Supremo says it would be great for F1 if world champion moved
By William Esler
Last Updated: 21/04/15 11:57am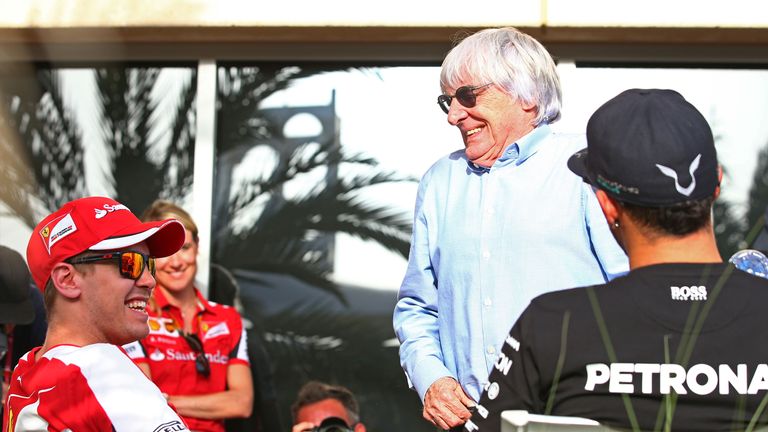 Bernie Ecclestone says it would be great for F1 if Lewis Hamilton swapped the silver of Mercedes for the red of Ferrari.
The world champion's current deal expires at the end of the season and speculation has grown over his future as a contract which was "in the final stages" ahead of the Australian GP and "99.6 per cent" done following Malaysia remains unsigned.
With Kimi Raikkonen also out of contract at the end of 2015 and Ferrari yet to take up their option on the Finn for next season, Ecclestone would like to see the two most recent champions – Hamilton and Sebastian Vettel – paired together.
"It would be great to see Lewis at Ferrari," Ecclestone told The Daily Mail.
"Whether Sebastian would want that, I really don't know. But if Lewis went there, it would be great for the sport — 100 per cent."
Having made a dramatic improvement in their pace over the winter, Ferrari could suddenly be a much more attractive proposition for Hamilton – if Vettel allowed it
'It also remains to be seen if Vettel would veto a move for Hamilton,' wrote Jonathan McEvoy in the Mail. 'It is understood that a clause in his contract would allow the German to do so'.
A transfer to Maranello for Hamilton would send shockwaves through the F1 paddock, but Sky Sports F1's Martin Brundle doesn't believe it is a likely scenario.
"I think a lot of people think he is looking at Ferrari and Fernando Alonso will undoubtedly have an exit clause in his McLaren contract should a Mercedes drive come up," Brundle said.
"But I think it is just detail, they are fighting over things like can he have a car at the end of the season and how many passes he will get for the paddock. That is my gut feeling, I can't see any showstoppers in there, but Lewis is using the moment, he is box office."
Speaking to Sky Sports F1, Mercedes boss Toto Wolff also dimissed the links to Ferrari as little more than speculation.
"Contracts are not always simple and when it comes down to the details you have to be precise and this where we are," he said.
"Lots of the main terms have been sorted out. I don't think there is a necessity of being under pressure, because we are just at the beginning of the season, the contract runs out at the end of the season and we have seen teams without any drivers in November and we are discussing it in April, so we are feeling okay.
"There are many stories, is he going to sign, is he going to Ferrari, but that is pretty optimistic."