Lewis Hamilton hopes to end wait for a second Monaco GP victory
World champion aiming to deny team-mate Rosberg a hat-trick of wins at F1's most legendary race; "I've had five opportunities, I've won one," admits Lewis seven years on from his sole Monaco GP success
By James Galloway
Last Updated: 20/05/15 11:50am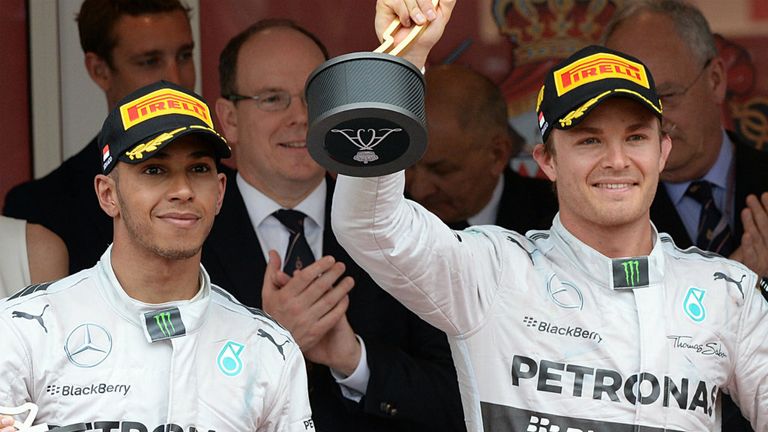 Lewis Hamilton is hoping this weekend's Monaco GP proves "third time lucky" for him versus Nico Rosberg at Mercedes as he aims to beat his team-mate to victory this year and end his wait for a second career win in F1's most famous race.
Since becoming team-mates in 2013, it has been Rosberg who has held the upper hand around the principality's street circuit with two poles and two race victories in as many seasons.
Although world champion Hamilton is a past Monaco GP winner himself, his sole F1 success there came back in his first title-winning year of 2008 and, in something of a anomaly for a driver who has secured 42 pole positions in his career, the 30-year-old has never qualified at the head of the grid in the principality.
Hamilton, though, is looking to make amends this time round.
Asked by Sky Sports after losing out to Rosberg at the last race in Spain if he was excited about Monaco, Hamilton replied: "I really am – more than ever actually. I know that I can rectify things in the next race, which I plan to do.
"I've not won that race for a long, long time – I've only won it once – so this is going to be my third chance with this great team and with a great car. So hopefully third time lucky."
Another victory for Rosberg this weekend would elevate the German alongside Graham Hill, Alain Prost and Ayrton Senna as the only drivers to have won the Monaco GP in three successive years.
Brazilian legend Senna holds the event's overall win record with six, meaning Hamilton is a long way adrift of his childhood hero's benchmark.
But asked if he was keen for his Monaco record to be more in keeping with the rest of his career achievements to date, Hamilton said: "You would think so and I'm pretty sure when I got into Formula 1 I had that feeling, I'm less thinking of that now. I'd rather the championships reflect more than that if possible.
"But naturally Monaco is the race everyone wants to win. I've literally lost three opportunities that I've had – maybe four – over my career with the car to do it. So I've had five opportunities, I've won one."
Hamilton's defeat to Rosberg last year came in particularly contentious circumstances after their pole battle was settled in the German's favour after he locked up and ran off the road at Mirabeau on the decisive final runs, triggering yellow flags which meant his team-mate had to back out of his own lap.
Although race stewards cleared Rosberg of any wrongdoing, Hamilton failed to back his team-mate and the pair barely acknowledged each other after finishing one-two in both qualifying and the race.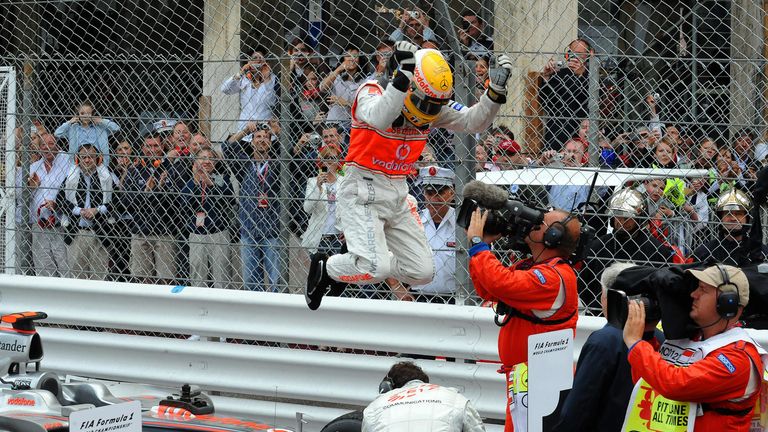 "To be honest, I don't really remember too much about it, Hamilton recalled 12 months on. "But naturally back then there were a couple of incidents through the year which were difficult.
"But you take the rough with the smooth and I think I bounced back from them pretty well."
Like last year, Hamilton heads into the Monaco weekend at the lead of the World Championship, although his advantage this time stands at 20 points compared to just three 12 months ago.
Don't miss Sky Sports F1's exclusively live coverage of the 2015 Monaco GP. The race begins at 1pm on Sunday, with build-up underway from 11.30am. No Sky Sports? No problem! Get a NOW TV pass from only £6.99.