Lewis Hamilton's Singapore DNF caused by broken Mercedes clamp
Loss of power caused by breakage of long-established part in power unit; Toto Wolff says Hamilton may have had outside shot at podium
By James Galloway in Singapore
Last Updated: 20/09/15 7:10pm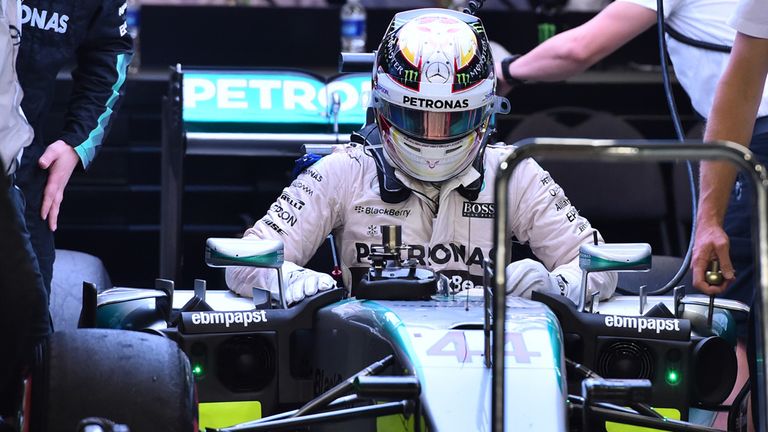 Lewis Hamilton's retirement in the Singapore GP was caused by a "minor" breakage in his car's power unit, Mercedes have revealed.
The world championship leader's hitherto big points lead was dented by his first retirement in 13 months at Marina Bay on Sunday after his W06 suffered a worsening loss of power, which saw him plummet down the field from fourth place.
Despite attempts by Hamilton and his race engineer over the radio to reset settings on his car, the team were unable to rectify the problem and the Briton was forced to pull out of the race - bringing to an end a run of 19 consecutive finishes.
Mercedes later confirmed that "the failure of a clamp between the intercooler and plenum" had caused the loss of power.
"We had a very minor bit, a metal clamp, that broke that had a massive effect. The clamp was on the plenum and holding the plenum together and when that jumped off it caused a boost leak," team chief Toto Wolff explained.
"It's a freak thing. We've run the design for a long time and it just broke."
Wolff, however, confirmed that Hamilton's engine, his third of the season, should not need to be replaced for next weekend's Japanese GP. 
On what proved Mercedes' least competitive weekend of F1's current turbo era as they struggled with tyres around the street track, Hamilton was nonetheless surprisingly upbeat after the race as he had felt "super optimistic" - prior to the reliability problem striking - that he could have challenged the leaders in the closing stages of the race.
Wolff, however, reckons third place was as good as it was ever going to get for the championship leaders.
"The gap [from qualifying] was similar because Sebastian [Vettel] was managing the pace. The moment he picked it up twice in the race he was gone into the distance," Wolff said.
"So the [tyre] problem wasn't solved in the race. We looked better than in qualy so maybe a podium would have been possible for Lewis, but not an answer to the problems."
Nico Rosberg's subsequent fourth-place finish means Hamilton's title lead is cut to 41 points heading to Suzuka, with Singapore victor Vettel a further eight points back.
Don't miss the F1 Midweek Report on Wednesday night at 8.30pm when John Watson and Maurice Hamilton join Anna Woolhouse to discuss the Singapore GP