Sebastian Vettel relegated to fifth at Mexican GP after penalty
German given 10-second penalty for Daniel Ricciardo clash after stewards deem move "abnormal" and "potentially dangerous"; Ricciardo third with original podium finisher Verstappen fourth
By James Galloway
Last Updated: 03/11/16 8:34am
Sebastian Vettel has been demoted from third to fifth in the Mexican GP after being handed a 10-second penalty for his collision with Daniel Ricciardo.
The decision means Ricciardo has been promoted to the final podium position behind Mercedes pair Lewis Hamilton and Nico Rosberg, with Red Bull team-mate Max Verstappen moving up to fourth
Verstappen had originally finished third but was handed an immediate five-second sanction after the race for cutting the first corner while battling Vettel. The Ferrari then came under attack from Ricciardo at Turn Four, with the two drivers making contact in the braking zone and drawing the attention of the stewards.
The three drivers became embroiled in a post-race war of words over the two incidents, which occurred in the race's final three laps.
After having his podium finish taken away, Verstappen labelled Vettel - who vented his fury with the Dutchman's driving over the radio - a "very frustrated guy" and claimed the German's defence of position from Ricciardo had been "ridiculous".
"Daniel was alongside him and he just turned into him," Verstappen told Sky Sports F1.
Ricciardo had called for a penalty against his former team-mate, suggesting Vettel had broken the so-called 'Verstappen rule' introduced at last weekend's US GP which prohibits moving under braking.
Verstappen tells Vettel to 'go back to school'
"He did what everyone has been complaining about - moving under braking," Ricciardo told Sky F1. "He's smiling now but for me he doesn't deserve to be on the podium. He kept on closing the door under braking and in the end I had nowhere to go."
After speaking to both drivers, stewards in Mexico ruled that video and telemetry evidence showed that Vettel did change direction under braking, a movement found to be "abnormal" and "potentially dangerous in view of the proximity of the wheels of each car".
Vettel also had two penalty points added to his race licence, his sixth in the last 12 months which is halfway to a one-race ban.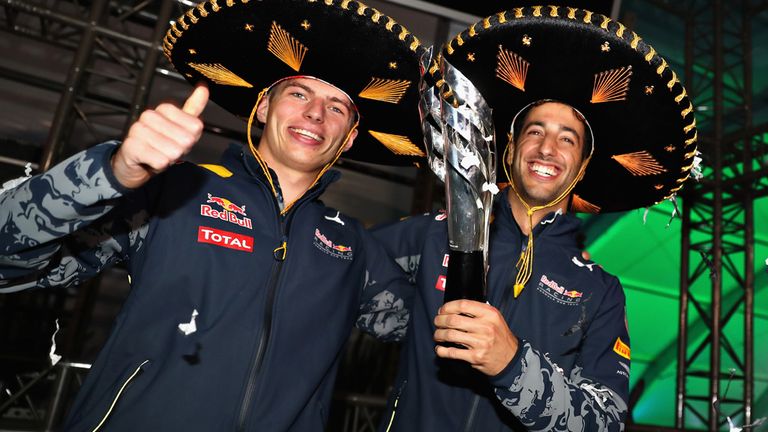 Mexican GP updated results
1. Lewis Hamilton, Mercedes
2. Nico Rosberg, Mercedes
3.  Daniel Ricciardo, Red Bull
4. Max Verstappen, Red Bull
5. Sebastian Vettel, Ferrari
6. Kimi Raikkonen, Ferrari
7. Nico Hulkenberg, Force India
8. Valtteri Bottas, Williams
9. Felipe Massa, Williams
10. Sergio Perez, Force India
The stewards' verdict in full
'The stewards paid particular attention to the Race Directors Notes from the US Grand Prix (v2) and from this event (point 18).
'Notwithstanding the F1 Commission directive to "let the drivers race" we note the concern that has been expressed about manoeuvrers involving a change of direction under braking as expressed at the Drivers Briefing at the US Grand Prix and in the Race Director's Notes from the US Grand Prix and this event.
'The telemetry and video evidence shows that the driver of Car 5 did change direction under braking. Article 27.5 and the Race Director's Notes have essentially three criteria that determine a breach
1) Driving in a manner potentially dangerous
2) An abnormal change of direction
3) Another driver having to take evasive action
'The video footage, including the close circuit footage, the broadcast vision, both drivers' on board cameras plus the telemetry show that there was an abnormal change of direction by Car 5 and this was considered to be potentially dangerous in view of the proximity of the wheels of each car.
'The video evidence clearly shows that Car 3 had to take evasive action as a result. Accordingly as all three criteria have been met, the driver of Car 5 is guilty of a breach of Article 27.5.'