Attitude and aggravation could cost Sebastian Vettel the F1 world title
Sky Sports F1's Martin Brundle on how Sebastian Vettel is in danger of becoming his own worst enemy in this year's title race
Last Updated: 03/10/17 7:12am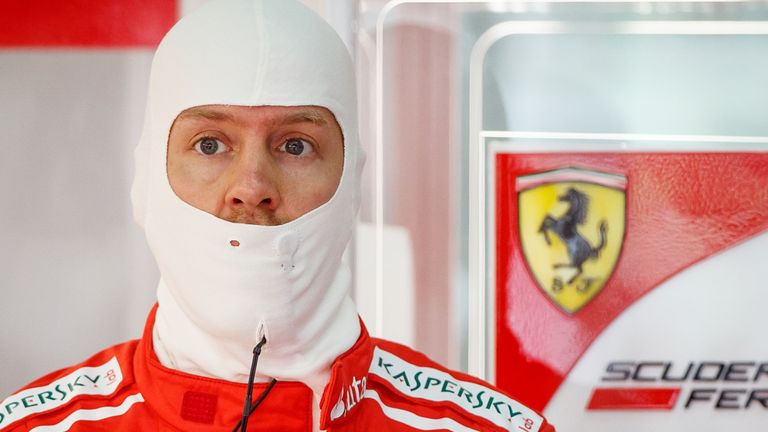 Sebastian Vettel has for a while now demonstrated a sense of entitlement bordering on disrespectful on the race track.
We used to hear the likes of 'get him out of my way' over the radio, and on Sunday in Malaysia he felt the need to broadcast that he 'thought Alonso was better than that' after he held him up a while.
Fernando was far from helpful in letting the Ferrari past it is true, but Vettel is being somewhat ironic there for someone who intentionally hit another car behind the Safety Car in Baku.
Then he and Lance Stroll, who had just scored points for the sixth time in nine races, managed to trip over each other on the slow-down lap wrecking the Ferrari beyond belief. It was all very unlucky in the post-adrenaline lack of focus, and no further action was taken on the bizarre event.
But it should never have happened.
Vettel then risked a penalty by taking his technically-sensitive steering wheel with him while hitching a lift on a Sauber, with a perfectly sensible medical car waiting nearby. There's just no point in provoking the stewards and testing the rules like that.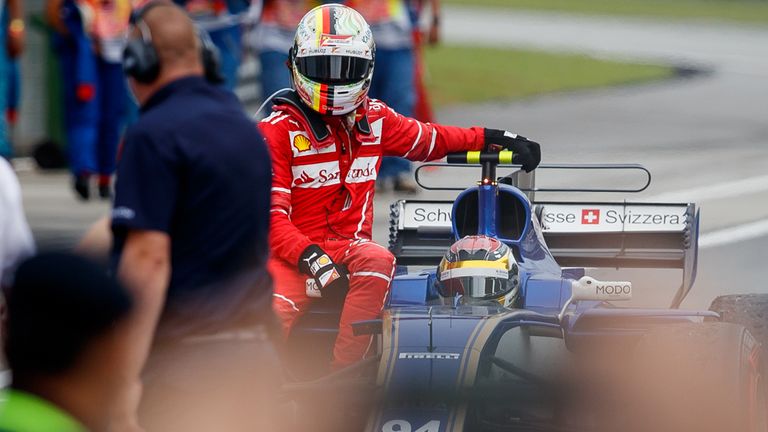 It is to an extent amusing that the Halo is being introduced next season to further protect the drivers, something of which Seb is an ardent supporter, then he's sitting on the shiny sidepod of a hot F1 car doing 80kph with a fat rear tyre ready to run over him should he slip, for three kilometres.
At least the Halo will provide something more positive and grippy to hang onto while hitching a lift, an unexpected safety benefit.
I've hitched an F1 lift many moons ago and it's actually quite scary because the guy seat-belted-in who's just done a race at 200mph thinks he's going extremely slowly, but that's not how it feels clinging onto the bodywork.
I like spirited drivers but I mention all this because it's costing Vettel a world championship, not least cutting across Max Verstappen in Singapore.
Ferrari are giving him the equipment, even to recover from a back row grid start through mechanical failure, and as the pressure grows, as it always does at Ferrari, I wonder who's going to start pointing fingers at who.
He is driving brilliantly, but his extra-curricular activity and attitude is making it unnecessarily difficult. With five races to go, he still has a chance to steal this title, as he's done before.
As Niki Lauda of Mercedes said to me after qualifying, 'our luck must run out soon'. Well, it hasn't yet.
But Mercedes are rightly very concerned. On two completely different track layouts and challenges in Singapore and Sepang they were off the pace of Ferrari despite Hamilton impressively taking a first and second. Mercedes' aero update didn't work for some reason and Valtteri Bottas could only manage fifth place, nearly a minute behind when so equipped on Sunday.
With Ferrari so strong it's possible Kimi Raikkonen could yet take points away from Hamilton, and with Bottas struggling at the moment he is less likely to take points off Vettel.
Mercedes alarmed by unexpected slump
Hamilton: We've got big problems
Bottas: My most difficult time
Throw a resurgent Red Bull into the mix and we have a complex situation with 125 points still on the table. But with a 34-point lead over his championship rival, if Red Bull take a few big points hauls it plays into Hamilton's rather Vettel's hands.
Those two turbo issues for each of the Ferraris in Malaysia were indeed costly especially given their combined crash in Singapore. Vettel's charge back through the field didn't quite clear Ricciardo's Red Bull for the podium as he had to conserve fuel and mind engine temperatures in the end.
Max Verstappen drove perfectly to become the fifth different winner of a GP this season.
He delivered a decisive move past a passive Lewis Hamilton who had a different fight to think about, and then he was gone. I asked him post race on Sky F1 how he felt at that moment. It was the first race in F1 where's he's led for a long period and he simply said it reminded him of karting and F3 where he was used to being out front.
He certainly looked at home even if his neck and body were struggling a little towards the end. It was easy to sense the outpouring of relief from the Verstappen camp after a very difficult season.
I do find all the crying on the radio from drivers who have just lost out in combat a bit disappointing, just like diving in football. I accept they are playing the system, we even heard Esteban Ocon being berated over the Force India radio for not making enough fuss on the radio in order for race control to be alerted. They have enough eyes, data, camera angles and screens up there to work it out for themselves, I would have thought.
Stoffel Vandoorne drove very well all weekend for McLaren to claim yet more points, and it was interesting to see how long it took the recovering Vettel to pass the sister McLaren-Honda of Fernando Alonso. Mind you, he didn't seem interested in letting anything painted red from his former team slide through too easily.
Pierre Gasly in his first GP put in a very strong showing with Sainz-matching pace in qualifying and decent wheel-to-wheel combat in the race even if his final position wasn't spectacular. Another performance like that in Suzuka this Sunday will cement his place in 2018 Toro Rosso-Honda.
Once again we had a thoroughly memorable race in Sepang, and sadly for the last time in 18 years, at least a while and possibly forever. The wide track and particular layout along with pop-up weather conditions have generated many surprises here. Onwards and upwards I guess, but I hope future tracks can be as good.
MB
If you are using skysports.com you can comment below to get involved in the debate, but please adhere to our House Rules. If you wish to report any comment, simply click on the down arrow next to the offending comment and click 'Report'.