Ferrari call Sebastian Vettel to Maranello
Team ramping up preparations ahead of the new season
By Pete Gill
Last Updated: 15/01/15 5:58pm
Sebastian Vettel has paid his first visit to Ferrari's Maranello base since his winter holidays.
The trip, made 'at the request' of new Scuderia team principal Maurizio Arrivabene, and commemorated by a press release from the team, saw Vettel tour the headquarters of his new team before posing for the obligating selfie.
'The purpose of the tour was to allow the four times World Champion to visit all the departments and to get better acquainted with everyone he will be working with this season,' reported Ferrari.
Despite being barred by former employers Red Bull from running at the Abu Dhabi test which followed the 2014 season finale, Vettel was a conspicuous presence inside the team's garage during the two-day test as he met his new race crew.
The German then drove a Ferrari F1 car for the first time at the start of December when he tested a two-year-old F2012 at the team's Fiorano test track. The German wore a white helmet for the event adorned with the words "My first day at Ferrari" and the date. The car also sported the number five Vettel will use in 2015.
The team have already warned that they are braced for another "difficult year" after "starting late with the 2015 car". According to Arrivabene, "two or three" wins for the team, the most famous in F1, in 2015 would represent a satisfactory return while "if we win four, we will go to heaven".
Asked to evaluate Vettel's expectations ahead of his first season at Ferrari, new team president Sergio Marchionne told a pre-Christmas media gathering: "I don't think he's naive, he knows our level of performance but this is the power of Ferrari: it manages to attract people even just based on its potential. Our job for 2015 is to set this potential free. Vettel's big gamble is ours too, to reconstruct the team and to make it grow."
The 2015 Ferrari will be launched on January 30, just two days before the start of the Jerez test.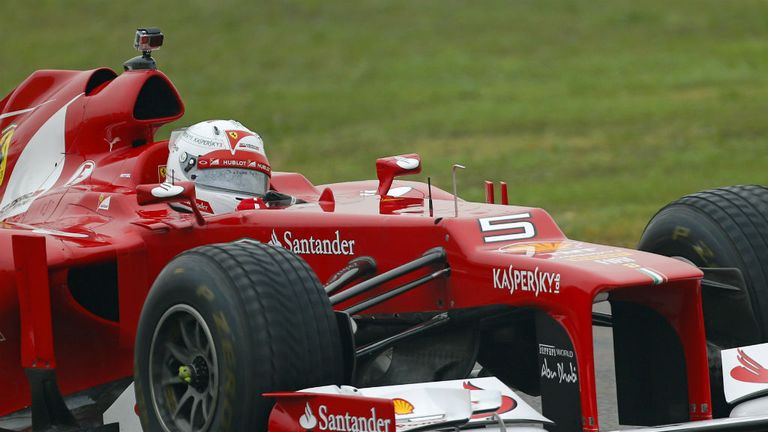 The Sky Sports F1 Online team will be providing live commentary of all three winter tests, starting in Jerez on February 1, with live updates from trackside also on Sky Sports News HQ.