Sebastian Vettel & Nico Rosberg round on Pirelli after tyre blowouts
"If this accident happens 200 metres earlier I certainly would have hit the wall," says angry Vettel after penultimate lap blowout at Spa; Rosberg calls for changes to improve safety; Pirelli's Hembery says Ferrari pushed tyre too far
By James Galloway
Last Updated: 27/08/15 9:31am
A furious Sebastian Vettel launched a broadside against Pirelli after suffering the Belgian GP's weekend second high-speed tyre blowout in the closing stages of Sunday's race.
Vettel was holding off Lotus's Romain Grosjean in the battle for the final podium position when his right-rear tyre let go when travelling at around 180mph down the long Kemmel Straight on the penultimate lap.
On Friday, Mercedes' Nico Rosberg also suffered a failure with the same right-rear tyre, although subsequent investigations by Pirelli ruled out a structural fault and instead pointed to an external cut to the tyre around the 7km Spa circuit.
Pirelli have suggested that Vettel's blowout was caused by "pure wear" as Ferrari attempted to go for a one-stop strategy – but the German is adamant that his team did not push the tyre beyond acceptable mileage limits.
"I have to be careful what I say now. On one hand there is the result which isn't great but on the other hand there is the fact, that if this accident happens 200 meters earlier I certainly would have hit the wall [at Eau Rouge], Vettel told Sky Deutschland.
"It has to be said that the quality of the tyres is just appalling and we already have this issue now for years. I have no idea what we are waiting for. Pirelli's prediction was that the tyres would last for 40 laps and we only used them for about 30 laps. Things like this mustn't happen.
"For sure I knew about the tyre degradation but I would say that the other teams used their tyres for the same amount of laps." 
Following the problem with Rosberg's tyre in practice, a number of drivers are understood to have voiced their concerns to FIA race director Charlie Whiting in their regular meeting on Friday.
Vettel says action needs to taken as he is certain that neither he nor Rosberg caused their own problems by running over something off the track.
"We desperately have to learn from this or soon someone will crash into the wall - and then everyone will complain that we should have done something," he added.
"We definitely have to talk about that. We had this problem twice during this weekend, and twice it was unexpected. Nico is no idiot and knows exactly where to place his car. If he says that he didn't hit anything we have to believe him. And it was the same with me. I didn't leave the track at any point and the accident happened completely unexpected."
Rosberg himself was outspoken about the quality of Pirelli's product after the race and called for changes, suggesting both he and his German countryman had been lucky that their incidents hadn't occurred at other points of the circuit. 
"Vettel exploding his tyre is really poor. It shouldn't happen and that it keeps on happening, in other categories as well and today with us, and with me on Friday both of us were just so lucky," Rosberg told Sky Sports F1.
"If it happens a couple of metres later or earlier we'll have one of the biggest shunts ever, so they need to figure something out to make it safer."
Indeed, the Mercedes driver offered one possible solution: "I don't know if, for example, we have those rear-view cameras and at least make that for live viewing for everybody, all the teams, so they can keep an eye on it because for me you could see the tyre breaking half a lap earlier. So if we would have had the camera they could have slowed me down and it would have been fine.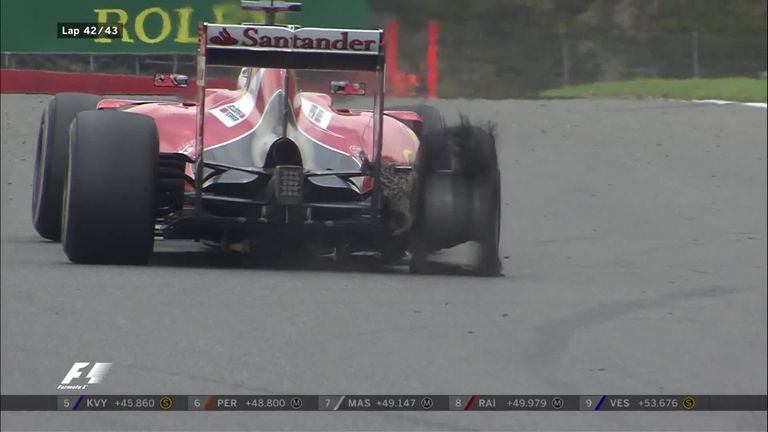 "I don't know, that's just some stupid idea, but anything, something, needs to be done to improve it."
Pirelli chief Paul Hembery, however, argued that Ferrari had simply gone beyond what the medium tyre was capable of given the conditions of race day. 
"It was at the end of wear life and any tyre in the world when it gets to the end of its wear life you are going to have a problem," he told Sky F1.
"He did 28 laps, but it was more we thought the strategy would be based on two or three stops which the majority did. But they thought they could make it work on a one-stop and the wear life as indicated at around 40 laps, but it is an indication and the race conditions can change that and some factors involved in racing mean that is not a precise data.
"Other teams clearly went in a different direction."