Mark Webber pleased his own form has remained strong during difficult final season
Australian still eying "some very nice memories" before F1 retirement
By James Galloway at the Yas Marina Circuit
Last Updated: 04/11/13 8:29am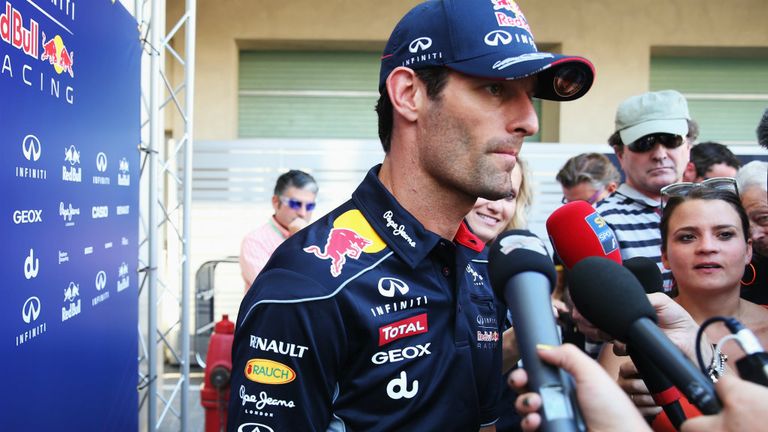 The Australian heads into what is now the third last grand prix of his decade-long career in Abu Dhabi this weekend hoping to end a run of misfortune which has seen him retire from three of the last four races, costing him around 30 points in the process.
The alternator failure which struck his RB9 while running second to World Championship-winning team-mate Sebastian Vettel last Sunday in India was the second such mechanical failure on his car in that time - Adrian Sutil caused him to retire in Korean by crashing in to him - while Webber has also suffered intermittent KERS and gearbox issues during the course of the season.
Although conclusively outperformed by Vettel this year, Webber would still be firmly in the hunt with Kimi Raikkonen and Lewis Hamilton for third place in the Drivers' Championship without his recent sequence of results, instead of being under pressure for fifth place from Nico Rosberg.
Webber admits he hadn't expect his final season to pan out quite the way it has, but says he still has opportunities to score some good results between now and Brazil - especially as his on-track competitiveness remains in tact.
"I said to Annie [Webber's partner] this morning that the reason I got to Formula 1 is because I hung in there and fought like hell. It's a similar finish actually: I didn't expect to have the little challenges in my last season as I'm having," he told reporters on Thursday.
"But for whatever reason, whether it's fuel, whether its tyres off in pitstops, whether it's KERS and seamless shift in qualifying, on weekends when I'm competitive. Some weekends we can have those problems when you can still qualify towards the front, but some weekends where you can't. Not to mention obviously the race non-finishes. So we certainly have ticked a lot of boxes which was unforeseen. Obviously we've got very high standards. Last time we wrapped the Constructors' up in America [in 2012] I had an alternator failure as well - so maybe there's something in that!
"But anyway I've been dealt a pretty good hand in my career. I look back on what I've achieved and what I've done and I still have the chance to get some very nice memories in the last three races. I'm happy my form has not been the problem - that's something I can take away.
"I think it would be even harder if your form [had also tailed off]. I know some guys completely f*** up the timing [of retiring] but I think the timing has still been okay for me. There's a lot of things out of your control but that's just the way it is sometimes."
Although Vettel already has his fourth consecutive title wrapped up, Red Bull's Christian Horner made clear on Thursday that, although the team were keen to see Webber improve on fifth in the Drivers' Championship, the World Champion wouldn't be letting up in his pursuit of yet more victories.
"Our approach is very much to keep the pressure on, certainly on ourselves, between now and the chequered flag in Brazil and keep pushing all the way and do the best we can," Horner said.
"It would be great to see Mark get further up the championship order as well and for him to have a strong last three races. Obviously we need to understand the issue on the alternator, which was a great shame because it robbed us of a one-two finish, but Sebastian is very focused on adding to his ten victories so far this year."
And on the chances of Vettel 'gifting' Webber a final win over the final weeks of the campaign? "I can't see Mark Webber wanting to be given anything..."