Fernando Alonso brands McLaren-Honda display at Japanese GP 'embarrassing'
Both of the team's cars finish out of the points at Suzuka, with Spaniard delivering a series of devastating put-downs on team radio
By Pete Gill and William Esler
Last Updated: 27/09/15 11:09am
Fernando Alonso has insisted he is still committed to McLaren-Honda despite branding the team's display at the Japanese GP as "embarrassing".
On another ignominious weekend for the team at Honda's home race, the Spaniard's frustrations repeatedly boiled over on team radio as he finished a distant 11th at the Japanese GP.
In addition to describing his car's lack of speed as "embarrassing", Alonso was heard castigating the Honda power unit by comparing it to "a GP2 engine".
However, speaking after the race, Alonso vowed he had no regrets about leaving Ferrari for McLaren.
"This is the only team that will challenge Mercedes in the near future. But right now it is tough times because we don't have the toys to fight with them," Alonso told Sky Sports F1.
But his on-air criticism will intensify mounting speculation the Spaniard may not remain at McLaren next year, despite the insistence of team boss Ron Dennis that both Alonso and Jenson Button are under contract for 2016.
Alonso's angry outbursts were also criticised by the Sky Sports F1 pundits after the race.
After calling the former world champion's public criticism of his struggling team as "stupid", Johnny Herbert said: "That mentality will destroy everything, Why not just get on with the driving?"
"What's rubbing salt into the wounds is that Ferrari are going so well," added Martin Brundle.
Dennis also admitted that he was unimpressed by Alonso's commentary.
"I think he vented his frustration," said the McLaren boss. "I don't think he needed to make the comments, it wasn't particularly constructive. We are here in Japan, Suzuka, Honda's home track, we had the president of the Honda motor company, we had the head of R&D, chief executive of Honda motors - the three most senior people who are totally committed to winning a world championship and their curve is much stepper than they anticipated, but their aspirations and commitment has not diminished."
Fernando Alonso's post-race interview with Sky Sports in full: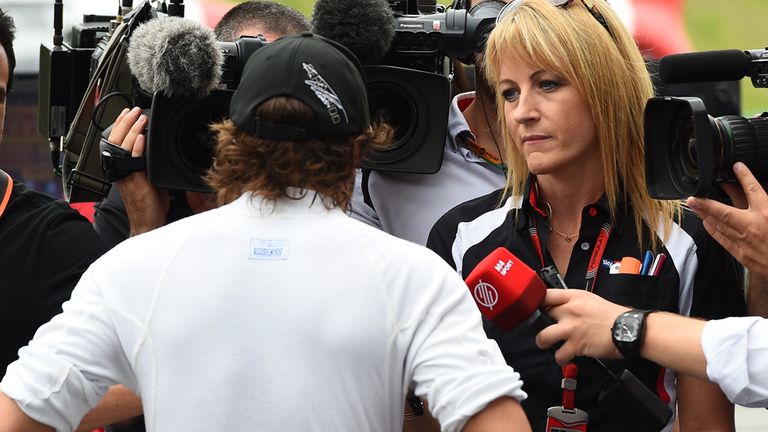 Are you enjoying it on track at all?
"No, there is not much joy. When you are being overtaken like we are on the straights it is very frustrating. Then you see other guys in the corners and maybe they have more difficulties with the cars, they are off the racing line, they are braking late, they are making mistakes and even with that they keep overtaking you in the middle of the straight, not even the braking point. So it is frustrating and when we are in a group it is even more."
Can you see yourself winning another title at McLaren before you retire?
"Yes definitely. This is the only team that will challenge Mercedes in the near future. But right now it is tough times because we don't have the toys to fight with them, but everyone is working very hard. That is the positive thing, everyone is making sure that we know the problems, we are deep into the solutions that we will find for next year, but when we are in a group we cannot hide."
You said it was embarrassing when you were in the car. How can you keep yourself going for the rest of the season?
"It has been more or less like this and days like today you feel embarrassed. It is not possible that some of the guys overtake us like this as the package should be more competitive. On the positive side at least both of us finished the race, improving on the double DNF in Singapore. We fixed the overheating problems so at least we know when reliability comes we are learning from our mistakes."
Mistakes are being learnt from quickly enough?
"Yes I think so. Everything has been analysed and we know what we are missing - the timed lap. Everything is in the process for next year, but it is next year for sure."
Don't miss the F1 Midweek Report on Wednesday night at 8.30pm when Ted Kravitz and David Brabham join Natalie Pinkham to discuss the Japanese GP