Fernando Alonso hits out at F1 and complains WEC is 'more fun'
Spaniard threatened to retire his car during Abu Dhabi GP
By William Esler
Last Updated: 02/12/15 3:29pm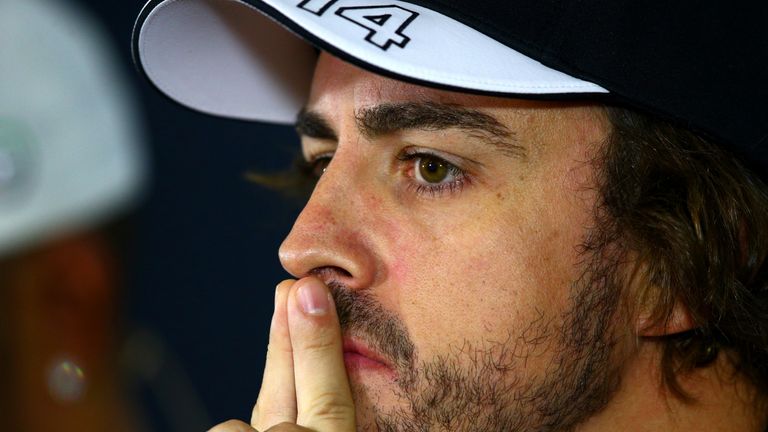 Fernando Alonso has hit out at F1, declaring that the World Endurance Championship is more fun and questioning the consistency of in-race penalties.
The Spaniard has endured a nightmare return to McLaren, with the team's performance hampered by an under-performing and unreliable Honda engine, and had to fend off suggestions in Abu Dhabi that he could sit out 2016.
Alonso was caught up in a first-corner clash at the Abu Dhabi GP when contact with Felipe Nasr's Sauber fired him into the Lotus of Pastor Maldonado. He was further angered when the stewards ruled the clash was his fault, handing the double champion a drive-through penalty and two points on his licence.
"Decisions like at the start to have a drive through after you've been hit by another car is a little bit strange. It is unique," Alonso told Sky Sports F1.
"F1 asks itself about the sound of the cars and why they have less and less spectators, but these things I think they need to have a little bit more sense because I don't see this in WEC, MotoGP and other categories that are much more fun than us."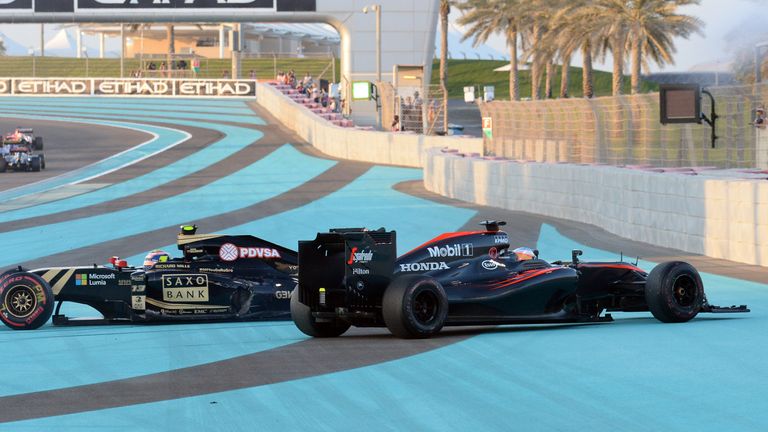 Asked what F1 needed to change to get the fun back, Alonso added: "They need to get some consistency, some common sense with the penalties and just be fair."
Running a lap down early in the race after his penalty, the Spaniard had told McLaren over the radio he would retire the car unless there was a Safety Car to box the field up again.
"We had to save tyres, save fuel, save many things and I said 'guys we will try to push, enjoy the race and if there are no big incidents in the race and we are P18 maybe we retire the car, there is no point in saving things'," Alonso said.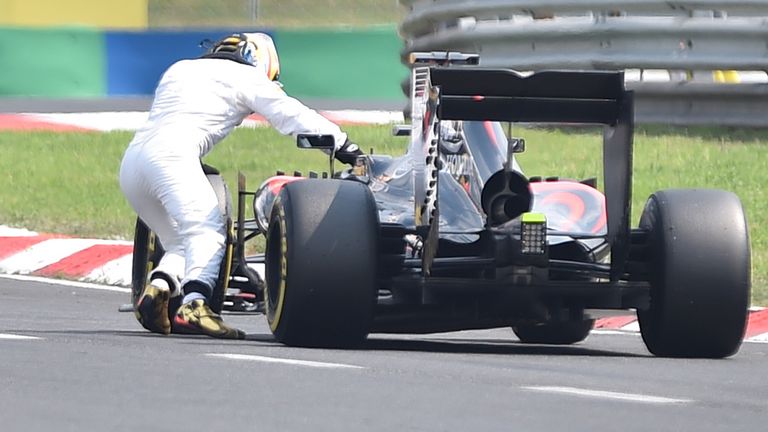 The team persuaded him to stay out and Alonso completed the race, but admits he is glad to see the back of a dismal year.
"Goodbye to 2015, because it has been a very tough year for us, very difficult and the performance has been quite poor," concluded the Spaniard.
Talk of an Alonso sabbatical in 2016 ran rife in the Yas Marina paddock, despite Ron Dennis insisting ahead of Sunday's race that Alonso would be a McLaren driver in 2016.
And Sky Sports F1's Damon Hill feels it is telling that Alonso specifically mentioned the World Endurance Championship as being more fun.
"He never says anything without sending out some sort of clear message, even if it is sitting on a deck chair he is always sending out a signal," Hill said.
"For him to say Formula 1 is not appealing in some way and it is F1's problem... it sort of suggests he is looking elsewhere.
"I don't know why he does that, whether he will say 'there is a reason I am not enjoying this and I want to do something else. I am a racing driver, I want to race', that might be what he is saying."
Don't miss the F1 Midweek Report for analysis of the Abu Dhabi GP and all the latest F1 news. Former BAR boss David Richards and car designer Gary Anderson join Natalie Pinkham on Sky Sports F1 at 8:30pm on Wednesday.