Fernando Alonso out of Bahrain GP: All his McLaren ups and downs
After the Spaniard is ruled out of the Bahrain GP through injury, we take a look at his best and worst moments since rejoining McLaren
By Matthew Morlidge
Last Updated: 01/04/16 6:07am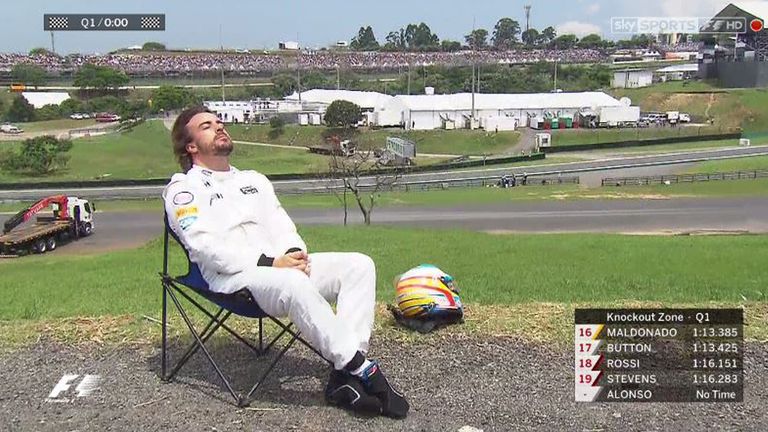 It's fair to say Fernando Alonso hasn't had it all his own way since rejoining McLaren in late 2014 - with the rib injury ruling him out of this weekend's Bahrain GP the latest blow.
From high hopes at the start to crashes, sunbathing and "GP2 engines", we track the timeline of the Spaniard's spell with the Honda-powered team in Formula 1.
December 2014: After months of speculation, Fernando Alonso is confirmed as McLaren's new driver after they renew their partnership with Honda. Alonso, resigning from Ferrari to partner Jenson Button, left the team in controversial circumstances in 2007 but said at the launch: "We have time, we have hopes and we have the necessary resources. Let the legend return: that is our challenge."
February 2015: On the eighth day of pre-season testing, and the fourth in Barcelona, Alonso suffered concussion after his MP4-30 car left the road at Turn Three of the Circuit de Catalunya and hit the track wall at around 90mph. The reasoning behind the crash remains a mystery, with McLaren insisting it was due to a sudden gust of wind while the Spaniard blamed the car.
Alonso also suffered temporary memory loss and was forced to miss the final pre-season test. McLaren meanwhile, who Ron Dennis hoped could launch an immediate challenge to Mercedes, completed just 380 laps across 12 days of pre-season action and set the slowest time of any team in attendance at Barcelona.
March 2015: Alonso was forced to miss the season-opener in Australia, with predecessor Kevin Magnussen replacing him on a tricky new beginning for McLaren. He returned for the Malaysia GP and said in the build-up that he had no regrets about leaving Ferrari, previously mentioning that his reason for moving was that his new team had a better chance of catching Mercedes in the future. In his first race back, however, both he and Button retired in the fragile MP4-30 while his rival Sebastian Vettel, his replacement at the Scuderia, claimed victory.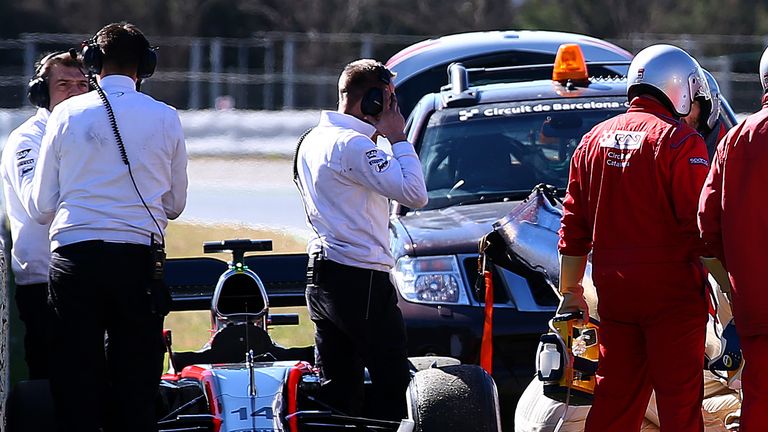 May 2015: After more car troubles forced him to stop at his home race in Spain, McLaren and Alonso were optimistic that they could finally collect some points at a Monaco track that suited their package. Although McLaren finally got both cars into Q2, Alonso was forced to retire his car while a place behind his team-mate in ninth.
June 2015: In what were the first sounds of frustration in 2015 from the two-time world champion, he responded to a request to save fuel at the Canadian GP by complaining that the team were in danger of "looking like amateurs" if they slowed what little pace they had. Alonso then had to sit out qualifying, before again not reaching the chequered flag in Montreal. A fourth successive retirement was to follow in Austria, when a crash with Kimi Raikkonen during the first lap sent his car briefly airborne and landing on his former team-mate's sidepod. Alonso told his team to right off the season and focus on 2016.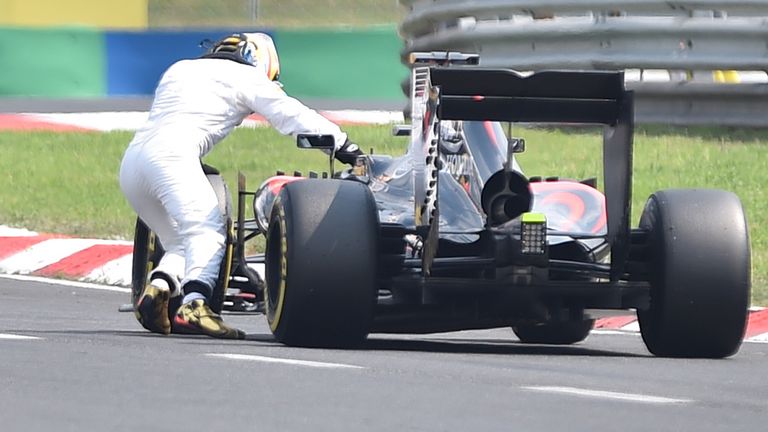 July 2015: At last, a positive month for Alonso at McLaren. He earned his first points in 2015 at the British GP with a 10th-placed finish at Silverstone and followed it up with a stunning drive in Hungary. Despite being forced to push his car back to the pits during qualifying amid more unreliability, Alonso took advantage of a chaotic race to finish a credible fifth for his team.
September 2015: After another disappointing showing in Italy, Alonso branded McLaren's weekend in Singapore "the best of the year so far" after he matched their best performance in qualifying in 12th. Being a Saturday, this was perhaps premature as both he and Button were forced to retire after gearbox failures.
Alonso did finish the race the following week in Japan but only in 11th, and branded the team's display "embarrassing". During the grand prix, he was heard castigating the Honda power unit by comparing it to "a GP2 engine" due to its speed, or lack of, on the straights. Speculation starts to mount about whether Alonso will continue in Formula 1 in 2016.
October 2015: Alonso finishes 11th at both the Russian and US grands prix, but describes the latter as "one of the best races of my life". He experienced a race of highs and lows in Austin, at one point finding himself up in fifth before electrical problems, eventually battling back from the back of the pack to finish close to the points.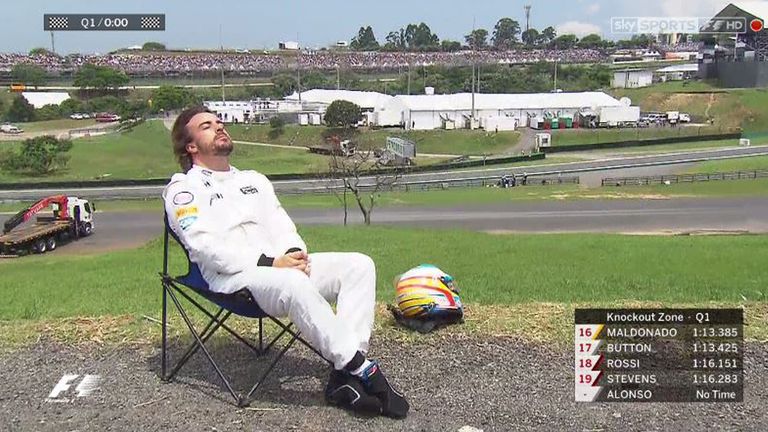 November 2015: The Spaniard only lasted one lap at the Mexican GP before bowing out from another frustrating weekend, and at the next race, he comically went sunbathing after his McLaren car broke down in qualifying. Alonso opted to soak up the sun when he sat by the side of the Interlagos circuit, and after that, he took a spoof visit to the podium with team-mate Button. "I'm not sure if we'll get in trouble for that, but it was a lot of fun," said Button. "It was the most fun I've had this weekend." On Sunday at the Brazilian GP, Alonso could only manage 15th.
The last race of a miserable season couldn't come soon enough for Alonso, and it was another disappointment at the Abu Dhabi GP. After a first-corner clash with Felipe Nasr and Pastor Maldonado, he was handed a drive-through penalty and two points on his licence. He eventually finished 17th, while McLaren weren't ruling out a 2016 sabbatical.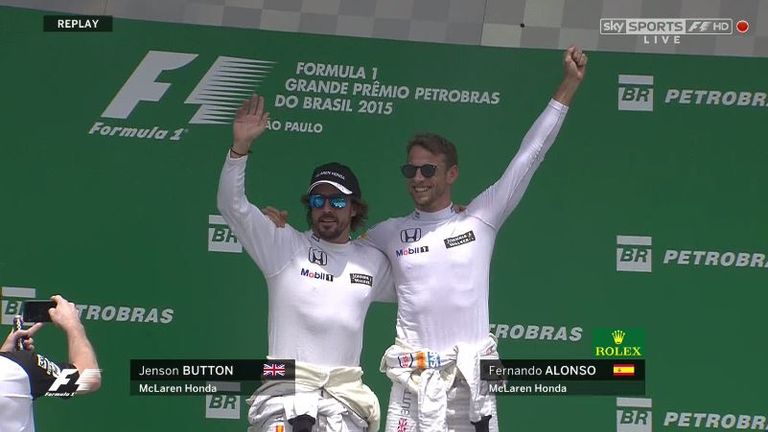 February 2016: Alonso does return for the 2016 season and it seems McLaren, although not challenging at the top, have made improvements over the winter. The British-based team completed many more laps in pre-season testing than they could manage the year before, and the Spaniard said: "The step forward in reliability at least is huge."
March 2016: After an encouraging performance in qualifying at the season-opening Australian GP, Alonso was involved in a frightening 180mph crash after a collision with Esteban Gutierrez's Haas at Albert Park. The force of the impact - reported to have measured 46gs - sent Alonso and his new MP4-31 into the trackside barriers before somersaulting through the air across a gravel trap. "It was a scary moment and a scary crash," a relieved Alonso later told Sky Sports. "I am lucky to be here and thankful to be here."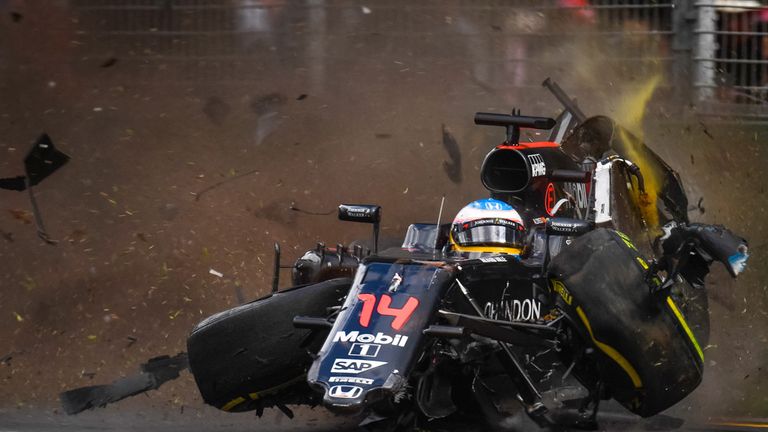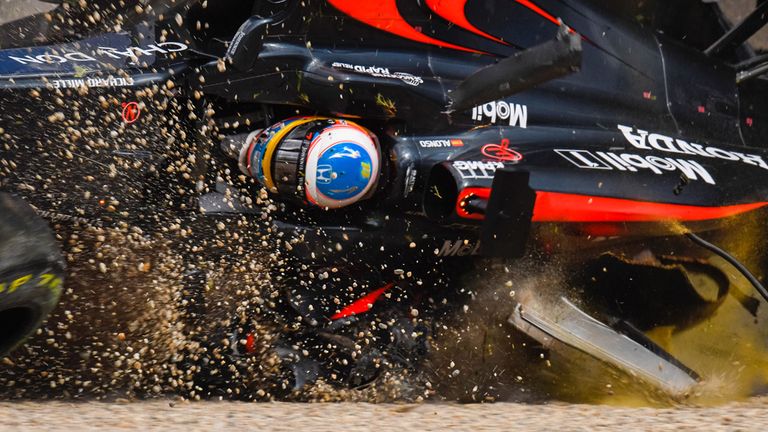 For the second season in a row, Alonso is forced to miss a race early on in the season as the FIA ruled he was unfit to take his place at the Bahrain GP due to his fractured ribs. The McLaren driver concedes that it is not "100 per cent" that he will be able to race it the Chinese GP either.