Fernando Alonso says Luca di Montezemolo was misinformed prior to his rebuke
Ferrari star says President's ear-bashing based on "wrong information"
By Mike Wise and James Galloway at Spa
Last Updated: 23/08/13 8:18am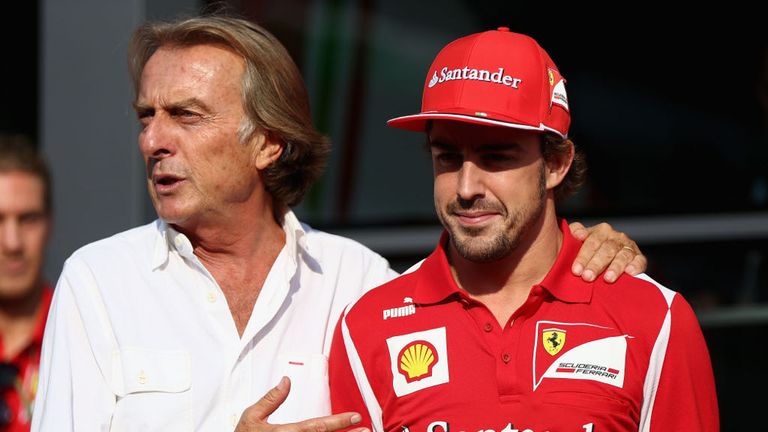 The Scuderia took the unusual step of making Montezemolo's ear-bashing public in the week after the race. In the statement, he said he had "tweaked the ear" of Alonso after phoning his star driver to wish him a happy birthday.
Montezemolo was responding to comments Alonso had apparently made in Budapest. Although the statement on Ferrari's website did not clarify what comments Montezemolo was specifically responding to, the consensus was that the Spaniard, who turned 32 the day after finishing a disappointing fifth at the Hungaroring, had aggrieved his boss by telling the media that a 'new car' topped his present wish-list.
Speaking at Spa on Thursday, however, Alonso denied having made such a comment.
"I think it was wrong information coming to the President, to be honest, because we looked back through all the press conferences," he said. "With these recorders, it's easy to check exactly what you say and obviously it was nothing different to any other grand prix.
"I tried to push for the best for the team, for our performance."
Paying tribute to Montezemolo, Alonso also denied that their conversation had turned to another notable story emerging as F1 took leave for its summer break - that he might consider leaving Ferrari at the end of the season to join rivals Red Bull.
"He is the father of this family, for Ferrari, he's a great motivator. He's a man who puts everyone in the team, the things, on the clear side and tells us exactly what he expects from us and what he wants from us," Alonso said.
"I think the President is a very intelligent man who can separate what is rumours and what is true. He never asked me anything. We've both been in Formula 1 for many years now and we know what the summer break means in terms of rumours etc."
However, when asked whether he would be staying at Ferrari next season, Alonso's response hardly reeked of conviction: a quick nod and a mumbled "yes" had to suffice for the assembled media.
And yet, as Alonso himself pointed out, it was the potential for such miscommunications that had caused the trouble in the first place.
"The President and me, we talked about this as well. Also, we learnt that doing four press conferences in the weekend in different languages; they're not my mother languages. Even the Spanish - I'm from the north, so I don't speak perfect Spanish! - means that there can be mistakes and misunderstandings," he reflected.
Turning to the title run-in, Alonso said that "the pattern will be decided in the next four races - what are the performances of the cars at the next four races.
"We have Spa, medium downforce, then Monza, low downforce, then Singapore, high downforce. We clearly have three different set-ups and configurations on the car and this will tell us who the main contender for Vettel is.
"For sure, he's the big favourite. Who will catch him, or who will put him in big difficulties, we will see in the next three races."
But what of his and Ferrari's chances? "It's difficult but we need to keep believing that we can do it," added Alonso, who currently stands 39 points behind Championship leader Vettel.
"The last two or three seasons, we've had some good examples of what we can do and what we can hope if we do things right.
"For this, we need to improve the car; we need to make some parts work. The first step is here in Spa."