Fernando Alonso hails 'unbelievable' Daniel Ricciardo after close German GP duel
"He was very, very smart, very respectful," says Spaniard
By Mike Wise at Hockenheim
Last Updated: 20/07/14 6:04pm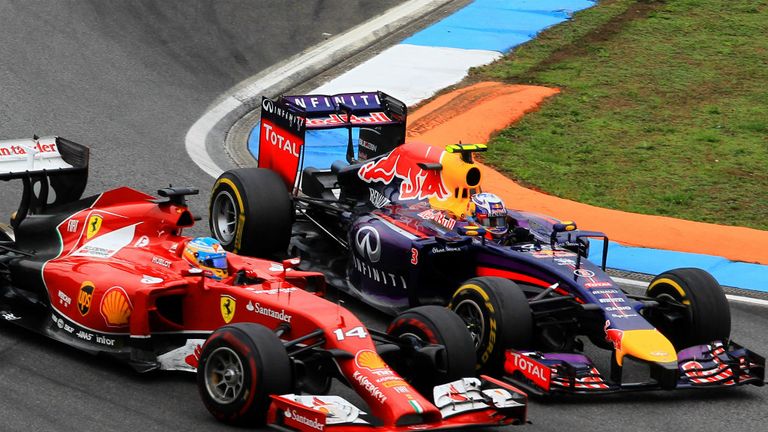 Fernando Alonso hailed Daniel Ricciardo's driving as "unbelievable" after narrowly beating the Aussie to fifth place at Hockenheim.
The pair fought wheel-to-wheel after Alonso made his final stop on lap 55 of Sunday's 67-lap race, with the Ferrari driver eventually getting ahead – but only after Ricciardo had made life very difficult for him indeed.
Speaking afterwards, the double World Champion praised his rival's skill and admitted he'd been surprised at just how well the Red Bull driver has performed since joining the World Champions.
"Daniel is a surprise from Australia," Alonso said. "I think he's doing unbelievable; I think he's seven-three [in qualifying] in the first ten races with Sebastian [Vettel], so it's something we probably didn't suspect.
"He's driving fantastically and today he was battling very smart – always taking the slipstream of me after I pass him and braking very late, attacking very late and never missing a corner.
"He was very, very smart, very respectful with the rules and it was a great fight."
Ricciardo almost regained fifth place at the chequered flag, with Alonso admitting he'd been lucky to hold on after being forced to save fuel during the closing laps.
"For the last stint I was saving fuel but I was battling with Ricciardo, so for some laps you have to decide to give up the position and cross the line or fight with Ricciardo and be on the limit to cross the line," he added.
"I decide to fight with Ricciardo, be in the position and then I will try to manage the fuel as good as I can.
"On the last lap, I had to save fuel massively and I was in eighth gear all lap and it was lucky that there was not 100 metres more."
Ricciardo and Alonso are also engaged in a close fight in the Drivers' World Championship, with the third-placed Aussie just nine points ahead of the Spaniard.