Cryptic Fernando Alonso edging towards 2015 resolution with 'very ambitious plan'
Spaniard "more or less" has decided and his plans are "exciting"
By James Galloway in Austin
Last Updated: 03/11/14 6:31pm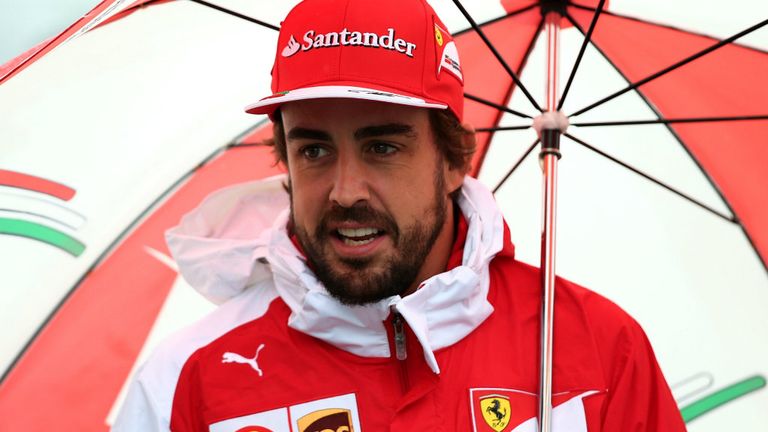 Fernando Alonso has dropped further tantalising hints over his future by revealing he has a "very ambitious plan" for 2015 and beyond.
Cat and mouse games between the Ferrari driver and the media concerning his future plans have become a theme of grand prix weekends recently, with Alonso widely expected to leave Maranello at the end of the season to be replaced by Sebastian Vettel. But nothing is yet confirmed.
After a three-break between races, and with no official news still forthcoming from Ferrari, those jousts recommenced in Austin on Thursday with an ever-cryptic Alonso once more batting away the international media's best efforts to prise some information on 2015 from him.
It does, however, at least appear that the situation is nearing a conclusion with Alonso responding to a direct opening question asking if he knew where he would be driving next season by replying: "I know, yes. More or less."
The smart money remains on the Spaniard re-joining McLaren to spearhead their new Honda era. Yet such is the array of speculation surrounding Alonso's plans that few theories, such as taking a sabbatical before joining Mercedes in 2016, racing at Le Mans or teaming up with Audi, have been completely excluded yet.
What Alonso did reveal was that people would be "excited" by what he decides to do and that, contrary to some suggestions, he remains in control of his future.
"I cannot say categorically anything," he replied when asked if he could at least confirm he would still be racing in F1 in 2015.
"I have a very ambitious plan in my head for my future. I think that this is the best thing for Ferrari as well. If that happens people will be very, very excited – as I am. I am extremely happy and all the things in the last two or three months follow exactly the plan that I had."
The 33-year-old then added that it was "unlikely" he would take a sabbatical.
It has now been exactly a month since the Japanese GP at Suzuka when Vettel announced his Red Bull departure and details of Alonso's contract termination with Ferrari emerged.
Those dramatic events in the driver market were completely overshadowed within 24 hours by Jules Bianchi's horrific crash in the race and Alonso, a close friend of the critically-injured Frenchman, implied that the delay in announcing his 2015 plans was linked to those events.
"There are still some difficult weeks with Jules' accident, and all the things that happened, that stopped also me or the situation to become a better emotion," he said.
"So at the moment we need to respect the competition – that's what we're here for – and do 100%. Also Jules' situation is still a sad atmosphere and worried atmosphere for every one of us."
Nevertheless, with just three races of the season still remaining an announcement is likely to be imminent. When it was suggested the decision represented his 'last chance saloon' to win a coveted third world title, Alonso acknowledged: "Probably, yes."