Exclusive Fernando Alonso Q&A: Spaniard explains to Sky F1 why he's leaving Ferrari
McLaren-bound Alonso tells Ted Kravitz he became "not so convinced" about Scuderia's future direction and "I want to win"
By Sky Sports Online
Last Updated: 24/11/14 3:20pm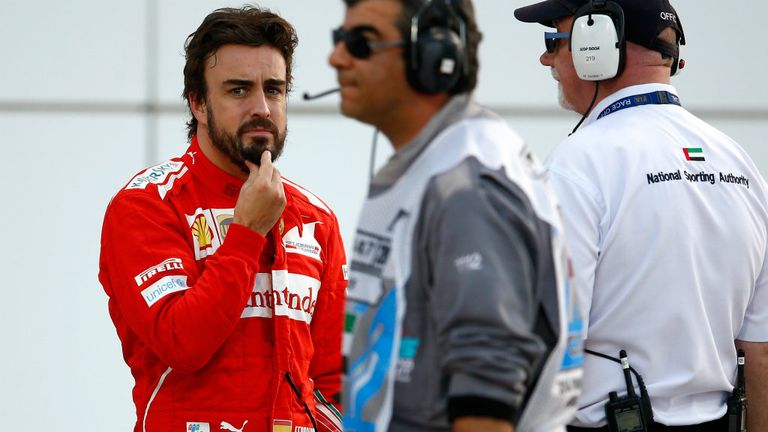 Fresh from the expected confirmation that Fernando Alonso's Ferrari career is coming to an end after this weekend's Abu Dhabi GP, the Spaniard gave some revealing insight into the reasons behind his decision to quit the team in an interview with Sky Sports F1's Ted Kravitz…
Ted Kravitz: You have always spoken about the fact you love driving and winning for Ferrari, so what has changed?
Fernando Alonso: "No, I'm still thinking the same. I think Ferrari is special and winning with Ferrari is unique and winning a championship would be much more than any other championship.
"But after five years it's time to move. It's enough for me. Looking at the future, looking at the prospects, looking at the direction that things are going, I'm probably not so convinced and I expressed this desire to President Montezemolo and to Ferrari and they understood.
"I want to say thanks again, publicly, to them to understand my position and now it's time to find new ways. But [at the same time] wishing the best for Ferrari as well because it has been five years with amazing relationships and so good feelings inside the team that I enjoy so much."
TK: You talk about a good feeling inside the team, so was it just that the car wasn't giving you what you needed, or was there something else? Montezemolo going, Domenicali going, was it some things outside the car as well?
FA: "Not really. At the end of the day, being a Ferrari driver whatever things are going on, it doesn't matter which President you have or which Team Principal you have. Of course, I arrived with one Ferrari, let's say, and now there is another Ferrari because everything changed.
"But at the end of the day many people could feel proud and happy to wear this red T-shirt and even to finish third, fifth, fourth doesn't matter – you are still a Ferrari driver, so it's something unique. I lived that already for five years. Very unique, very proud to wear this red T-shirt – maybe I'm strange, but I want to win. So now it's time to looking for that."
TK: Is there any fear as far as Ferrari are concerned that next year they've got two drivers who this year have been beaten soundly by their team-mates in the same car?
FA: "I think this is a very nice question for Sunday afternoon to Marco [Mattiacci]…"