Fernando Alonso was unconscious after Barcelona test crash, confirm McLaren
McLaren chief says Spanish driver suffered "some loss of memory" after Barcelona accident; Doctors will have final say on Alonso's Australian GP participation
By Pete Gill in Barcelona
Last Updated: 29/03/15 7:15am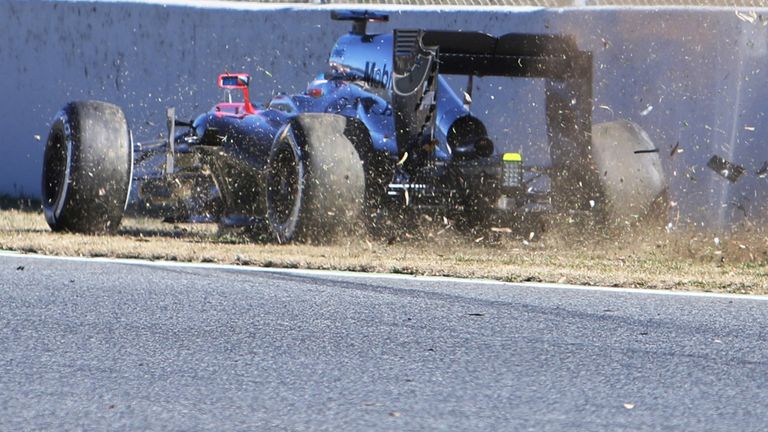 Fernando Alonso was rendered unconscious during his accident in testing at Barcelona last week, McLaren boss Ron Dennis has confirmed.
The Spaniard has been ruled out of the third and final test of the winter, which is being staged at the Circuit de Catalunya where the two-time champion crashed out and hit a trackside wall on Sunday.
"He was unconscious for a relatively short period of time," Dennis told reporters. "We could hear him breathing but no other sounds."
With no clear footage of the accident available, it's unknown if Alonso's head suffered a blow during the impact of the crash or if he was made unconscious by the sudden deceleration of the MP4-30 when it struck the wall. Dennis suggested that his driver may have suffered a 'whiplash-like' trauma.
The 33-year-old himself has not been asked to explain what caused him to crash.
"We are putting his recovery first and his analysis second," said Dennis. The McLaren chief later added Alonso had "an inability to recall".
McLaren described Alonso as suffering 'concussion' during the impact of the crash, which was reported to have measured 30 g-force, but according to Dennis the only side-effects Alonso has suffered from the crash is "some loss of memory".
"The CTU and MRI scans were completely clear, no indication of any damage. There was no concussion detected in the scan and physically he is perfect," said Dennis.
Alonso spent three nights in hospital before being released on Wednesday with Dennis attributing his length of stay to the two-time world champion's superstar status in his native Spain – "the level of focus was extreme because Fernando is Fernando," explained the McLaren boss – and the recent spate of high-profile head injuries in sport.
"Head injuries have taken centre stage in the world and people are being super careful. We were absolutely supportive that Fernando was perfect before he was released," said Dennis during a 20-minute media briefing.
Kevin Magnussen has been called up to replace Alonso at this week's test but while Dennis has indicated that he expects the Spaniard to be passed fit for the season-opening Australian GP, the final decision will rest with doctors.
"He's pushing very hard to get in the car," said Dennis. "He is completely lucid and normal. He is completely fine and feeling better every day.
"There will be some tests. I can't see any reason he won't just sail through them but it's not for me to determine."
An 'unpredictable gust of wind' has been cited by the team, who have endured a miserable winter following their return to Honda power, as triggering the accident.
"That is based on his comments [on the laps before the accident] and the comments of a third party who was standing at Turn Three. There was categorically no electrocution and we have complete conviction that the data doesn't show any car failure. There was nothing broken and nothing out of the ordinary that we can see."
On the track, the team's woes continued on Thursday when an engine problem restricted their troubled new car, the MP4-30, to just seven laps, leaving their winter tally at a mere 210.