Fernando Alonso will miss the Australian GP following his crash at Barcelona
Doctors advise Spaniard to 'minimise chances of suffering another concussion'; Kevin Magnussen to stand in alongside Jenson Button; Alonso already recommences training for Malaysia return
By William Esler
Last Updated: 29/03/15 7:14am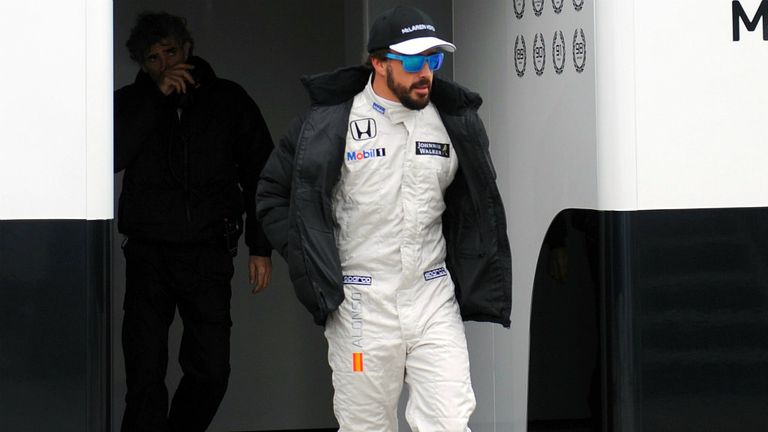 McLaren's Fernando Alonso will miss the Australian Grand Prix following his crash during the second pre-season test in Barcelona.
Kevin Magnussen, who Alonso has replaced for the 2015 season, will partner Jenson Button in Melbourne.
Alonso has been ruled out on medical advice but McLaren remain confident that the two-time world champion will return for the Malaysia GP at the end of March.
In a statement, the team confirmed doctors had advised Alonso not to drive in the season-opening race 'to minimise the chances of second impact syndrome, as is normal medical procedure when treating athletes after concussions'. 
However, according to McLaren, Alonso's doctors have detected 'no evidence whatsoever of any injury' and permitted the 33-year-old to resume training.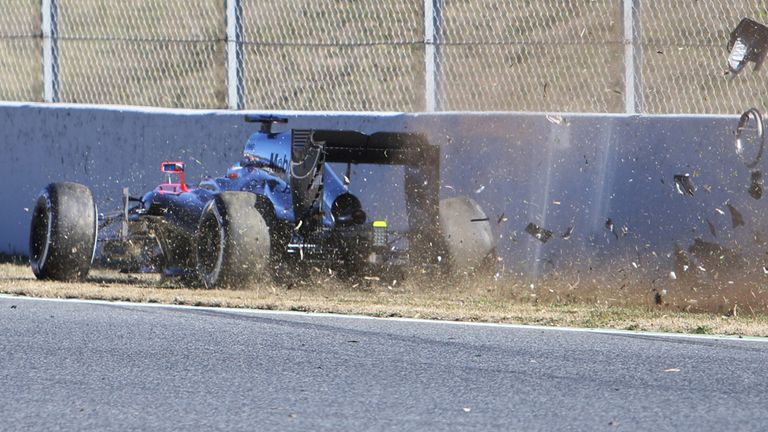 Alonso was rendered unconscious during his accident at the Circuit de Catalunya on February 22 when he lost control of his MP4-30 car and struck the track wall at high speed. McLaren later attributed the accident to an unpredictable 'gust of wind'.
The Australian event will be the first race weekend that Alonso has not competed in since 2002, when he was a test driver for Renault. The Spaniard tweeted that it would "be tough not to be in Australia" but he "understand the recommendations" and the risk of a second such impact in a short period of time.
Magnussen drove the MP4-30 for the first time when he deputised for Alonso on Day Three of the final pre-season test at the Circuit de Catalyuna. Speaking on Saturday after 39 laps in the car, the Dane admitted it would be tough to step in for Melbourne.
"It would be difficult because I don't really have my own team and set of engineers to talk to all winter and have kind of been on the sideline a little bit," Magnussen explained.
"I've obviously followed everything that was going on, but it is different when you have your own team and can go there every day and work with them. It would be difficult, but if I have to I will be happy to do it."
The dangers posed by concussion have been a prominent discussion point in sport recently following several high-profile cases.
Force India driver Sergio Perez suffered concussion himself in 2011 following a high-speed accident coming out of the Monaco tunnel, and while he missed that weekend's race as he spent two nights in hospital, he returned to action a fortnight later in Canada. However, the Mexican felt unwell on his return to the car and withdrew from the remainder of the weekend.
"My crash was quite big in Monaco. I actually tried to jump in the car two weeks later in Canada, and I did a free practice, but I struggled so much and was getting a bit sick in the car," Perez told Sky Sports News HQ at last week's Barcelona test.
"So we decided not to race, but then two weeks later I wanted to race."
McLaren statement in full:
'Having performed an exhaustive series of tests and scans – some of them as recently as yesterday evening – McLaren-Honda driver Fernando Alonso's doctors have informed him that they find him asymptomatic of any medical issue; that they see no evidence whatsoever of any injury; and that they therefore describe him as entirely healthy from neurological and cardiac perspectives alike.
'However, Fernando's doctors have recommended to him that, following the concussion he sustained in a testing accident at the Circuit de Barcelona-Catalunya on February 22nd, for the time being he should seek to limit as far as is possible any environmental risk factors that could potentially result in his sustaining another concussion so soon after his previous one, so as to minimise the chances of second impact syndrome, as is normal medical procedure when treating athletes after concussions.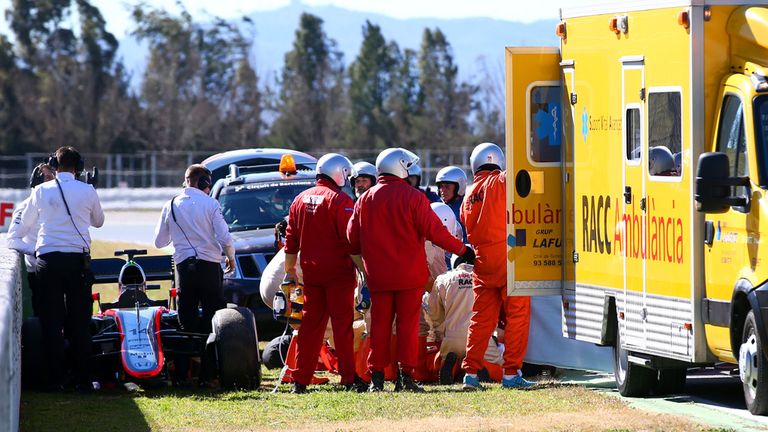 'In order to limit those environmental risk factors, specifically, his doctors have advised that he should not compete in the imminent Australian Grand Prix meeting, which will take place on March 13th, 14th and 15th.
'Fernando has understood and accepted that advice, and the two McLaren-Honda cars will therefore be driven in Australia by Fernando's team-mate Jenson Button and the team's test and reserve driver Kevin Magnussen.   
'Fernando's doctors acknowledge that he feels fit and well, and that he regards himself as ready to race, and, that being the case, they are comfortable with the fact that he has already recommenced physical training, with a view to preparing for a return to the cockpit of his McLaren-Honda car for the Malaysian Grand Prix meeting on March 27th, 28th and 29th. Indeed, his doctors are supportive of that ambition, satisfied as they are that he sustained no damage whatsoever during his testing accident on February 22nd.
'All at McLaren-Honda fully support Fernando's decision in respect of his doctors' advice.'