Fernando Alonso recalls 'heavy' steering before test accident
An extra sensor is added to Alonso's McLaren after debrief; Spaniard faces FIA fitness test on Thursday before being cleared to take part in the Malaysia GP
By Pete Gill
Last Updated: 01/04/15 3:47pm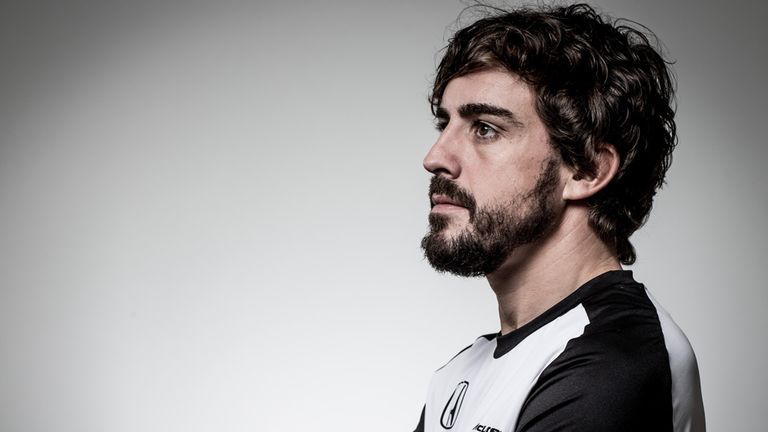 An additional sensor has been fitted to Fernando Alonso's McLaren after the Spaniard reported recalling a 'a sense of 'heavy' steering' just before his crash in testing at Barcelona a month ago.
The accident is one of the most puzzling to have occurred in F1 in recent times. Despite occurring at relatively low speed, the impact resulted in the Spaniard spending three days in hospital after being knocked out when his MP4-30 car hit a trackside wall.
According to reports, the two-time world champion believed the year was 1995 when he woke up from the crash.
Alonso was then forced to sit out the season-opening Australian GP on medical advice but has flown to Malaysia and will return to action if he passes a medical assessment on Thursday.
The 33-year-old has already returned to work at McLaren after he drove in the team's simulator at their Woking base and conducted a full debrief into his accident at Barcelona.
'Fernando met with his engineers and drove the simulator, to bring him up to date with the latest developments on the MP4-30 chassis and power unit. As part of that process he spent time with senior engineers, discussing the accident and reviewing the comprehensive data and analysis, all of which has been shared with the FIA,' the team reported.
'While there was nothing evident in the extensive car telemetry data, nor anything abnormal in the subsequent reconstructions and laboratory tests, Fernando recalls a sense of 'heavy' steering prior to the accident. Consequently, the team has fitted an additional sensor to the car, to increase our data capture.'
McLaren, who have rubbished suggestions that Alonso may have suffered an electric shock at the wheel of the MP4-30 before it ran off the road at Turn Three at the Circuit de Catalunya, have previously attributed the accident to an 'unpredictable gust of wind'.
An investigation by the FIA, the sport's governing body, into the crash remains ongoing.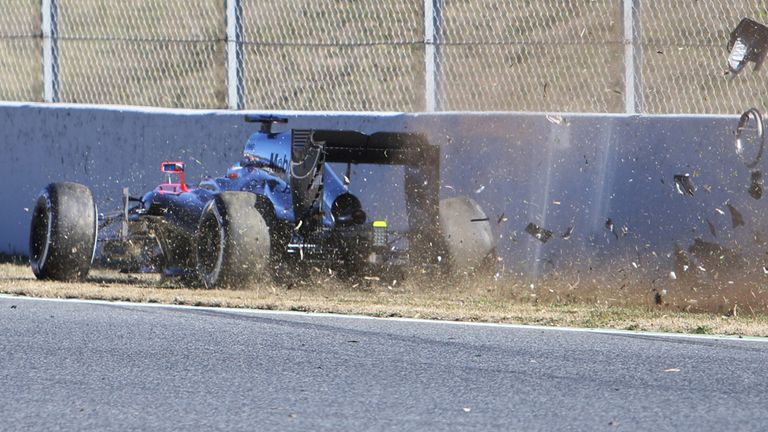 Alonso rejoined McLaren in December after five seasons at Ferrari, having previously driven for the team during a single, turbulent year in 2007 alongside Lewis Hamilton. Alonso was lured back after McLaren reunited with Honda, but the new partnership has endured a torrid start to 2015 and Alonso' s team-mate, Jenson Button, was lapped twice as he finished the Australian GP last of the 11 runners to reach the chequered flag.
'Since his Barcelona testing accident, Fernando has followed a rigorous, specialised training programme, designed and closely monitored by leading sports scientists, to ensure his safe and timely return to racing,' confirmed McLaren.
'Fernando is very much looking forward to getting back into the car and making a substantial contribution to our collective efforts with Honda, to accelerate the required improvement to our on-track performance.'
Alonso accident timeline
Sunday February 22
Crashes at Turn Three at the Circuit de Catalunya and airlifted to hospital.
McLaren say Alonso "was uninjured" and that "he was given CT and MRI scans as precautionary measures".
Team also report he was "conscious, and able to speak with the circuit's medical team".
Monday February 23
McLaren say running wide caused Alonso's crash: "His car ran wide at the entry to Turn Three – which is a fast uphill right-hander – allowing it to run onto the Astroturf that lines the outside of the track. A consequent loss of traction caused a degree of instability, spitting it back towards the inside of the circuit, where it regained traction and struck the wall side-on."
Team also refute reports Alonso was unconscious: "Our data clearly shows that he was downshifting while applying full brake pressure right up to the moment of the first impact – something that clearly would not have been possible had he been unconscious at the time."
Wednesday February 25
Alonso released from hospital.
McLaren confirm Kevin Magnussen will deputise at final test.
FIA launch investigation into crash.
Thursday February 26
Ron Dennis reveals Alonso had in fact lost consciousness. "He was unconscious for a relatively short period of time," Dennis told reporters. "We could hear him breathing but no other sounds."
Tuesday March 3
McLaren confirm Alonso will miss the Australian Grand Prix on medical advice.
Thursday March 5
Reports in Spain claim Alonso thought it was 1995 when he woke up following his crash.
Friday March 6
Eric Boullier tells Sky Sports that Alonso suffered 'temporary memory loss'.
Tuesday March 10
Alonso confirms he is "giving everything" to be fit to return in Malaysia.