Lewis Hamilton 'calls for FIA to reveal Alonso crash report'
McLaren continue to insist that they cannot detect any evidence of a car failure from their telemetry; Governing body not expected to release their findings into the accident
By Pete Gill
Last Updated: 21/04/15 3:24pm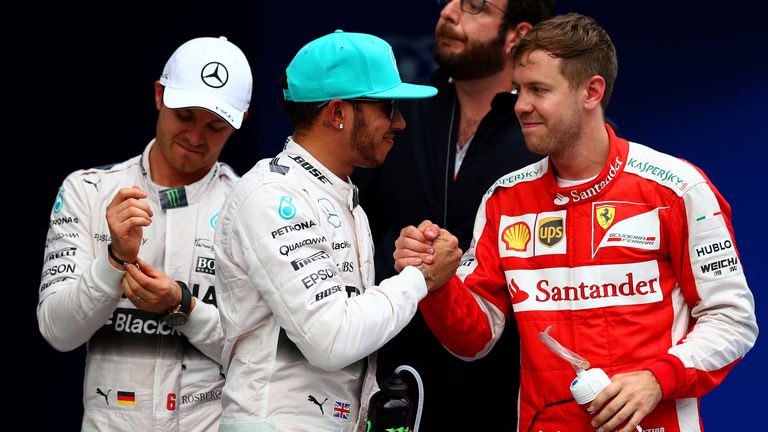 Lewis Hamilton has reportedly 'demanded' that F1's governing body release more information about what caused Fernando Alonso's crash in testing.
According to The Sunday Telegraph, Hamilton 'became increasingly agitated' during Friday night's drivers' briefing as he called upon the FIA to release its findings into the mysterious accident that resulted in Alonso spending three days in hospital and missing the season-opening Australian GP.
The incident remains a burning topic of conversation in the paddock, with the debate into what precisely occurred on February 22 at Barcelona reignited on Thursday when Alonso flatly debunked McLaren's version of events and claimed that the crash was caused by locked steering.
'The Spaniard was also present in the briefing but is not thought to have responded to Hamilton's comments. Charlie Whiting, the experienced race director, then took Hamilton to one side after the meeting to reassure the Mercedes driver there was no evidence the McLaren failed at the Circuit de Catalunya last month,' reports The Telegraph.
McLaren are yet to publicly respond to Alonso's comments having previously cited 'an unpredictable gust of wind' as causing the crash.
In an unscheduled interview with Sky Sports F1's Ted Kravitz after qualifying in Malaysia, McLaren chief Ron Dennis said: "I think everybody was telling the truth and unfortunately people see a sinister side to that. We're just telling the truth.
"Fernando felt something wrong with his steering; I'm not going to disagree. We'll just do a very thorough job, it's what we did."
The difficulty in reconciling Alonso's version of events with McLaren's insistence that they can detect no evidence of a car failure has heightened pressure on the FIA to publish its report into the accident.
"It's clear that there was a problem in the car," said Alonso on Thursday. "Definitely we had a steering problem in the middle of Turn 3 – it locked to the right."
McLaren have repeatedly stressed, however, that telemetry from Alonso's crashed car hasn't revealed any indication of a mechanical failure.
Commentating during Sky F1's coverage of the Malaysia GP, Martin Brundle revealed: "I'm categorically told that if it did lock right, there is no sign on the torque sensor of any attempt to put any left lock on to counter a right lock. It does seem unusual if the steering locked and the driver didn't attempt to counter steer."