Fernando Alonso says Ferrari title would make McLaren move an error
"In November we'll see. If they win the championship, it's a bad decision. If they finish second, it's a very good decision," says Fernando; Allison tried to convince Alonso of promise of 2015 Ferrari
By James Galloway and Mike Wise
Last Updated: 21/04/15 3:14pm
Fernando Alonso will only concede he made a mistake in leaving Ferrari for McLaren if the Italian team win this year's world championship.
The logic behind Alonso's high-profile switch for 2015 has seemed increasingly questionable in recent weeks with the contrasting fortunes being experienced by his old and new employers.
While McLaren have endured no end of troubles at the start of their new Honda alliance and are currently running at the back of the field, Ferrari have made a big step forward in form and Alonso's replacement, Sebastian Vettel, claimed the team's first win since May 2013 by beating the two Mercedes in Malaysia.
While Mercedes remain favourite to retain the world titles they won at a canter last season, Ferrari's winter renaissance has raised the prospect that the Scuderia could provide a credible title threat. Alonso's five seasons at Maranello yielded two near-misses at the final race, with then-Red Bull driver Vettel triumphing on each occasion.
However, despite Ferrari's revival, Alonso insists he has no regrets about quitting with two years of his contract still to run as another second place in the title race wouldn't interest him.
"In five years I finished second three times and I didn't want to finish second anymore, so I'm in the right place now," Alonso told Sky Sports News HQ in China on Thursday.
Asked if Ferrari technical director James Allison, the man credited with reviving the marque's fortunes, had tried to convince him of the promise of the 2015 car last season, Alonso replied: "They tried for five years so it was difficult to keep the trust. Not only the trust, there are many other factors that [mean] McLaren-Honda are more attractive for me now.
"Of course, I understand the questions – Ferrari won in Malaysia, I was out of Q2, so it's a very easy question now.
"But in November we'll see. If they win the championship, it's a bad decision. If they finish second, it's a very good decision."
In the meantime, Alonso and team-mate Jenson Button are struggling to scrap with midfield runners as they try and help move McLaren and Honda up the grid.
It's not necessarily the sort of task one expects of drivers with title-winning pedigrees, although Alonso later insisted that, with maturity, it's one he has learnt to appreciate.
"Obviously I would like to win because we are sportsmen and we are all competitive. But also thanks to age and to the moment of your career, you start looking for other things," the 33-year-old told reporters.
"I've been lucky to win championships and many grands prix. Now, sometimes I feel more happy and more proud of my job and my team doing the things that we are doing now than winning a trophy.
"To win two or three grands prix or even a championship – things that are supposed to be best for a sportsman – there are some times when you arrive at a maturity and to a stage of mind, let's say, [and there are] different priorities in life."
With his quest for a third Drivers' Championship having now entered a ninth season, Alonso's demeanour remains of a man who believes McLaren-Honda are still likely to win the title before Ferrari.
The two titans of F1, whose last title wins came in 2008 when McLaren won the drivers' crown and Ferrari the constructors', have made wholesale changes to their operations in the last two seasons in order to re-establish themselves at the front of the grid.
Ferrari's hiring of the highly-rated Allison from Lotus in 2013 was one such move and it has emerged that the Briton tried to convince Alonso of the promise of the new Ferrari before he switched to McLaren.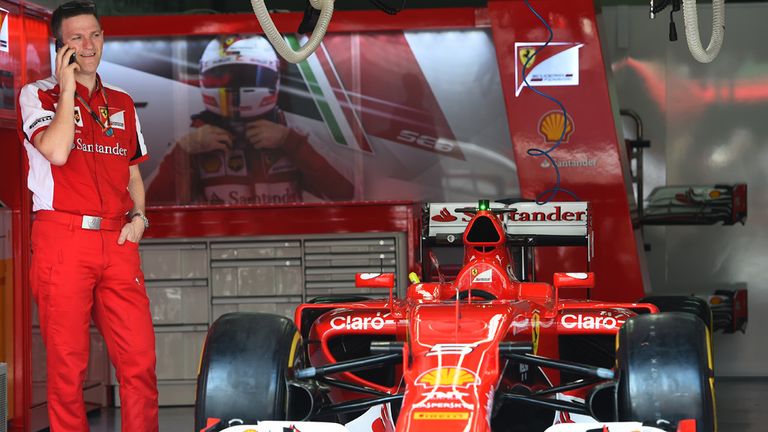 "We learned today that James Allison sat Fernando Alonso down towards the end of last season and tried to explain to him at length how good the 2015 car would be," SSNHQ's Craig Slater reported in Shanghai.
"But, as we heard from the driver himself, after years of disappointment perhaps Alonso no longer believed they were a team in the short term capable of challenging for the championship."
Alonso is again almost certain to have to contend with battles towards the back of the field in China this weekend with McLaren not expecting to start making a breakthrough into the points before the start of the European season next month. The Spaniard's 18th place on the grid at the last race in Malaysia represented his worst qualifying result since 2010, while he last finished outside the points in consecutive races six years ago.