Fernando Alonso signed three-year McLaren deal, reveals Ron Dennis
McLaren chief hails Alonso and Jenson Button as the best partnership in F1 and "guarantees" that McLaren-Honda will dominate again
By Pete Gill
Last Updated: 01/05/15 3:48pm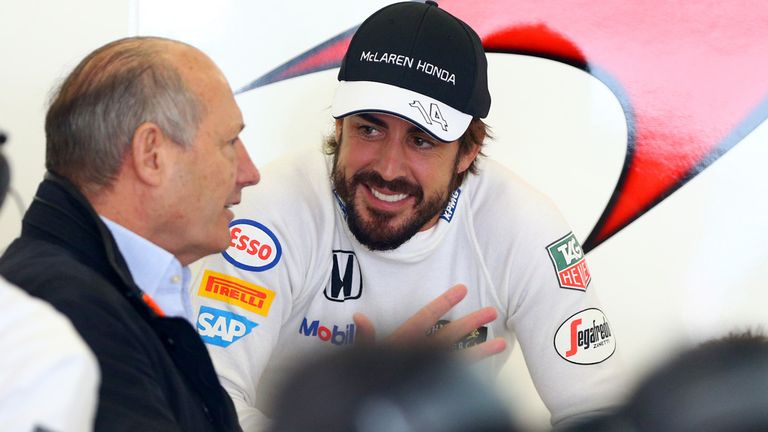 Fernando Alonso has signed a binding three-year contract with McLaren, team boss Ron Dennis has revealed.
According to Dennis, the deal, which is believed to be worth around £25m per year, doesn't contain any opt-out clauses that would enable the Spaniard to leave if a more attractive seat became available.
Alonso has been touted as a target for Mercedes in the event of Lewis Hamilton, who has yet to sign a new contract with the Silver Arrows, leaving the world champions.
But with Alonso under lock and key at McLaren until the end of 2017, that possibility has been ruled out by Dennis.
"He has a straight three-year contract with us, with no options," Dennis told the official F1 website. "It's as simple as that. That's what we wanted to offer him, and that's what he wanted to sign. I can't make it plainer than that, can I?"
Alonso won the last of his two world titles almost a decade ago and rejoined McLaren over the winter after 'losing faith' with Ferrari following five years of championship near-misses and mounting frustration. However, McLaren's reunion with both Honda and Alonso has suffered an ignominious start with the Spaniard ruled out of the season-opening Australian GP after an unexplained accident in testing at Barcelona and the struggling team, who are yet to score a point, way off the pace.
But despite the stress and strain of injury and injured pride, there has been no sign of a fissure in the Alonso-McLaren relationship which ruptured so spectacularly seven years ago when the Spaniard's previous stint with the Woking outfit ended in bitter acrimony, a £100m fine from the sport's governing body for McLaren's role in the 'Spygate' affrair, and an instant divorce.
"That's ancient history now," countered Dennis. "We've all moved on - and by 'we' I mean McLaren, Ferrari and indeed the FIA. And the Fernando we're working with today, now, is a fantastically motivated and inspirational man. He's as quick as ever, as competitive as ever, more experienced than ever, more expert than ever, and he combines those traits with an infectious energy and enthusiasm.
"We'll win again, we'll dominate again, and we'll do that together, with Fernando front and central. It'll be a wonderful culmination to his glittering career."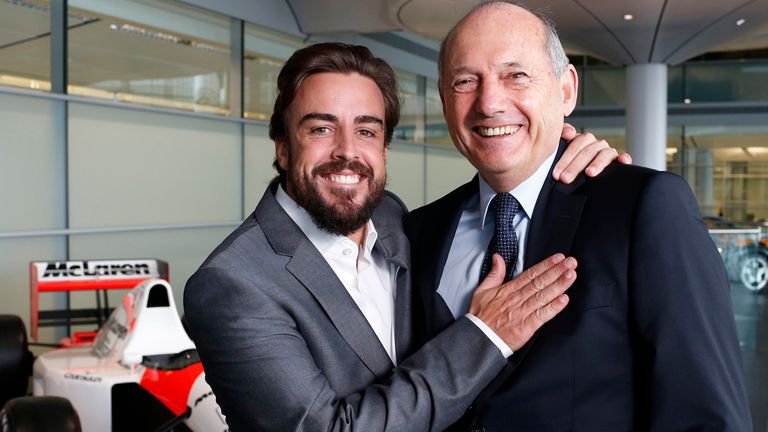 It has become an immutable law of 2015 that the lower McLaren-Honda fall, with the team only able to field one car in the Bahrain GP, the more steadfast their public certainty that they will come good. According to Dennis, it is 'guaranteed' that McLaren-Honda will deliver success, and the McLaren boss' unfaltering belief in his team's supremacy has been extended to his driver line-up of Alonso and Jenson Button.
"To put it simply: in Fernando and Jenson we have the best driver line-up in Formula One," declared Dennis.
"They're both world champions. Moreover, between them they've started 507 Grands Prix and they've won 47 of them. In Kevin (Magnussen) we have the best reserve driver in Formula One - a man who finished second in his very first race, let's not forget. That is a feat achieved once in a blue moon. And in the wings we have Stoffel [Vandoorne], who's driving superbly in GP2, and Nyck [de Vries], who's making excellent progress in World Series by Renault 3.5.
"Those five drivers represent a meticulously selected staircase of talent that's the envy of every Formula One team, believe me! What's more, they're family, they belong, and they know they belong. Honda are with us for the long haul, too. We'll win together. We're well set."