Kimi Raikkonen wants to remain at Ferrari - if they decide to keep him
Finn keen to stay on, but says the Scuderia have yet to reveal whether they'll extend his contract
By Mike Wise
Last Updated: 29/06/15 12:30pm
Kimi Raikkonen says he's still in love with F1 and wants to stay on at Ferrari – assuming, that is, the Scuderia want to keep him.
As was the case last year after he re-joined the Maranello marque alongside Fernando Alonso, Raikkonen has struggled in the shadow of Sebastian Vettel so far and currently stands 48 points behind his team-mate in the drivers' standings.
The Finn has a two-year contract with Ferrari, with a performance-based option to continue into 2016, and speaking after Raikkonen finished second in Bahrain – his best result of the season so far – team boss Maurizio Arrivabene said they hoped the potential for a new deal would serve as motivation.
"Kimi is giving the best when he is a bit in trouble – this is a psychological approach so the paper at the moment is white. Sometimes I have to take the pen and then take it back and Kimi is going to the podium," Arrivabene said at the time.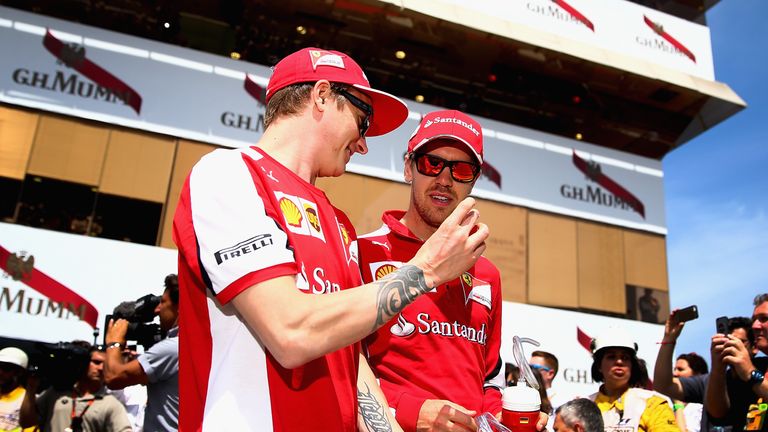 Raikkonen was certainly in bit of trouble in Austria last weekend, although his efforts to come back from a poor qualifying session ended at the second corner, where he suffered a nasty-looking collision with Fernando Alonso.
And speaking in Friday's edition of The F1 Show at the Goodwood Festival of Speed, the 2007 world champion admitted that little had changed contract-wise.
"Things are not always in our hands," he told Sky F1. "They have a contract since I signed this contract with them; it's up to them, either sign it or not sign it.
"I get the same question all the time but I've nothing to tell."
Speaking at last year's British GP, Raikkonen said he might consider quitting at the end of the current season. Yet 12 months on, he says he's keen to stay put and denied his passion for the sport was waning.
"I wouldn't be here today or at any race if I didn't [love F1]," Raikkonen said. "But it's not such good fun when you have weekends like last weekend. It's not the first time, and hopefully the last, but things go wrong sometimes.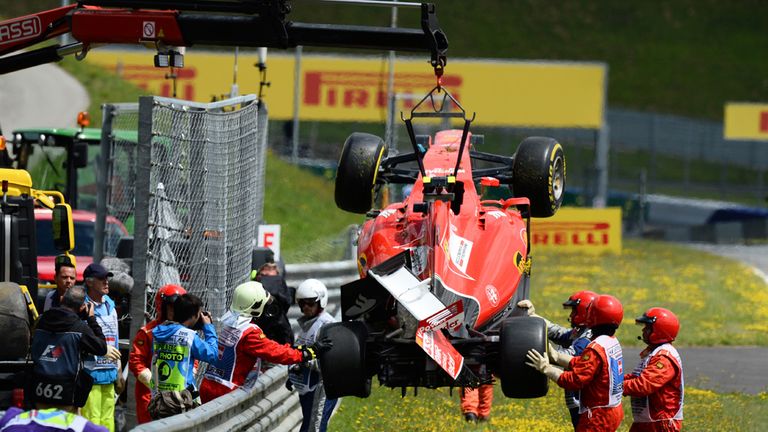 "I don't need to be here - I can walk away whenever I want, but obviously the aim is to do well. I want to do well, the team wants to do well and obviously I'm sure the team will be one of the teams to beat in the future and I'm sure next year will already be a different-looking story again."
Raikkonen's crash came after he lost control of his car on cold tyres at the Red Bull Ring, leaving Alonso, who was following, with nowhere to go.
Alonso's McLaren-Honda landed on top of Raikkonen's car, narrowly missing his head, and the 35-year-old admitted that such incidents can frighten him.
"Obviously you get scared about many things in life. But I don't think about them and obviously when something goes wrong you get the rush or whatever you call it and hopefully then everything is fine – either you landed somewhere or you crash," he said.
Raikkonen, who left F1 for two years to pursue a rally career, added: "I think rallying in the end is more dangerous because when you go off, you go in a ditch or you hit the tree or something.
"In F1, you get off with many small mistakes; in rally it's usually end of rally and it's upside down somewhere. It's a different sport."