Damon Hill and Martin Brundle hoping for the best as Schumacher remains 'critical'
"The need for machinery and speed will always be there, it's inevitable"
By Sky Sports Online
Last Updated: 30/12/13 2:03pm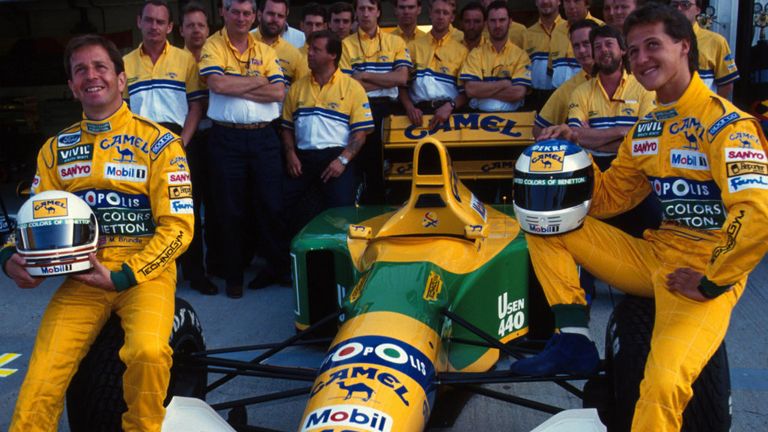 Over 24 hours after Schumacher suffered a 'serious head trauma' whilst skiing in the French Alps, the seven-times World Champion remains in intensive care in a French hospital. The former Jordan, Benetton, Ferrari and Mercedes driver is being kept in an induced coma by doctors.
The news has united the F1 fraternity, with Hill, whom Schumacher beat to the 1994 World Championship in controversial fashion, commenting: "We are all praying for Michael's speedy and full recovery and our thoughts are with Corinna and the children."
Schumacher is a regular skier and owns a chalet in Meribel in the Alps. According to Brundle, former F1 drivers will inevitably be drawn to other adrenaline-inducing pursuits in retirement having spent their professional careers racing on the limit.
"Michael's accident is distressing and a great shock, and we have to be very concerned about his chances of survival and return to full health. From what we are told it looks very serious indeed, and we can only hope for the best along with his lovely family," said the Sky F1 pundit.
"Michael loves to challenge race tracks on superbikes and he often excitedly shows his many amazing skydiving pictures on his phone. He's only a year out of the F1 cockpit but as a driven and competitive person you can't simply switch off and settle down at the end of a long career; you need challenges and achievements to keep the adrenalin flowing. But from what I read he wasn't taking undue risks on the ski slopes, and it seems he's been very unlucky on this one.
"It's not uncommon for racers to survive many big accidents to then be injured in cars, aviation, bikes, on water, or indeed ski slopes. The need for machinery and speed will always be there, it's inevitable."
The details of Schumacher's accident, disclosed by his doctors in a press conference on Monday, also provoked painful memories for Brundle of one of the sport's darkest hours almost 20 years ago.
"When I read that Michael had received a blow to the right side of his head I couldn't help but think of Ayrton [Senna], and pondered why these things so often happen to the truly great," he added. "I sincerely hope and expect of course that this incident has a much happier ending, and I feel sure that his competitive determination and fitness will give him the best chance."