Michael Schumacher remains in a stable but critical condition five days after his accident
German still in a coma; Family briefed by doctors on Friday morning; No further update expected today; Fans holding tribute to mark champion's birthday outside hospital
By William Esler
Last Updated: 03/01/14 8:33pm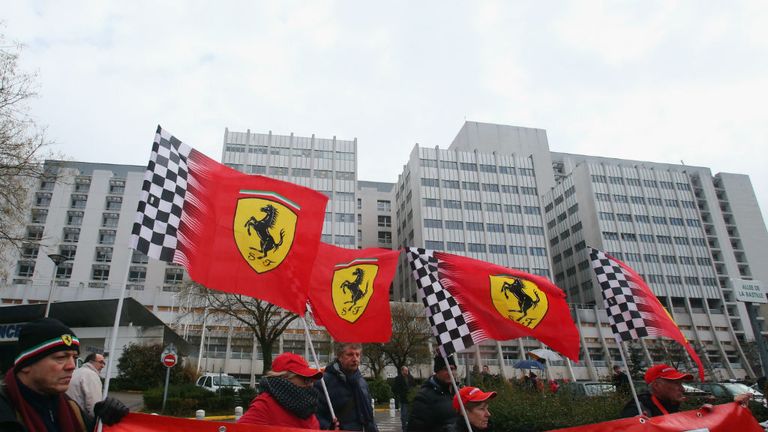 His family were briefed by doctors at Grenoble's University Hospital in the morning, but had stated earlier in the week that they would only be making further announcements if there was substantial news to report.
The seven-time World Champion is in intensive care after he hit his head on a rock and was airlifted off Meribel's slopes on Sunday. The last official update came from his manager and spokesperson, Sabine Kehm, on New Year's Day.
"We understand that the situation is essentially the same as it has been in the last couple of days so we are now looking at 80 plus hours of Michael Schumacher in a stable condition and although he hasn't improved, that is a platform at least for his doctors to continue to treat him," reported Sky Sports News' Craig Slater.
Schumacher won five successive titles with Ferrari between 2000 and 2004 and the Scuderia are helping to mark his birthday by asking fans to dress in red and take part in "a silent and respectful event" outside the hospital.
"Ferrari have arranged for fans from their supporters clubs in Northern Italy and Southern France to come to Grenoble and they are going to hold a silent parade," Slater added.
"There are over 100 fans here already, all dressed in red and Ferrari have been keen to stress this is an important day for the team as it is Schumacher's birthday."
A message on Ferrari's website read: "At the moment, he is tackling the most important fight of his life and therefore we want to send him very special wishes."
Schumacher's family later thanked fans in a statement.
It read: "The incredible sympathy shown today... has utterly overwhelmed us and moved us all to tears. We are deeply grateful for it and also for all the heart-warming and heartfelt wishes for Michael to get well soon, which have reached us from all over the world."
It is not just in Grenoble where tributes are being paid, however. In India, sand artist Sudarsan Pattnaik created a sand sculpture of Michael Schumacher at Puri beach.