Nico Rosberg tweaks special German World Cup-winning crash helmet after FIFA claim
Mercedes driver celebrating country's final victory this weekend
By James Galloway
Last Updated: 18/07/14 7:44am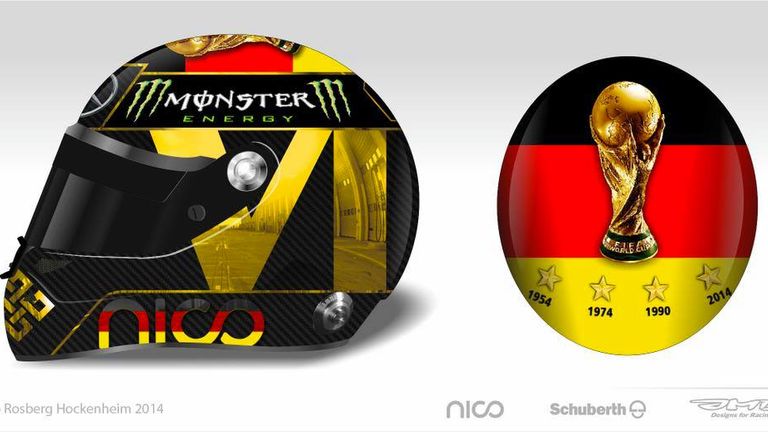 Nico Rosberg has been forced to alter the design of the special World Cup-themed helmet he was planning to wear at his home German GP this weekend following an objection from FIFA, football's world governing body.
Days after the national team triumphed over Argentina in the 2014 World Cup final in Brazil to trigger days of celebrations in the country, Rosberg revealed on Twitter that he would use a commemorative crash helmet at Hockenheim decked out in the black, red and yellow colours of Germany's flag.
The design included an image of the World Cup trophy atop the helmet, however, FIFA have since asked Rosberg to remove it on grounds that it infringes its intellectual property rights. Rosberg's manager Georg Nolte confirmed on Twitter: "There will be an update on @nico_rosberg´s Germany helmet design today. Will be without #WorldCuptrophy. BUT with 4 stars on it."
A revised design without the trophy image, but still with the stars representing Germany's four World Cup victories, was later revealed in the paddock at Hockenheim with Rosberg tweeting: "A shame, I would have loved to carry the trophy as a tribute to the guys. But of course I respect the legal situation."
The World Championship leader, was seen wearing a German football shirt during the last race weekend in Britain and brought forward his press briefing at the end of his one day of running at the following test at Silverstone so he could fly home in time to watch Germany's semi-final match against Brazil.  
The Mercedes driver has since had a busy build-up to his home race, marrying his long-time partner Vivian and signing a new multi-year contract to stay at the championship leaders.
He currently leads the Drivers' Championship by four points from Mercedes team-mate Lewis Hamilton.
Watch the 2014 German GP live only on Sky Sports F1. Extensive coverage from Hockenheim begins with Friday Practice from 8.45am on July 18.