Sergio Perez proud of Ferrari talk & says 'you cannot rule out anything'
Sergio flattered by Ferrari link, but reafirms happiness at Force India
By James Galloway in Austria
Last Updated: 04/07/16 1:10pm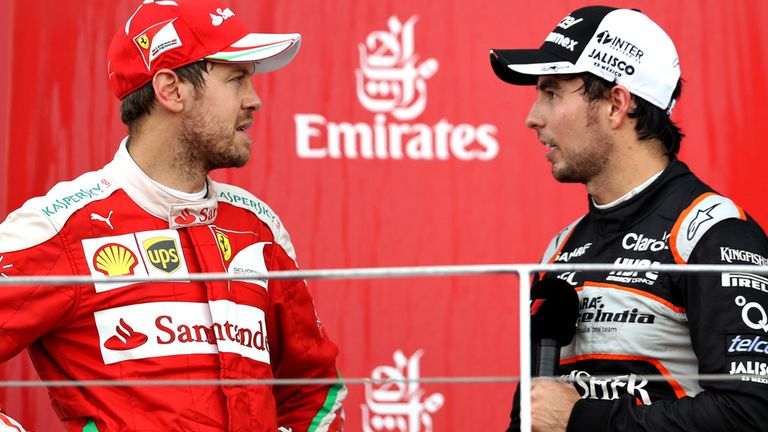 Force India's Sergio Perez says he feels "proud" to be linked with a move to Ferrari, as he closes in on settling his plans for 2017.
Nearly three years after being dropped by McLaren after just a single season, Perez has re-emerged as a potential contender for one of F1's top drives after a string of strong performances for Force India capped by two podium finishes in the last three races.
Ferrari are yet to decide whether they will retain Kimi Raikkonen as Sebastian Vettel's team-mate for 2017 and Perez, once a member of the Scuderia's driver academy, is rumoured to be one possible alternative to the veteran Finn.
Perez, 26, said his management had not had any contact with Ferrari but said the speculation reflected well on his form.
"Always when you do well in a race in Formula 1 you're linked straight away to Ferrari!" he told reporters ahead of the Austrian GP. "It's the biggest team in Formula 1 so if you're linked to Ferrari it means you're doing well - and it's the same for all the other drivers.
"As a racing driver it makes you feel proud, especially how my career has been in the past years. To finally realise that I'm back there again, although they're only rumours.
"I know I'm doing a good job and performing well and working well with the team. That's good for everyone."
Force India have made clear their desire to retain Perez for 2017 and the Mexican expressed his happiness at the team after they rescued his career in 2014.
Nonetheless, he said: "In Formula 1 you cannot rule out anything. I have learnt from that in the past.
"You never know what will happen in the future, so we'll see how things develop. We are getting closer to take a decision on my future and then we'll see if there's an opportunity or not."
Deputy team principal Bob Fernley told Sky F1 in Baku "I think he'll be with us next year" with Force India thought to have options on Perez's services for 2017 which they are almost certain to take up.
Asked what gave Fernley such confidence, Perez said: "He knows that I'm very happy in the team and I'm very grateful for what they've done for me. That's why the confidence of my boss is high. They know I like the team, I'm happy here and we don't see a reason to change."