Sergio Perez handed seven-place grid drop for Brazilian GP after Adrian Sutil clash
Stewards also issue two penalty points for "reckless" lap-one crash
By James Galloway in Austin
Last Updated: 03/11/14 1:02am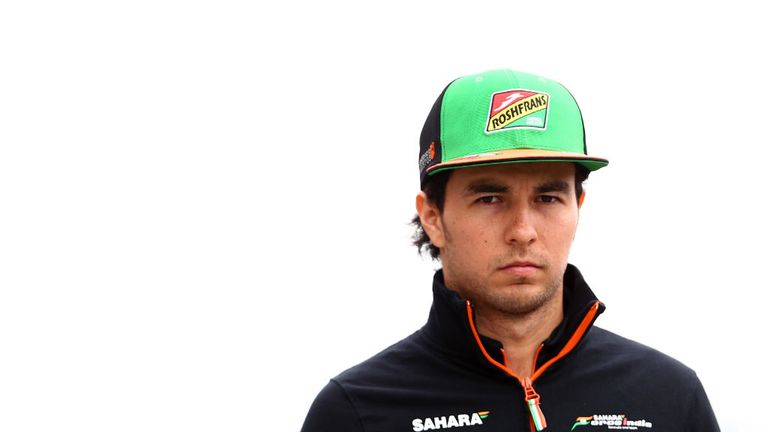 Force India's Sergio Perez has been punished for "reckless" driving on the first lap of Sunday's U.S. GP with a seven-place grid penalty for next weekend's race in Brazil.
The Mexican driver made contact with the Ferrari of Kimi Raikkonen and, more significantly, Sauber's Adrian Sutil on the opening lap in Austin as he attempted to dive down the inside at Turn 16.
First hitting Raikkonen's car up the back, Perez then twice made heavier contact with Sutil as the German attempted to take the outside line, with the collision putting both drivers out of the race.
Having delayed an investigation into the incident until afterwards, the stewards ultimately took a dim view of Perez's driving and judged that the 24-year-old "could not reasonably have expected to complete the manoeuvre. His collision with car 99 [Sutil] was reckless."
A seven-place penalty - which appears to have been cut from the usual ten for such incidents to take into account the reduced grid – was issued to Perez for Interlagos, along with two penalty points, which are the first the Force India driver has picked up.
Speaking about the incident before the penalty was issued, Perez had said: "What happened today is really unfortunate. I made a move on Adrian at turn 15 when he left the door open, so I went up the inside.
"Then Adrian started to close the door and I had to try and brake later than him. By doing so I was unable to avoid contact with Kimi which caused me to make contact with Adrian also. I just didn't expect Kimi to be in that position."
However, Sutil, who lost out on the chance to challenge for Sauber's first points of the season after surprisingly qualifying in the top ten on Saturday, laid the blame squarely at his rival's door.
"Unfortunately, it was a short race. I had a good start and was in a promising position," he said. "Sadly Sergio (Perez) crashed into my car, which was completely needless. It is very disappointing that we missed our biggest chance of points because of this move."
With Perez out on the first lap, Force India ultimately endured a completely forgettable race with team-mate Nico Hulkenberg later dropping out with an engine failure.