Romain Grosjean says he spoke to Ferrari about 2016 drive
Scuderia opted to retain Kimi Raikkonen but Frenchman insists that patience is a virtue
By Mike Wise at Spa
Last Updated: 25/08/15 2:21pm
Romain Grosjean has suggested that he was one of the drivers to lose out when Ferrari opted to retain Kimi Raikkonen and admitted that he'll have to be patient to land a top drive.
Speaking on Thursday, the Frenchman placed himself alongside Valtteri Bottas, Nico Hulkenberg and Daniel Ricciardo as being in the frame for Raikkonen's seat.
Bottas was under closer consideration than the others but instead the Scuderia opted to retain his fellow Finn as Sebastian Vettel's team-mate for 2016.
"You can clearly understand the stability Ferrari wanted. They made a lot of changes last winter; Kimi is still a really good driver," Grosjean said.
"Of course, as a racing driver, racing in red is something special."
Asked specifically whether his management had spoken to Ferrari, Grosjean said: "The paddock is small so you always talk. They're not too far away," he added, pointing towards their motorhome located opposite Lotus's.
"We are a group of young drivers that really wants to get a winning car. Ricciardo won last year, Bottas, Hulkenberg and myself really want to get somewhere we can win races.
"That's why we love the sport; that's where we want to be and that's what we want to do."
Still seeking his first F1 victory, Grosjean denied he was frustrated at losing out on a race-winning seat, even though he was often quicker than Raikkonen when they were paired together at Lotus.
"I've learned that to win a race you need to be patient, not to play everything at the first corner," he said, referring to his spectacular crash at the start of the 2012 Belgian GP which earned him a one-race suspension.
"Maybe to win a world title is the same thing."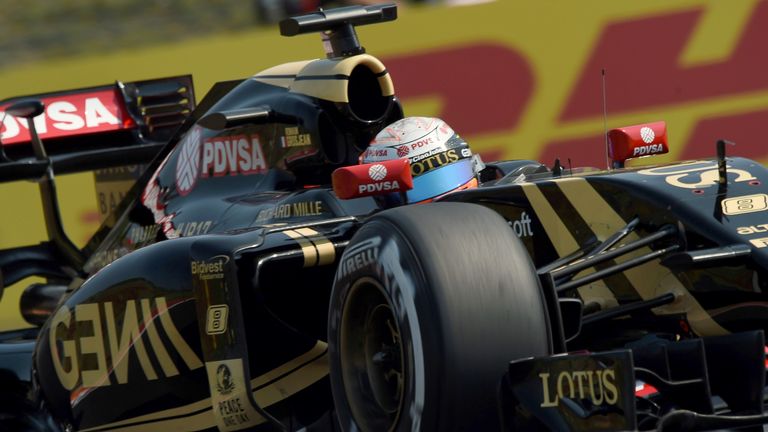 Of the 'driver market' he added: "It's been quite conservative for a few years. I think you need to wait your time and that's part of the game. The best you can do is pull out good results where you are and hope that some day a change comes."
But Grosjean also admitted that, approaching 30, he was open to the idea of racing in categories outside F1.
As an ideal, he said he would "like to have the option to choose. I'm 29; racing F1 till I'm 35 or 36 would be awesome and then I would like to try to win Le Mans".