Pastor Maldonado's luck will turn in 2015, his Lotus team predict
Lotus say Maldonado's "car seems to have a target painted on it for other drivers" after hat-trick of clashes at start of new season
By James Galloway
Last Updated: 21/04/15 1:02pm
Lotus are backing Pastor Maldonado to start delivering points for the team after being involved in a string of collisions at the start of 2015.
The Venezuelan is the only driver in the field to have retired from all three races so far, with his involvement in Australia and China ended by clashes with Felipe Nasr and Jenson Button respectively. In Malaysia, meanwhile, the Lotus driver's rear tyre was punctured at the start by Valtteri Bottas and he eventually retired with problematic brakes.
It was brake issues again that contributed to Maldonado's adventures prior to being hit by Button last weekend, when he overshot the pitlane entry and then spun as he attempted to move back up the field. However, despite the accidents, Lotus believe the 30-year-old has been the innocent party on each occasion.
"Pastor's had a bit of an eventful start to his season and his car seems to have a target painted on it for other drivers!" deputy team principal Federico Gastaldi said.
"Certainly in Shanghai he was having a superb battle with Jenson Button which unfortunately resulted in contact. Pastor had started his race fantastically and was very quick on race pace.
"Sadly he had a braking issue coming into the pits and this put him on the back foot subsequently. We could all see how hard he was pushing for the entire race and we're sure the points will come soon."
With Button acknowledging he had been at fault for hitting the Lotus up the back as they battled going into Turn One, Maldonado revealed they had talked after the race and the conversation had been convivial.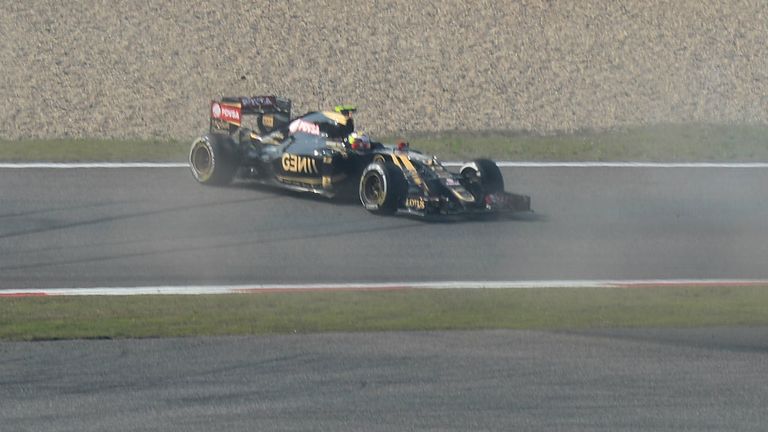 "We bumped into each other in the paddock afterwards the first thing he said to me was sorry. The first thing I said to him was great battle!" he recounted.
"Jenson's a very fair racer and a great guy and it's easy to understand how the incident happened; we were both racing for position, both offline in our battle and he was braking after using DRS so all it takes is braking half a metre too late from high speed and you make contact with the car ahead. That's racing."
With Grosjean opening Lotus's points account in Shanghai, and the Mercedes-powered E23 appearing to be the fourth-quickest package in the field, Maldonado is determined to register just his second top-10 race result for the Enstone team in Bahrain this weekend.
"I'm very eager! We've had three frustrating races where the car's had the pace to score yet for whatever reason we haven't been able to make it to the chequered flag," he added.
"There's no reason why we shouldn't go well in Bahrain so that's the target."
Maldonado will certainly be hoping for a far more straightforward Bahrain GP than last year, when he sent Esteban Gutierrez's Sauber pirouetting through the air after a clash as he exited the pitlane. The dramatic incident earned the Lotus driver a five-place grid penalty for the following race and three penalty points on his superlicence.