Pastor Maldonado unruffled by his 'Crashtor' reputation
Much-maligned Lotus driver tells Sky Sports he isn't bothered by his critics and has learnt to deal with scrutiny over his PDVSA backing; On the third anniversary of his Spanish GP victory for Williams, Maldonado is convinced he can win more races in F1
By James Galloway
Last Updated: 12/05/15 1:53pm
Pastor Maldonado has shrugged off his 'Crashtor' nickname - although the Venezuelan admitted he does feel "big pressure" from his vast sponsorship endorsement.
Since arriving in F1 with Williams in 2011 as the reigning GP2 champion, Maldonado's sometimes wayward driving has made him a figure of fun for critics on social media with his participation in a rising number of unfortunate incidents giving rise to the unflattering 'Crashtor' reputation.
Although one of only nine Grand Prix winners on the current grid, the Lotus driver's overall record of just eight points finishes in 80 starts has prompted suggestions that without his sizeable personal sponsorship from Venezuela's state oil company PDVSA – which is thought to be worth more than £20m a season to Lotus – he wouldn't warrant a place on the grid.
But asked in an interview with Sky Sports News HQ ahead of this weekend's Spanish GP – the scene, in 2012, of his solitary F1 race win to date – if he was bothered by the criticism, Maldonado insisted: "Not at all. For sure, sometimes you are reading it and you are looking at the social networks, but it's normal.
"When you are a Formula 1 racing driver you are facing fans. I am facing a big country [Venezuela], pushing very hard with big hopes on my side.
"It seems like every time I have a mistake or a crash, even coming from other drivers, it's my fault. But it's not like this. I am a Formula 1 driver; I have a lot of followers in the good way and in the bad way at the same time."
Maldonado reckons the flak he receives may have originated from his homeland via the dual pressure of fans expecting him to win regularly and opposition parties questioning PDVSA's investment in him.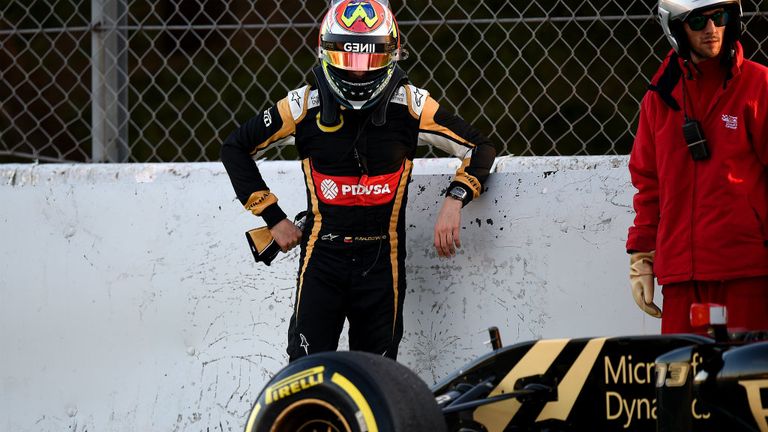 "I have maybe some political pressure because in Venezuela there are some political differences as the government have been supporting my career for a while, so they [opponents] tried to look at the single detail to attack sometime," he explained.
"But this is part of my life – it's not new. Maybe it's new here in Formula 1 because I'm here, but this is coming from many years ago. I'm good to survive with this. For sure it's not the best, but it is what we have so we need to carry on with this, keep focused and try to deliver our best every time."
While a regular race winner on the road to F1 in Formula Renault, Formula 3000 and, on a record-breaking 10 occasions, GP2, Maldonado's substantial backing means he has failed to shake up the 'pay' driver tag that accompanied his arrival in the sport with Williams.
He admits the pressure on him is sometimes "painful", but says he has learned to cope with the scrutiny.
"It's very heavy. From the fans, from the press, even from my country because they are investing in Formula 1," Maldonado said.
"This project started more than 10 years ago, when I was in Formula Renault. I won the series so they decided to build a project and make it happen in Formula 1 with me. Even with other drivers [PDVSA backed them], but I was the only one to have the chance to come to F1.
"For sure it's a big pressure, but at the same time you survive with it. Formula 1 is like that: it's all about pressure isn't it? It's all about racing and every week delivering your best, not only in the track but outside the track.
"So this is painful sometimes because there are many expectations behind me. I have an entire country pushing very hard and sometimes it's very difficult to explain that we don't have all the tools to win all the races. But this is Formula 1 and I feel very good."
Asked if his backers set him specific targets, Maldonado made clear that they were united in their desire to achieve success in F1.
"There are always targets. We want to win," he insisted.
"We won one time so it's possible to win two or three times – or even more! The expectations are so big and as a young country, and not very experienced in this sport, we are learning. I hope that in the future soon we can celebrate victories and championships."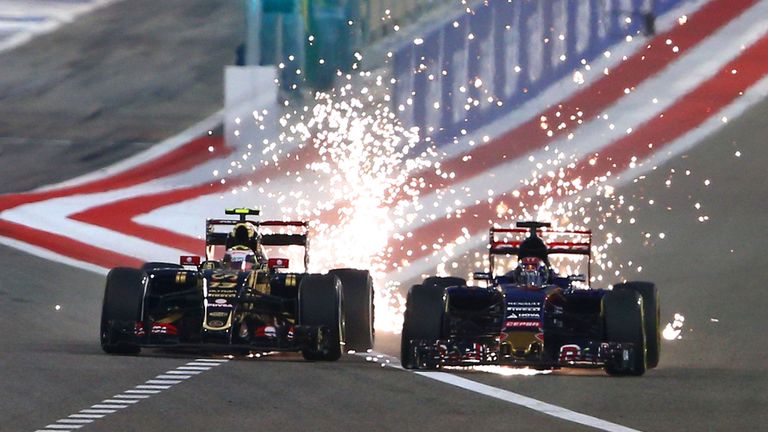 The 30-year-old's Lotus team last achieved race-winning success in 2013, but are on the up this season after a wretched baptism to F1's new turbo era last year.
Having switched to the class-leading Mercedes engine, and essentially ripped up the design of last season's troubled E22, Maldonado believes Lotus only scratched at the surface of the 2015 challenger's potential in the opening flyaway rounds, when he personally failed to score a single point.
"It's a new design, a new car, a new project so it's like we are starting from zero. It's not a progression of what we had last year, it's a new car. So for us it's maybe a bit more difficult to get at the top of the package immediately, as a few other teams are already. But we are improving race-by-race, the performance is there," he explained.
"We had some problems in the mechanical side of the car, especially in the brakes, but we have been working on it. Romain [Grosjean] had problems with the turbo in the first race, and even the second race.
"We have been trying to avoid the problems and improve. The car is performing quite good. For sure there are some areas we can keep improving, but we didn't conclude the potential of the result, which is a bit unfair. But we know we have the potential and still 15 races to go."
Despite team-mate Grosjean, as last year, proving the lead runner at Lotus so far in 2015, it has been the Frenchman who has sat out the last two Practice One sessions while reserve driver Jolyon Palmer enjoyed track time in the E23.
Maldonado confirmed to SSNHQ that his contract specified that he had to drive in all the race weekend's sessions.
"I don't know exactly all the contract between the team and the sponsor. The contracts are completely separated. But my contract is very clear that I need to complete the entire weekend," he added.