Italian GP: Daniel Ricciardo makes move of the day on Kimi Raikkonen
"That wasn't even an overtaking opportunity. Spectacular. One for the CV," says Martin Brundle.
By Jonathan Green
Last Updated: 30/09/17 9:02am
Daniel Ricciardo pulled off the overtake of the day in the Italian GP with a stunning move on Kimi Raikkonen on his way to fourth place.
The Red Bull driver had started 16th on the grid but charged through the field and his move on Raikkonen with 12 laps remaining was one of the best of the season so far.
Ricciardo left his braking to the very final moment to dive down the inside of the Ferrari into Turn One and had the Sky F1 commentators and team boss Christian Horner purring with appreciation.
"That wasn't even an overtaking opportunity," Martin Brundle said.
"That was from so far back. A lunge with a capital L. Spectacular. One for the CV."
Hamilton takes lead of title race
Horner told Sky F1: "He made some phenomenal overtaking moves.
"He's one of the best overtakers out there. His ability to brake late and still make the apex. It was Nigel Mansell-esque."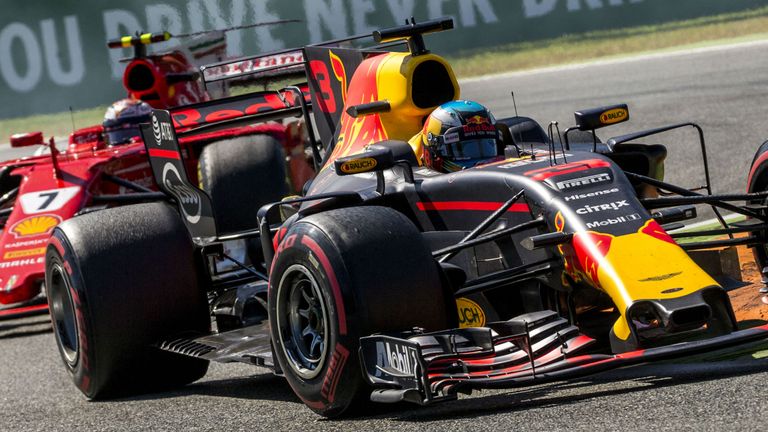 Ricciardo himself said he had "put the blinkers" on as he made the move.
"Hopefully we created some highlights for the year," he told Sky F1.
"I'll give Kimi credit for racing clean and fair. But I'd have done the move on anyone to be honest.
"I was aware the deeper I got towards the front the harder overtakes would be. I had blinkers on for the move and happy to pull it off."