Daniel Ricciardo will drive for Red Bull alongside Sebastian Vettel in 2014 season
Young Australian confirmed as Mark Webber's successor
By James Galloway
Last Updated: 03/09/13 8:29am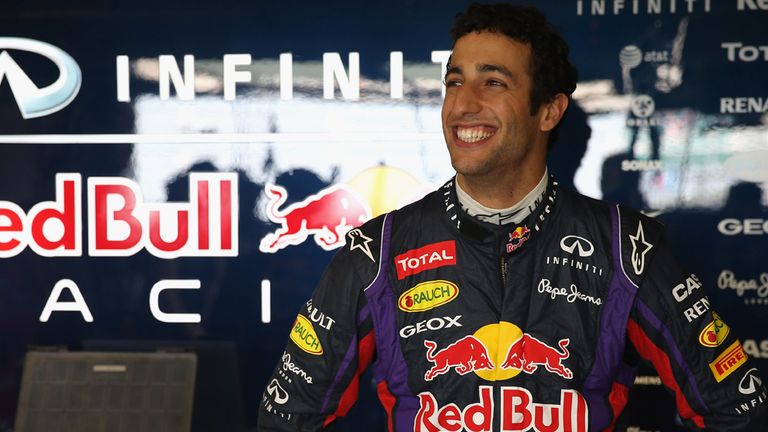 Ricciardo, who currently competes for Red Bull's junior team Toro Rosso, had been considered the front-runner for the coveted drive for several weeks and will link up with triple World Champion Sebastian Vettel in the senior team in 2014.
Although Red Bull held off from making an announcement over the second seat at the last race in Belgium, it was widely thought that the decision to promote Ricciardo had already been made, talks with the other serious contender for the position, Kimi Raikkonen, having broken down.
Ricciardo was unveiled as Webber's successor on the Red Bull-owned Servus TV channel in Austria, with the company's motorsport advisor Helmut Marko in attendance, while video messages were also shown from Team Principal Christian Horner and design chief Adrian Newey.
"I feel very, very good at the moment and obviously there's a lot of excitement running through me," said Ricciardo, who has competed in 42 grands prix to date for HRT and Toro Rosso.
"Since joining F1 in 2011 I hoped this would happen and, over time, the belief in me has grown. I had some good results and Red Bull has decided that this is it, so it's a good time."
While the driver he will replaces has won nine grands prix, Ricciardo's best finish in F1 to date is seventh place - however the young Australian feels he is ready for the step up the grid.
"Next year I'll be with a Championship-winning team, arguably the best team, and will be expected to deliver. I'm ready for that," Ricciardo added.
"I'm not here to run around in tenth place, I want to get the best results for myself and the team. I would like to thank the team for giving me the opportunity to show what I can do.
"I know the team quite well already since being its reserve driver in 2010, which should make the transition easier. It will be a great challenge to be up against Sebastian Vettel, I'm looking forward to that."
When Webber at the British GP in late June announced his plans to quit F1 at the end of the season, current Lotus driver Raikkonen was immediately installed as the favourite to replace him.
However, Ricciardo's chances appeared to have been strengthened after he was handed the chance to test for Red Bull at the Silverstone Young Driver Test. Speaking in the press release issued by the team on Monday night, Horner said the decision to promote the Australian had been "very logical".
"It's fantastic to confirm Daniel as the team's race driver for 2014, he's a very talented youngster," Horner said.
"He's committed, he's got a great attitude and, in the end, it was a very logical choice for us.
"He's got all the attributes that are required to drive for our team: he's got a great natural ability and he's a good personality and a great guy to work with.
"Daniel knows what the team expects from him. He'll learn quickly and it's very much a medium to long term view that we're taking in developing him. The seat within the team is a wonderful opportunity and I think he's going to be a big star of the future."
Newey, meanwhile, compared Red Bull's decision to promote Ricciardo to the choice made at Williams in the mid-1990s when they opted to call up Damon Hill ahead of the vastly experienced Riccardo Patrese alongside Alain Prost.
"I think it's good to bring young blood in and give promising drivers a chance," added the Red Bull technical boss.
The expected announcement means that focus will now definitively turn to Raikkonen's plans, with the Finn now either set to stay at Lotus into a third season or even make a surprise return to Ferrari.
The news also ends what had been the highly unlikely prospect of Ferrari's star asset Fernando Alonso defecting to Red Bull, the F1 rumour mill having been sent into overrdrive during the summer break after the Spaniard's manager spoke to Horner in Hungary.