Christian Horner says Daniel Ricciardo fully-deserving new member of F1 winners' club
Aussie's rise also a "fantastic testimony" to Red Bull junior programme
By James Galloway in Montreal
Last Updated: 09/06/14 6:02pm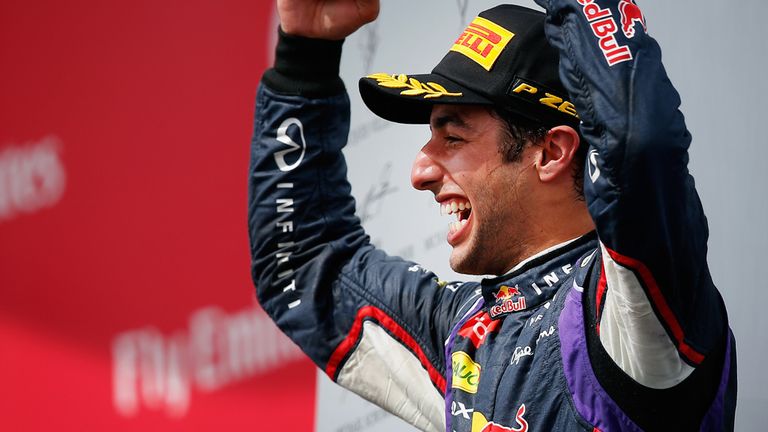 Christian Horner believes Daniel Ricciardo's "faultless" performances since being promoted to Red Bull made him a fully-deserving grand prix winner after the Australian secured a surprise victory in Canada.
After a qualifying performance which Ricciardo himself described as "scrappy" left him sixth on the grid, three places behind team-mate Sebastian Vettel, the 24-year-old moved ahead of the World Champion through the second pitstops in Sunday's thrilling Montreal race and then impressively pounced on the win in the closing laps as long-time race leader Nico Rosberg and Force India's Sergio Perez ran into car problems.
Despite Mercedes' dominance since the start of the year, and his own inexperience of running at the front of the F1 field, Ricciardo had already stood on the podium three times in the opening six events - although his runner-up finish in Australia was annulled - and consistently outperformed Vettel, who finished third at Circuit Gilles Villeneuve.
And Horner, Red Bull's Team Principal, was full of praise for how swiftly the former Toro Rosso driver has adapted to his new role in the wake of his breakthrough win.
"Hats off the Daniel. The way he's come into the team this year, the way he's performed, he's grown in confidence and stature and he really deserves this victory," Horner told reporters after Ricciardo recorded both Red Bull and Renault's first victory of F1's new turbo era.
"I didn't believe we could win this race but the way he's driven, the way he's made passing moves when he's needed to this year, he's driven faultlessly all season. He's grabbed his opportunity and I'm delighted for him that he's won his first grand prix.
"It's a wonderful feeling for any driver, it was nice to have Sebastian up on the podium to enjoy it with him, and it's a very special day in his life and career. It will probably take a day or two to sink in."
Although there were accusations at the time of Ricciardo's appointment as Mark Webber's successor that Red Bull had taken the easy option by promoting one of their junior drivers to the seat rather than hiring an established campaigner such as Kimi Raikkonen, Horner says there can no longer be any doubt that the team made the right call.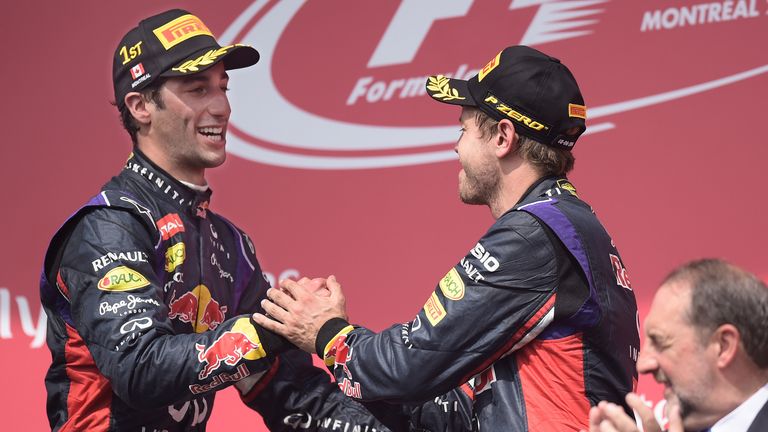 "It's fantastic testimony to the junior programme that we're discovering young talent on merit like Sebastian Vettel and like Daniel Ricciardo. All credit to Red Bull and the job that Helmut [Marko]'s done in identifying these young drivers and giving them the chance," Horner added.
"Daniel was a young guy who came over from Australia with very little prospect of furthering his career had it not been for Red Bull and Dietrich Mateschitz's support and backing through the junior formula, through the junior team, into Toro Rosso and onto Red Bull Racing.
"There were questions asked when we choose him as our driver alongside Sebastian and I think he's demonstrated beyond all doubt that he fully deserves that position."
Despite being outqualified by Vettel for just the second time on Saturday, Ricciardo's victory means he has still yet to be beaten by the reigning champion when both cars have made the chequered flag in 2014.
Asked what had allowed Ricciardo to pass his team-mate in the stops, Horner replied: "The combination of a slow-ish out lap [for Vettel] and a very quick in-lap [for Ricciardo]. The pitstops were within 0.2s of each other so Daniel really did the damage on his in-lap."