Jean-Eric Vergne given Spanish GP grid penalty for loose Toro Rosso wheel
"A significant breach of the safety requirements," rule stewards
By James Galloway
Last Updated: 09/05/14 7:25pm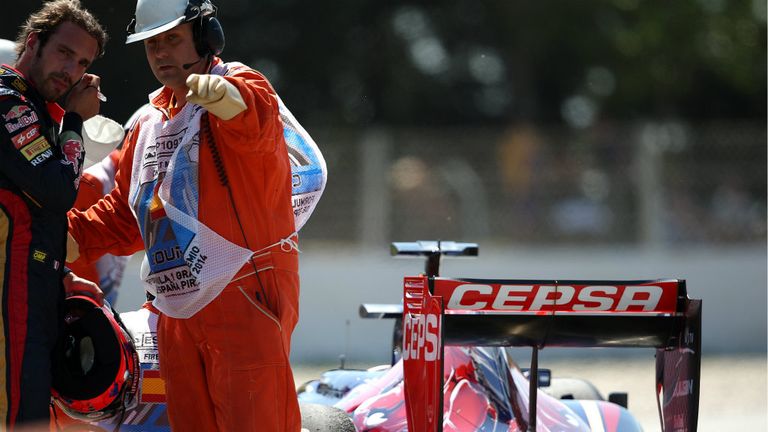 The right-rear wheel on the Frenchman's car worked its way loose on the exit of Turn One following a pitstop in the final five minutes of the afternoon session, leaving Vergne stranded at the side of the circuit.
And under a new-for-2014 Sporting Regulation, Article 23.12, "if a car is deemed to have been released in an unsafe condition during any practice session, the stewards may drop the driver such number of grid positions as they consider appropriate".
Toro Rosso have also been fined €30,000 for the incident.
Vergne's former team-mate Daniel Ricciardo was handed the same penalty when a wheel came off his Red Bull in the pitlane at last month's Bahrain GP.
"This is regarded as a serious offence and the Stewards are of the opinion that this was a significant breach of the safety requirements," an FIA statement read.
"The Stewards request the FIA Technical Delegate to satisfy himself as to the compliance of the two Toro Rosso cars with Article 14.7 of the FIA Formula One Technical Regulations and Technical Directive TD/01713 prior to their further participation in the Event."
Article 14.7 of the Technical Regulations states that "all cars, whilst under their own power, must be fitted with devices which will retain the wheel fastener in the event of it coming loose".
Toro Rosso said they would investigate the cause of the problem.
"Unfortunately we had an issue with Jev's pit stop at the end of his long run, when we lost a wheel as soon as he left the pit lane, but luckily no one was injured," said Toro Rosso's Head of Vehicle Performance Laurent Mekies.
"We have to understand exactly what went wrong and make sure we can correct that for tomorrow."
Vergne finished Friday's two practice sessions just outside the top ten, the Frenchman slower than rookie team-mate Daniil Kvyat on both occasions.