Ferrari's domination of Mercedes in Chinese GP Qualifying is 'turning point', says Damon Hill
"For so long we have seen Mercedes dominate...now both Ferrari cars are ahead," says Hill "It's like empires rising and falling."
Last Updated: 11/12/18 3:21pm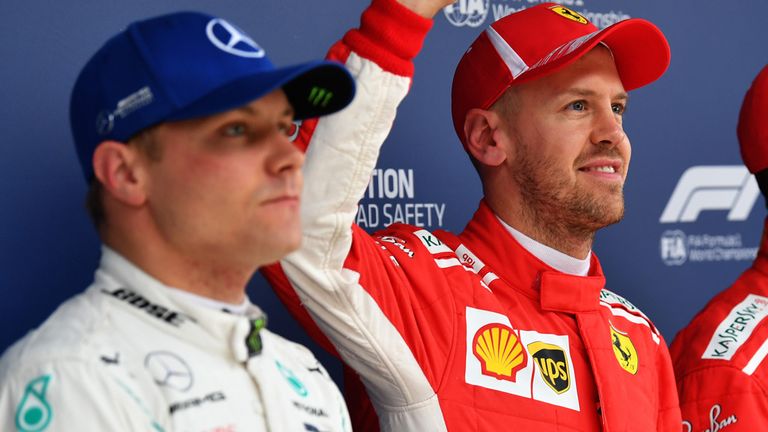 Ferrari's domination of Mercedes in Chinese GP qualifying is "the turning point" in the battle for supremacy in F1 2018, according to Sky F1 pundit Damon Hill.
Sebastian Vettel set a new lap record of 1:31.095 to take his 52nd career pole - and Ferrari's first in Shanghai since 2004 - and pip team-mate Kimi Raikkonen by eight hundredths of a second.
Mercedes had previously taken every Chinese GP pole since 2012 but were over half a second behind the two Ferraris, with Valtteri Bottas third and Lewis Hamilton fourth.
It is the first time since 2006 that Ferrari have secured back-to-back front-row lockouts, and 1996 world champion Hill believes the balance of power is now firmly with the Scuderia.
"This is the turning point," Hill told Sky Sports F1.
"For so long we have seen Mercedes dominate. They've had the party mode in Qualifying but now both Ferrari cars are ahead of Mercedes.
Vettel on pole, Hamilton fourth
Vettel: Ferrari pace 'unbelievable'
"It certainly does look like the tide has turned for the first time in a long time in this turbo-hybrid era.
"Ferrari have won the first two races and are in a strong position to win the third.
"If this is the start of a new era, then Lewis Hamilton will have to think carefully about whether he signs up to Mercedes for a long-term contract.
"All these racing drivers know they have to be in the coming team and the team that is showing it's going to be the team for the next era.
"It's like empires rising and falling and maybe Mercedes are on the wane and the new Ferrari era is about to come back."
After being compromised by the heat in Bahrain, Mercedes had been expected to thrive in the cooler temperatures of China and 2016 world champion Nico Rosberg thinks his former team will be dumbfounded by their Saturday performance.
"I don't think Mercedes themselves know, and nor do Ferrari," Rosberg said. "It's a strange one. It is extreme conditions here - it's very cold and a strange track with long corners. Mercedes were just really struggling out there or Ferrari were just unbelievably on it.
"We know that Mercedes work the rear tyres more than Ferrari, which is sometimes an advantage in qualifying because you get the tyres to work. Normally exactly that would work on this track, but it didn't."
Mercedes beaten at own game
Raikkonen had looked set to take pole before Vettel snatched it on his final Q3 attempt and Paul di Resta thinks the improved performances of the Finn in 2018 are helping push Ferrari to new heights and beat Mercedes at their own game.
"Kimi is pushing Seb so the team are pushing to the next level," says Di Resta.
"Seb had a clear advantage the last two years so he was in his comfort zone a bit.
"The car looks beautifully balanced. It really sends an impact to Mercedes that they need to react quickly.
"Ferrari can now hold a little back and don't have to show everything. Mercedes are having to show their hand very early. That's what they used to be able to do - and what Ferrari are doing at the moment."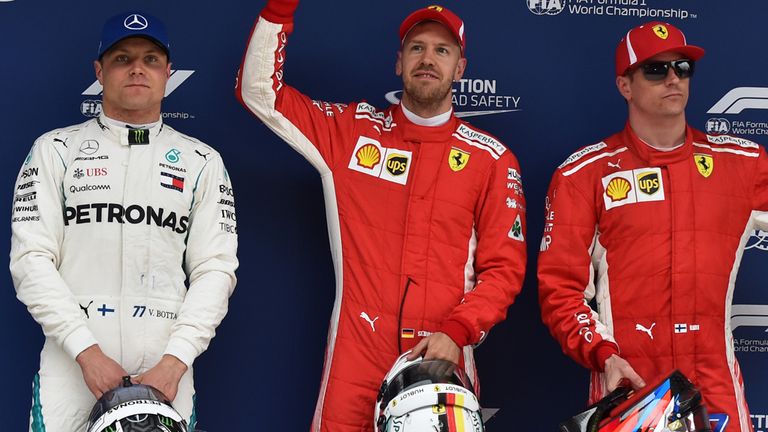 Rosberg sends strategy warning to Merc
Both Ferrari and Mercedes will start on the more durable soft tyre after opting against setting times on the fast but degrading ultrasofts in Q2.
With both teams on similar strategies, Rosberg believes Mercedes' only hope of victory may now be if the W09 performs better in Sunday's forecast warmer weather.
"Sunday is not easy because it's probably a one-stop. Everybody is starting on the soft and then they'll probably go to the medium," Rosberg said.
"Ferrari learnt from their mistake in Bahrain not to let Mercedes have that opportunity again so they'll go for the one-stop. That will make it difficult strategy wise.
"The only hope Mercedes really has is temperatures coming up, that suddenly their car works a lot better on the harder tyres and with the temperatures. That could be their only chance."