Adrian Sutil went without food for two days to try and lose weight for new season
Sauber driver happy to "go on the limit" but hopes lighter car will help
By Mike Wise in Barcelona
Last Updated: 09/05/14 8:43am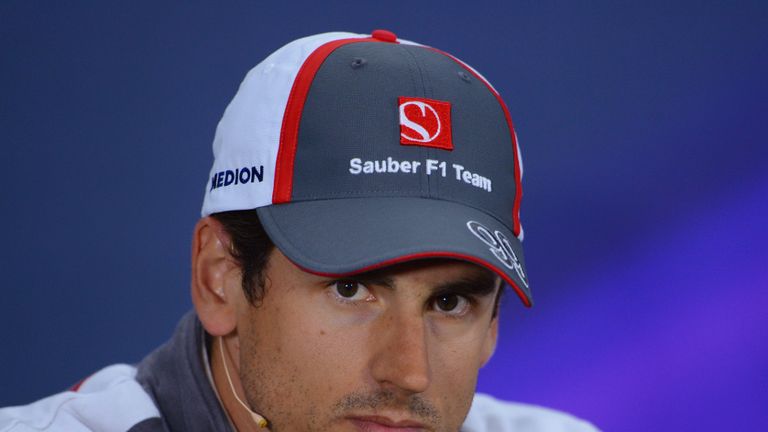 The German, taller and heavier than many of his rivals, made headlines in Malaysia, where he raced without a drinks bottle even though cockpit temperatures at Sepang can rise as high as 50 degrees Celsius.
Driver weight has become a hot topic with the introduction of F1's new hybrid cars, which are heavier than anticipated even though the minimum weight limit has increased from 642kg to 691kg.
Sutil hasn't been helped by Sauber's C33 car being overweight at the start of the season, although the Swiss team are introducing a lighter version for Sunday's Spanish GP.
"I was testing it a little bit here and there. Two days, no food, only drink...I tried," he said on Thursday afternoon.
"It was not easy but interesting what the reaction is. I'm eating now again, it's better."
The 31-year-old explained that he wanted to test "the limit" but stressed he knows what his limit is - and that the decision was his alone.
"I couldn't do much sport because the power was missing. I do it because I want to go on the limit just to make sure I did my maximum. I don't want to be in the car and say, 'Oh, I could have done more'," Sutil said.
"I could feel there was a limit where I hadn't the power anymore, the strength in my mind - you get stressed quite early - and you don't want that. It's just important to know your body quite well.
"I tried it but I'm still alive so don't worry too much. It was my own decision, this is most important."
With his car now tipping the scales more comfortably, Sutil is hoping that change, together with a new aerodynamic package as well as Ferrari power unit upgrades, can help tip the balance more in Sauber's favour this weekend.
With the team yet to score a point this season, Sutil added: "It's a very good step I think in every area: the weight, the aerodynamics and also the power train has improved.
"I believe in it and especially tomorrow will be an important day to test it all to make sure everything works fine and I expect a good performance improvement throughout the race weekend.
"Our expectation is normally always to score a point or more and I want to be back in this area. So hopefully it's enough."