Jules Bianchi accident panel finds he was driving too fast before Suzuka crash
Marussia driver's injuries lead to new driver recommendations
By Sky Sports Online
Last Updated: 03/12/14 6:37pm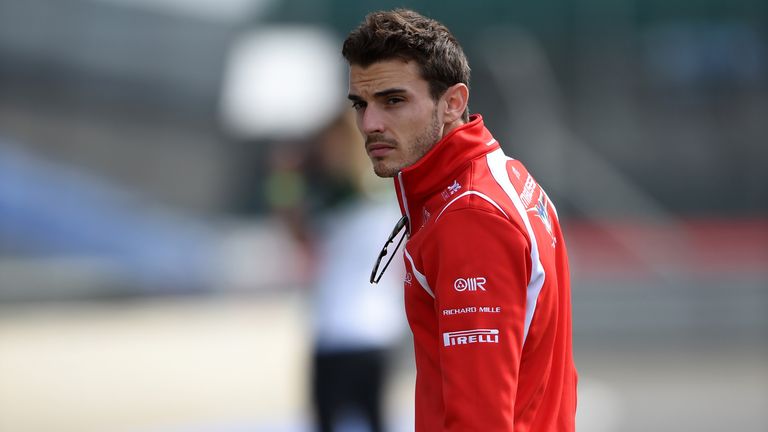 Jules Bianchi 'did not slow sufficiently' before his accident at Suzuka, the FIA's Accident Panel has found.
The 25-year-old Marussia driver remains in a critical condition in a hospital in Nice after the October accident which left him with severe head injuries.
Bianchi slid off track on lap 43 of the Japanese Grand Prix and his car smashed into a mobile crane that was recovering Adrian Sutil's Sauber at turn seven after heavy rain had made the track at Suzuka treacherous.
The incident was investigated by a 10-man FIA Accident Panel, which included former Mercedes team principal Ross Brawn, former Ferrari boss Stefano Domenicali as well as past drivers Emerson Fittipaldi and Alex Wurz.
They heard that Bianchi hit the crane at a speed of 126kph and the force with which he struck the obstruction was beyond that a Formula 1 car is designed to bear.
A statement from the FIA read: "The semi-dry racing line at T7 was abruptly narrowed by water draining onto the track and flowing downhill along it. Both Sutil, and Bianchi one lap later, lost control at this point in T7.
"Sutil's car was in the process of being recovered by mobile crane when Bianchi approached Sectors 7 and 8, which include the part of T7 where the recovery was taking place. Sectors 7 and 8 were subject to double yellow flags.
"Bianchi did not slow sufficiently to avoid losing control at the same point on the track as Sutil.
"If drivers adhere to the requirements of double yellow flags, as set out in Appendix H, Art. 2.4.5.1.b, then neither competitors nor officials should be put in immediate or physical danger.
"The actions taken following Sutil's accident were consistent with the regulations, and their interpretation following 384 incidents in the preceding eight years. Without the benefit of hindsight, there is no apparent reason why the Safety Car should have been deployed either before or after Sutil's accident.
"Bianchi over-controlled the oversteering car, such that he left the track earlier than Sutil, and headed towards a point "up-stream" along the barrier. Unfortunately, the mobile crane was in front of this part of the barrier, and he struck and under-ran the rear of it at high speed."
The statement concluded: "It is considered fundamentally wrong to try and make an impact between a racing car and a large and heavy vehicle survivable. It is imperative to prevent a car ever hitting the crane and/or the marshals working near it."
The panel has also come up with a number of recommendations in the wake of Bianchi's accident, which include clerks of the course imposing speed limits for sections of track affected by double yellow flags, a review of safety critical software and new guidelines on track drainage.