Russian GP P3: Another truncated session after Carlos Sainz's crash
Toro Rosso driver escapes high-speed shunt without serious injury; Red flags leave teams without running ahead of qualifying
By Mike Wise in Sochi
Last Updated: 10/10/15 12:57pm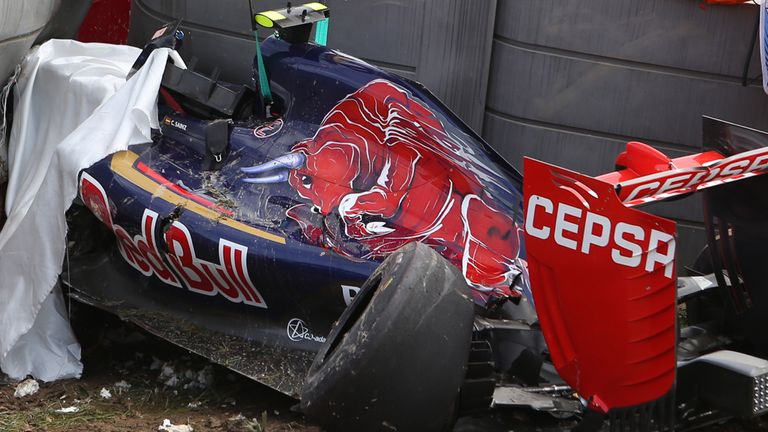 F1 breathed a collective sigh of relief after it emerged that Carlos Sainz escaped his high-speed shunt during third practice for the Russian GP without serious injury. But with another session interrupted, the lack of running so far this weekend has been compounded ahead of qualifying.
Understandably, the sight of the Toro Rosso driver's car buried underneath crash barriers at Turn 13 prompted initial concerns about his condition. Sainz had lost control on the fastest part of the Sochi Autodrom but after marshals and medical personnel removed the 21-year-old Spaniard from his car, it soon emerged that he was conscious, answering questions and showing no signs of any serious injury.
So with Sainz giving the thumbs up before being taken to hospital, teams were thankfully able to turn to the matter in hand: just how to approach qualifying and the race with so little representative data? It's the second successive race weekend that practice has been curtailed for one reason or another and teams had hoped to make up for lost time after, first, a diesel spillage and then heavy rain had curtailed running on Friday. 
Cars were queueing at the end of the pitlane as the session got underway, and with drivers concentrating on their long runs first, Williams pair Valtteri Bottas and Felipe Massa ran one-two in the opening minutes.
Bottas then switched to supersofts and improved with a time of 1:40.275s - the Finn needing more than one lap to warm them up on a track that, last year, barely stressed the tyres at all. Soon after, however, Nico Rosberg went 1.3s quicker with a 1:38.561 on his first flying lap.
Drivers were just getting into their qualifying simulations when Sainz's accident occured, with Lewis Hamilton ending up third fastest 0.8 seconds slower than his team-mate. The Ferraris of Kimi Raikkonen and Sebastian Vettel were respectively 12th and 16th fastest; with the McLarens of Jenson Button and Fernando Alonso seventh and ninth, a true picture will - hopefully - emerge in qualifying.     
But with mileage at a premium - Sainz, ironically, completed more laps than anyone on Saturday with 19 - teams may have to rely on educated guesswork for set ups and also head into Sunday's race - which features softer tyre compounds than last year's - with little in the way of long-run data. 
Practice Three times:
1. N Rosberg, Mercedes, 1:38.561
2. V Bottas, Williams, 1:39.287
3. L Hamilton, Mercedes, 1:39.363
4. S Perez, Force India, 1:39.616
5. F Massa, Williams, 1:39.875
6. N Hulkenberg, Force India, 1:39.917
7. J Button, McLaren, 1:40.581
8. P Maldonado, Lotus, 1:40.767
9. F Alonso, McLaren, 1:41.200
10. F Nasr, Sauber, 1:41.229
11. D Kvyat, Red Bull, 1:41.358
12. K Raikkonen, Ferrari, 1:42.297
13. R Grosjean, Lotus, 1:42.371
14. M Ericsson, Sauber, 1:42.450
15. C Sainz, Toro Rosso, 1:42.863
16. S Vettel, Ferrari, 1:42.686
17. M Verstappen, Toro Rosso, 1:43.089
18. D Ricciardo, Red Bull, 1:43.347
19. R Merhi, Manor, 1:46.767
20. W Stevens, Manor, 1:47.249 
Don't miss Sky Sports F1's live weekend-long coverage of the 2015 Russian Grand Prix. Our race-day show begins at 10.30am on Sunday, with lights out at 12 noon. Watch the Russian GP for £6.99 with NOW TV