Russian GP papers: 'It'll take a cruise missile to stop the fat lady singing'
Fleet Street declare title race over after another win puts Lewis Hamilton within a whisker of championship; Effectiveness of a divided FIA and FOM questioned
By William Esler
Last Updated: 12/10/15 12:35pm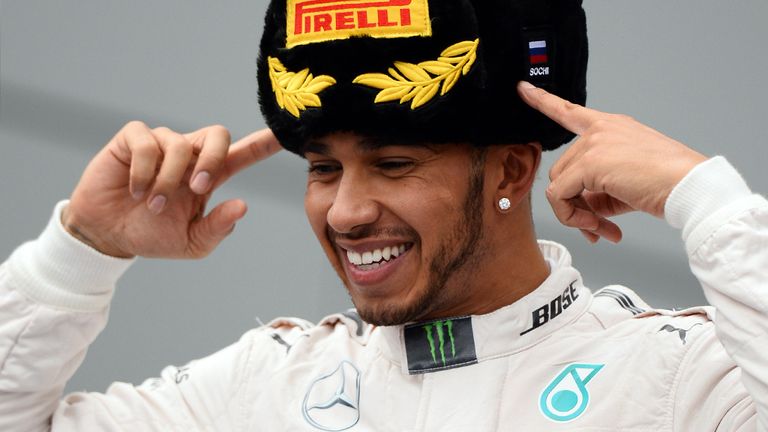 'It'll take a cruise missile to stop the fat lady singing now' declared Monday's papers as Lewis Hamilton closed in on a third world title with victory in Russia.
Nico Rosberg had threatened to close the gap at the top of the drivers' championship after qualifying on pole and leading the opening exchanges, before a sticking throttle forced him into retirement.
The Telegraph's Daniel Johnson felt that it 'was cruel on Rosberg, who took pole position brilliantly and was convinced that he would win', but admitted that 'Hamilton was at his serene best in Sochi'.
The Daily Mail's Matt Mourlidge concurred that 'Hamilton's afternoon could not have been any easier' but declared 'Hamilton is undoubtedly one of the best we have ever seen'.
The result means Hamilton enjoys a 66-point advantage over Sebastian Vettel, who overtook Rosberg in the standings on Sunday, and he is likely to be crowned champion at the next race in Texas.
'The fat lady has taken the microphone, readying her final warble. It will take one of President Vladimir Putin's cruise miles to disrupt her closing chorus and Lewis Hamilton's path to a third world championship now', wrote Johnson in The Telegraph.
Hamilton gambled on Mercedes' vision of dominating under the new for 2014 regulations when he left McLaren, but The Guardian feel his achievement is perhaps beyond what he imagined.
'Hamilton's success since joining Mercedes may well have been beyond even his most optimistic expectations and victory in Russia, his ninth win of the season, put one hand on a third world championship to equal Jackie Stewart's British record', wrote Giles Richards.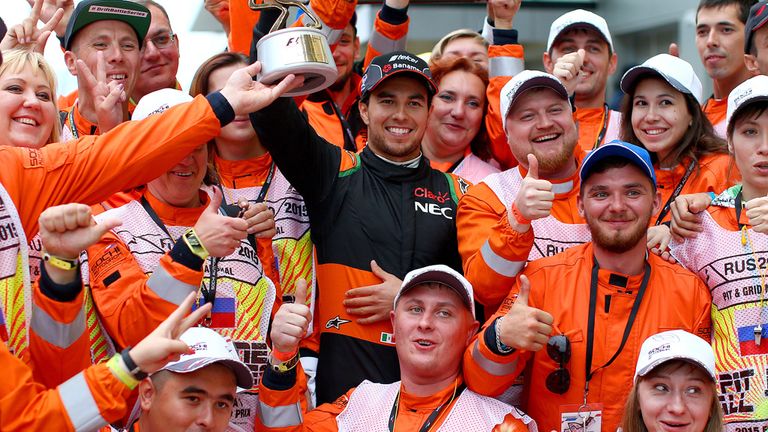 Behind Hamilton and Vettel on the Sochi podium was Force India's Sergio Perez and the Mexican caught the eye of The Times.
'And then there was Sergio Perez, of Force India, taking third place, a rare triumph for the minnows in a sport dominated by the big bucks teams,' wrote Kevin Eason.
'Well, if you want value for money, look no farther than this courageous sassy outfit from Silverstone'.
While Sunday's race was dramatic, it was off-track matters that dominated in Sochi as the Red Bull engine-saga continued with a series of public meetings between key figures in the paddock.
Bernie Ecclestone is hopeful that the situation is being "cleared up", but in The Telegraph the F1 boss was declared 'ineffective' by Johnson.
'It is not inconceivable that a decade ago Bernie Ecclestone would not have allowed the Red Bull situation to reach a crisis,' he wrote.
'Ecclestone and Max Mosley, then FIA President, would have found some way to bully one of Mercedes or Ferrari to supply an engine to Red Bull. They would threaten a punishingly rule tweak or something of that nature to bring everyone into line.
'Now, without his trust partner in crime, Ecclestone is rendered powerless to solve the crisis singlehandedly. Where has Jean Todt been this weekend? Regard for him among team principals is at rock bottom.
'It can be very easy to yearn for the days of Ecclestone and Mosley. After all, it had its flaws, and Mosley was not exactly a popular man in the paddock. But they managed to get things done. An inactive FIA President is not what the sport needs.'