Lewis Hamilton not expecting Fernando Alonso to be 2018 Mercedes team-mate
"It's not going to happen," says Hamilton on prospect of his former team-mate replacing Valtteri Bottas in 2018
By James Galloway
Last Updated: 09/04/17 6:02am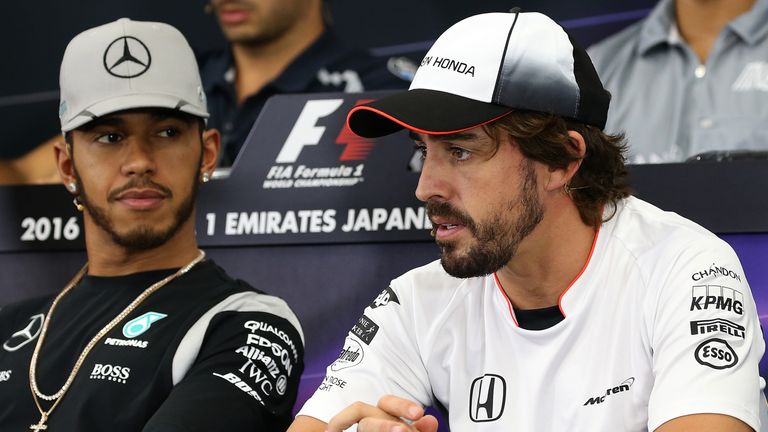 Lewis Hamilton has poured cold water on suggestions Fernando Alonso could join him at Mercedes in 2018.
Alonso's future at McLaren beyond the end of this year has once again been in the spotlight following the Honda-powered team's latest disappointing start to a season.
Sky F1 pundits on Alonso's 2018 prospects
The Spaniard has been linked intermittently with a switch to F1's world champions over recent years, and while Mercedes Toto Wolff said last December Alonso was being "considered" as a potential replacement for the retired Nico Rosberg, the 35-year-old was never thought to be a serious option with the team eventually signing Valtteri Bottas.
And with Bottas making a solid start to his Mercedes career, Hamilton believes the team already have the perfect "balance" between their two drivers.
"It's not going to happen," Hamilton was quoted as saying by PA. "Valtteri is fantastic here at the team. He was very, very fast at the last race [Australia].
"He has obviously got a lot of potential and a lot of growth to go, but it is all about finding the right balance in the team. So far Valtteri and I have a great balance and the scales weigh up nicely.
"If you have got two kilos on either side, and then take the two kilos off and put four on, what is the point? You need the balance."
Hamilton and Alonso spent one combustible year as team-mates at McLaren in 2007, when the Spaniard was the reigning two-time world champion and the Briton in his rookie year.
Although the drivers' relationship deteriorated a fight for the world title and amid wider tensions between Alonso and McLaren's management, he pair have since developed a warmer mutual admiration with Hamilton saying in Australia that "we need this guy to have a good car" for the good of F1.
Alonso's three-year McLaren deal expires at the end of the season and, with the team and their engine suppliers Honda no closer to a podium-contenting breakthrough, the smart money is increasingly on the Spaniard not renewing his deal.
However, a switch to Mercedes has always appeared a long shot with Wolff saying earlier this year about the prospect of a Hamilton-Alonso reunion: "There's history, and that year was particularly painful for Mercedes, being the partner of McLaren.
"Of course, people mature and people change, and it would have been an exciting line-up, but maybe just a tiny bit too exciting for us."
Watch the Chinese GP live only on Sky Sports F1 and in incredible Ultra HD! The race begins at 7am on Sunday. Check out all the ways to watch F1 on Sky Sports for subscribers and non-subscribers - including a NOW TV day pass for £6.99!
Sky customers can now upgrade to Sky Sports and get 12 months for just £18 per month. Upgrade now!