Lewis Hamilton accuses Nico Rosberg of not trying to win
"That's the difference between us. I want to win always," says Hamilton; Battle to be resumed in Bahrain this week
By Pete Gill
Last Updated: 21/04/15 12:59pm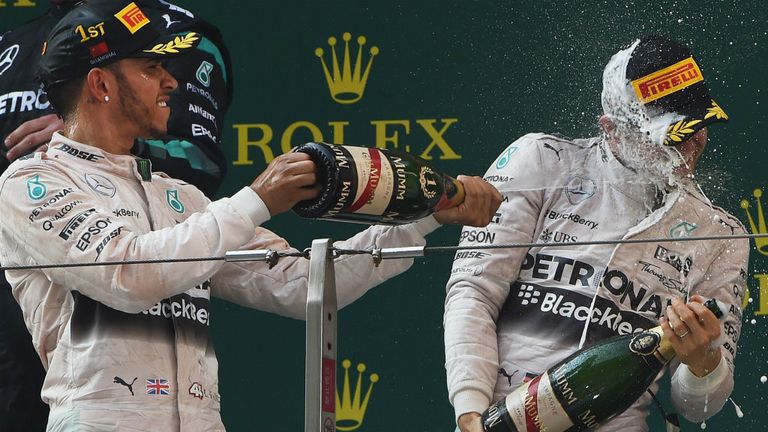 Lewis Hamilton has reopened his war of words with Nico Rosberg by accusing his Mercedes team-mate of failing to try to win Sunday's Chinese GP.
Rosberg turned on the victorious Hamilton after the race by claiming that the Englishman had deliberately compromised his second place by driving "unnecessarily slowly" and pushing him back towards Sebastian Vettel.
But according to Hamilton, speaking in the aftermath of a Mercedes debrief which Rosberg described as delivering "constructive criticism", the German's biggest problem was his failure to challenge for victory.
"Nico didn't try," said Hamilton. "They said maybe he was just comfortable second, and I said 'Well, that's the difference between us. I want to win always'.
"I would have done everything to get past, or at least pushed for three laps if I could."
Although Rosberg has explained that he planned to attack at the end of the race, his approach contrasted with Hamilton's attitude during last September's Italian GP when the Englishman flatly ignored his team's advice to back off and pressurised Rosberg into a race-costing mistake instead.
"If you take a step back, this is motor racing man. Racing. Don't take away the fun of the racing. It's racing," continued an unimpressed Hamilton.
"If I was in second or third, I would have done everything. I wouldn't have sat back two seconds to make it to the end of the stint.
"Of course you want to get to the end of the stint, but if I thought I had more pace, I would have tried to have got past, because that's the best part."
Rosberg's complaints have been met with widespread scorn after his extraordinary outburst during the post-race press conference. The German was described as 'a ranting wreck' by one publication and ridiculed for accusing the race victor of driving too slowly after mailing to mount an attack for the lead of the grand prix.
"He wasn't quick enough," Hamilton told The Guardian. "This is F1. I grew up watching the sport. You want to see overtaking. You want to see a battle. And now I'm in the sport you don't want it to be too controlled. You don't want to back off to save the tyre.
"I want the guy to be up my ass if he's got the pace, up my ass and putting pressure on me. And if I can't defend it, you lose it. Like in Bahrain, I wasn't quick enough and I did everything I could to stay ahead. And that was the greatest race ever."
Heading into this weekend's Bahrain GP, Hamilton has won eight of the last ten events to underline his superiority over Rosberg on the track and leave the German 17 points behind in the World Championship after just three races this season.